For changes of address or for NDIA membership queries please email: membership@ndia.org
To cancel your subscription or be removed from our mailing list please email: remove@ndia.org
To advertise in National Defense magazine please view our Media Kit or email: KKenney@ndia.org
LETTER TO THE EDITOR
National Defense welcomes letters - pro or con. Keep them short and to the point. Letters will be edited for clarity and length.

Letters can be either mailed to: Editor in Chief, National Defense, 2101 Wilson Blvd., Suite 700, Arlington, VA 22201 or emailed to smagnuson@ndia.org.
REPRINTS
Editorial features in National Defense can be reprinted to suite your company's needs. Reprints will be customized at your request. For information regarding reprints, please email APark@ndia.org.
PERMISSION TO REPRODUCE
If you're interested in using National Defense content for academic purposes please email your request to smagnuson@ndia.org.


EDITORIAL STAFF

Stew Magnuson, Editor in Chief
(703) 247-2545
smagnuson@ndia.org

Brian Taylor, Creative Director
(703) 247-2546
btaylor@ndia.org
Sean Carberry, Managing Editor
(703) 247-2542
scarberry@ndia.org
Josh Luckenbaugh, Senior Editor
(703) 247-2585
jluckenbaugh@ndia.org
Laura Heckmann, Staff Writer
(703) 247-2543
lheckmann@ndia.org

Allyson Park, Editorial Assistant
(703) 247-9469
apark@ndia.org
Kathleen Kenney, Advertising
(703) 247-2576
kkenney@ndia.org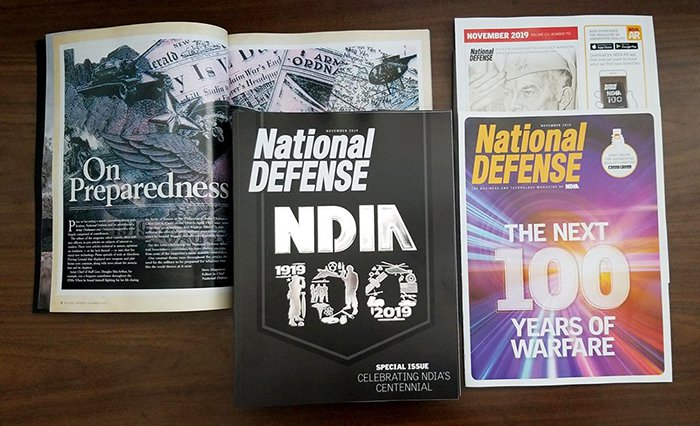 To receive a copy of our special centennial issue of National Defense please contact Allyson Park at APark@ndia.org