Russian Aggression Fuels European Air Defense Market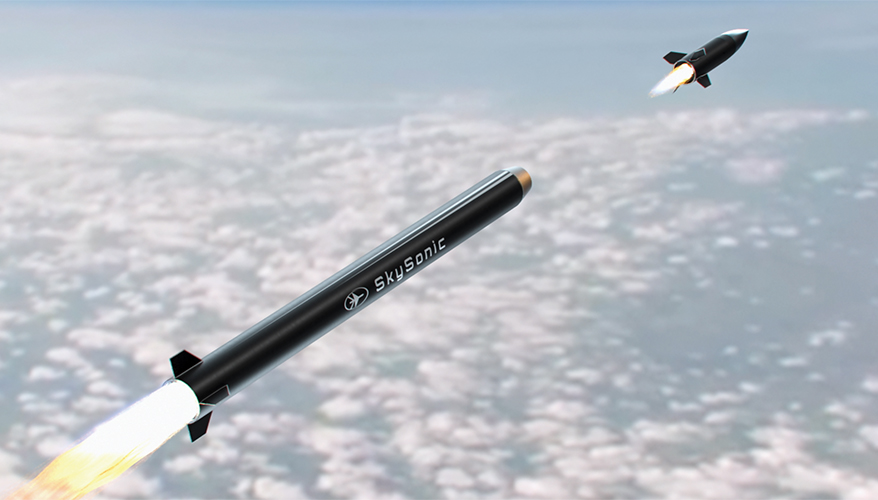 Artist's rendering of Rafael's Sky Sonic interceptor
Rafael rendering
PARIS — Like many contractors at this year's Paris Air Show, Israel's Rafael Advanced Defense Systems Ltd. brought its latest air and missile defense concept to sell to potential customers.
The advanced interceptor Sky Sonic is intended to take down hypersonic missiles, which travel at speeds of more than Mach 5 and are highly maneuverable, making them difficult to defeat.
Russia claims to have fired multiple hypersonic Kinzhal missiles at Ukraine, but such weapons are still considered an "emerging technology," as are the systems being developed to defeat them.
Ori Eyal, marketing and business development manager at Rafael's lower-tier air and missile defense directorate, admitted that the picture in the company's booth had little to do with what the system might look like. It has a lot of development remaining, including the seeker and maneuvering technology.
"But some of these ideas are starting to get an audience because of the events in Ukraine," he said.
Israel is adept at developing air and missile defense technology because it faces threats daily, he noted in an interview on the sideline of the air show.
But European nations — with a couple of notable exceptions — had not prioritized deploying or upgrading their systems until the Russian invasion of Ukraine changed their thinking, he said.
Europe was "asleep," he said. "They knew that they were facing a problem, but they kept ignoring it. Now, they want it fast.
They want it right away. But in this business when you order something, it's not that fast," he said. It can take two to five years to build and deliver an air defense system, he noted.
From systems designed to protect ground forces from small drones to high-altitude ballistic interceptors, the market for air and missile defense technologies in Europe is burgeoning, said Dan Darling, director of military and defense markets at the business intelligence company Forecast International.
Poland, as NATO's eastern vanguard, started the trend when it kicked off its Shield of Poland program in 2014. It has historical fears of Russia that played into its decision to bolster its air and missile defense. The Ukraine invasion has only served to stoke the market further, he said.
"Where you're going to see the next frontier is up in the Nordics, the Scandinavia Peninsula — Norway, Sweden, Finland," he said in an interview at the air show.
Russia can attack them from any angle, from the East and with its navy operating in the Arctic and the North Sea, he added.
"When you look across the European landscape, you have obviously the Brits and the French. ... They've always invested heavily in air defense systems," he said. They also share the multinational MBDA defense contractor, a leader in missile defense that was formed out of the merger of U.K., German, French and Italian companies.
As far as the nations that have MBDA subsidiaries, they are going to be protective of their labor markets and keep work on major air and missile defense upgrades in their borders, he predicted.
The Scandinavian countries, plus a few former Warsaw Pact countries from Central Europe — the Czech Republic, Slovakia, Hungary and Poland — constitute the major European air and missile defense market up for grabs to outside companies, Darling said.
"They're a mixed bag because they have legacy systems. So, what you look for in procurement is something nearing the end of its lifecycle — and if it is — is there a new generational leap in air defense systems that they might want to purchase?" Darling said.
"The Israelis really are fantastic on missile defense," he noted.
U.S. defense contractor Raytheon Technologies, meanwhile, has eight European customers for its Patriot surface-to-air defense system, with Switzerland joining in the coming years as the ninth.
As far as leap-ahead technology, Raytheon, which recently rebranded as RTX, brought its GhostEye radar to the air show to make its international debut. The technology grew out of the Lower Tier Air and Missile Defense Sensor developed for the U.S. Army, also known as the Patriot replacement radar, said Joseph DeAntona, executive director of business development — defense capabilities and solutions at Raytheon.
"As we were developing it, one of the things we wanted to keep in mind was the ability to modularize this technology so we could apply it to a host of different situations," he said in an interview at the company's pavilion at the air show.
The overall market for such systems has exploded, he said. "I think there are a lot of industry folks that saw and anticipated the demand signal for air and missile defense, and whether they were in it for a long period of time or not, they realized that they probably needed to get into that."
The GhostEye employs the lower-tier system's gallium nitride active electronically scanned array radar, which is easy to use and maintain and has better performance than traditional radars, he said.
The lower-tier system has one large stationary array in front and two smaller arrays in back to give it a wide view. Raytheon took the gallium nitride radar from one of the back arrays — which has already been tested and certified — and put it on a rotating platform to give it a 360-degree view, he said.
It is used in tandem with the National Advanced Surface-to-Air Missile System, or NASAMS, a short-to-medium-range missile produced in partnership with Norway's Kongsberg Defense and Aerospace.
"The GhostEye is going to be our pathway to take our current NASAMS customers well into the 21st century," he added.
The war in Ukraine has brought the need for more robust air and missile defense systems in Europe to the fore, but the new radar had been in the works for almost a decade, DeAntona said.
The most high-profile NASAMS customer is Ukraine, which now has two of the systems it is using in its fight against Russia. The complete system is 100 percent NATO compliant, he added. Five other European nations are NASAMS customers.
"We started [development] well over 10 years ago anticipating that these threats were on their way … we used the last decade to our advantage to develop this," he said. "You just don't develop something like this in a year or 18 months."
The company has a built-in market for the new radar, as 13 nations in Europe, the Middle East and the Indo-Pacific use NASAMS already, he noted.
The company decided the Paris Air Show was the best venue to make its debut. "We're not only talking about it from a PowerPoint or from a cool video perspective, we are here to say, 'This is real.' We are experimenting with it. We are taking it to ranges, we're showing it to customers," DeAntona said.
Darling said certain types of countries need help from U.S., Israeli or Western European manufacturers.
"It's really a dynamic, disparate market," he said.
The countries that need the most help are the ones with smaller, less robust defense industries such as the former Warsaw Pact nations, he said.
Poland does, however, have an active, growing defense industry, so it is looking at tech transfer deals that tie up with its local vendors to transfer know-how, he said.
These nations could join and tap into money provided by the European Defence Agency's Permanent Structured Cooperation pooled fund, but often don't so they can protect local jobs, he added.
Germany has big plans and a big pot of money to spend on air and missile defense with its new $107 billion defense fund, Darling noted. It's looking at a new ground-based air defense system. They are also fielding the new IRIS-T SLM for medium-range threats and Israel's Arrow 3 missile defense system to intercept high targets outside the Earth's atmosphere.
These are big ticket programs, but not to be ignored is the accelerating market for air defense systems capable of protecting ground forces from low-end threats such as small drones, loitering munitions, incoming mortar rounds and small rockets, Darling said.
"Right now, it's really about protecting ground troops to counter UAS wherever they are. That's a developing area of air defense … and what a lot of the European countries are looking at," he said.
During the air show, the French MBDA subsidiary announced that Belgium, Cyprus, Hungary and Estonia would be joining its Mistral 3 ground-based air defense program, a short-range system that can be fired by dismounted troops and can detect low-signature threats such as small drones.
Darling said despite the success of MBDA subsidiaries and the Israeli companies, Europe is rife with opportunities for American contractors. The cache of a system being used by the U.S. military is important. A country like Romania will want to have a U.S. system as it comes with some degree of interoperability, he said.
"They want to stay with someone that's a partner. They're not going to be looking at an air defense system from Singapore or South Korea. They want a European solution or a U.S. solution," he said.
"That's where the United States by default has an opportunity to pick up business in every single country," he added.
Europe is not the only hotspot for air and missile defense systems, DeAntona noted. Business is good in all three major theaters: Europe, the Middle East and the Indo-Pacific.
"All three major theatres are — I don't want to say singularly focused — but I would say almost primarily focused on their air and missile defense capabilities and what they need and what are the gaps that they have to fill," he said. ND
Topics: Missile Defense