EDITOR'S NOTES MUNITIONS TECHNOLOGY
Explosive Disposal Sector to Need A Lot of Funds, Innovative Tech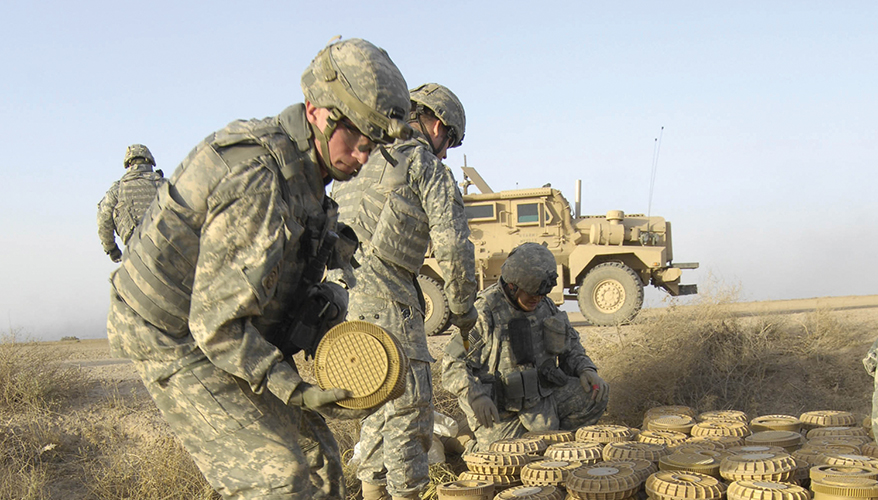 Soldiers prepare to dispose of landmines, mortars and rockets in Baghdad, Iraq.
Defense Dept. photo
When it comes to landmines, unexploded ordnance and the deadly debris that wars and conflict leave behind, it looks like the world is taking one step forward, and two steps back.
From the jungles of Colombia to the arid lands of Yemen to the once productive wheat and sunflower fields in Ukraine, there are probably more landmines and unexploded bomblets in the Earth's soil than ever.
Three decades after Princess Diana helped bring the world's attention to the topic and the International Campaign to Ban Landmines won the Nobel Peace Prize, Russia is seeding Ukraine with landmines every day and dropping cluster munitions. These are bombs that explode and spread smaller bomblets, often with high dud rates.
Ukraine, deciding that it needed every tool available to kick out the Russians, asked the United States for — and received — its own cluster munitions.
And the Biden administration — one would think after vigorous internal debate — agreed. The cold hard calculus: kill Russian soldiers today, bring a quicker end to the war — worry about the cleanup later.
But there will come a "later" and a big bill to pay.
Russia was already using cluster munitions in Ukraine and now the U.S.-made bomblets will be added to the mix.
But the decision has been made. So, going forward, what now?
It will take a lot of funding to clean up the messes in Ukraine and Yemen — and to continue clearance operations in Afghanistan, Cambodia and Colombia — and the defense research and development community should be called upon to invent new, innovative ways to detect, dismantle or destroy unexploded ordnance and landmines. Developing more advanced robotics, sensors and protective gear to help the brave men and women tasked with clearing fields needs to begin now.
There are three streams that need to be funded: demining, or the cleanup; advanced technologies to detect, defeat and protect; and money to help victims.
It was depressing to listen in on a recent NPR report on a clinic in Yemen that is trying to fit bomb victims from its civil war with prosthetic limbs. Like many nongovernmental organizations, the nonprofit needs funds.
Sad. There's always enough money to drop bombs on people, but when it comes to helping the victims, the NGOs have to go around with their hats in their hands.
The three main players in the Yemen conflict — Saudi Arabia, Iran and the United States — are oil-rich countries and need to do what's right.
If you can spend $400 million to bring a soccer player to your nation, you can spend a little to buy an eight-year-old girl a prosthetic leg.
I ran all these thoughts by my friend Ken Rutherford, one of the world's foremost experts on the history of landmines. I've known Rutherford since 1985, but we lost touch for a few years. During that time, he lost both his legs to a landmine in Somalia — and as a result — became deeply involved in the issue. He now teaches at James Madison University in Virginia.
Yes, the victims of landmines in Somalia will need help, and lots of it, but these nations need a modicum of stability before the real work can begin, he noted.
As for Colombia, when he first began being active in the landmine topic, that country was not even on the top 10 list of places of concern. Now, due to internal conflict, it's one of the most infested countries in the world, he said.
But the bigger issue is Ukraine.
The Biden administration made several points after the decision was made to supply cluster munitions to the country's military, he said.
One is that the dud rate for U.S.-made munitions is low, at around 2.3 percent. That's still a lot, Rutherford noted, but it pales to Russian cluster bombs that have a dud rate between 30 to 40 percent.
These duds are volatile and deadly, and some legal experts believe they should fall under landmine treaties, Rutherford said. Cluster munitions do have their own accords, though. Some 160 nations have banned them, including most NATO nations.
Another valid point Rutherford mentioned is that the United States — by orders of magnitude — spends more on landmine and ordnance cleanup than any nation in the world.
"The United States will be providing — and they already are providing — huge amounts of financial aid for clearance. So, these are the kind of arguments [the Biden administration] is using to defang the accusations that they are breaking international humanitarian law," he said.
A few things have to happen going forward, he said.
One, the United States has to continue showing leadership in conventional weapon destruction.
As soon as the Ukraine conflict ends, it needs to start activities to clear farms ASAP. The best way to do this is to shore up local capacity to deal with the problem, he said.
As for research and development, there is a schism in the community between those who said money is needed for clearance and humanitarian relief, and those who want to invest in advanced technologies, Rutherford noted.
In the future, there should be no such false dichotomy.
Wealthy nations such as the United States, Saudi Arabia, — and hopefully one day — free and democratic Russia and Iran have enough resources to do both.
But the time to start the R&D and advanced planning is now. ND
Topics: Budget, Health Affairs