Marine Special Operators Seeking New Tech, AI for Future Missions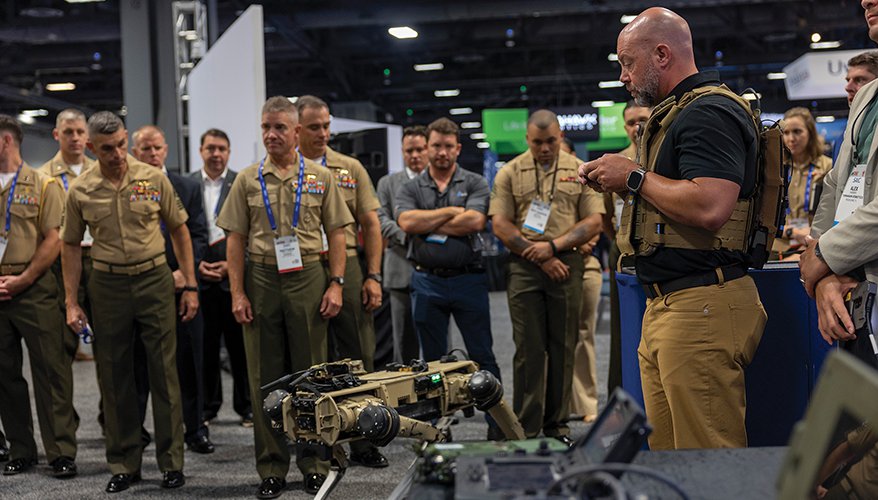 Marine Raiders and contractors with Marine Forces Special Operations Command demonstrate the rapid accessory integration device (RAID).
Marine Corps photo
WASHINGTON, D.C. — Just as the Marine Corps is engaged in transformation under its Force Design 2030 plan, Marine Forces Special Operations Command has embarked on a campaign to innovate and modernize for emerging and future threats.
According to the Marine Special Operation Forces 2030 plan, modernization efforts center on four themes or pathways of innovation: "the Cognitive Operator, MARSOF as a Connector, Combined Arms for the Connected Arena and Enterprise Level Agility."
What that generally translates to is smaller teams of "cognitive raiders" — operators with higher levels of technological training and advanced equipment — operating in increasingly complex environments, MARSOC Commander Maj. Gen. Matthew Trollinger said during a panel at the Modern Day Marine conference. And panelists told a largely industry audience that they are looking for new technologies that reduce the physical and cognitive burden on operators while increasing their capabilities.
The names of three of the panelists were withheld due to their status as active MARSOC operators. They were referred to as critical skills operator "staff sergeant M"; special operations capability specialist "gunny A"; and communications specialist, "sergeant H".
Gunny A said many of MARSOC's current technologies are "one-trick ponies" that constrain mission options. "We'll probably need help with commercial-off-the-shelf systems that can get around these so-called one-trick ponies that take up a lot of space in our deployment containers."
Analysts and fusion specialists have grown used to training and getting certified for field operations by finding workarounds with current equipment, but "I don't believe that should always be the answer," he said.
"I feel like we can solve this with industry by creating some sort of desktop software applications, web-based applications, that [have] that data aggregation as well as other features," he continued.
"Now looking at that in the lens of an intelligence professional, trying to be able to get all of these different applications to just talk to each other so we don't have to have five different screens up, four different applications up on each screen, just so I can best fuse the all-source intelligence picture," he said. "This would save a ton of time in day-to-day tasks, and it would be a lot more efficient in providing the commander the most relevant and useful information to make decisions."
Staff sergeant M said the convention hall was full of weapons and systems designed to increase lethality — loitering munitions, more accurate GPS and hardened systems — that could help operators.
"All of those things are interesting to me, because something as simple as the GPS being knocked out — keeping a [small, unmanned aircraft system] out of the sky — keeps me from the [force protection] that I need to conduct a patrol and have an effect on an area," he said.
Another need is "rapidly deployable communications equipment that enables blue force tracking," he said. "So not only is it tracking individuals, we can do things like jump with it, dive with it — those areas where we look into the conflict space, and we're dealing with people who are looking at the way we present ourselves in a spectrum. That will be one of the areas that I would say we need help. When we look at Southeast Asia and those regions, the ability to hide in the noise is the number one thing I think we need to attack."
From a communications standpoint, smaller, simpler form factors and plug-and-play technology was high on the wish list, said sergeant H.
"In terms of training, we need to be able to do everything as efficiently as possible," she said. She pointed to the rapid accessory integration device, or RAID, plate — a body-worn plate that combines various communications devices and controllers into a lighter form factor — as an example of new technology that could make "my life 10 times easier because I don't have to fight with an operator with three radios in his pack and on his kit.
"I can say, 'Hey, I got this one thing for you, and I can troubleshoot with you,'" she continued. "Not only do I need to be able to do my job, but they also have communicators who are also critical skills operators on the team who need to be able to use that gear. And they're not going to be blessed with as much opportunity to be able to use that gear as us and be as proficient in it. So how can the gear be made easy enough for us to teach them on the fly so they can operate it if we're not around?"
Trollinger said new technologies and devices need to "lessen the burden on the individual, because I'm all about making sure that people have what they need, or we can relieve them of something that they don't need to have hanging over them or weighing them down."
One overarching technology that could address a number of command's needs is artificial intelligence, Col. Ian Fletcher, MARSOC's assistant chief of staff for plans and resourcing, told reporters.
The first step is understanding where AI fits and how best to utilize it, which has been a challenge for the entire Defense Department, he said.
"We have to redefine it as AI as a decision learning or decision making or an orientation tool that is not an end-all-be-all right now," he said.
"One of the things that I've learned with many of the hats that I wear … if you distill it down to observe, orient, decide and act, the observe and orient is really the fundamentals of what we're trying to engage within the AI space," he said.
"If you think about how the human mind makes decisions, we historically make decisions off of all five senses until we start moving away, and then it reduces very quickly down to three, down to two," he said. "And sadly enough, down the last 20 years, a lot of our most significant decisions were made on one sense — strike TV — where you saw, you got a rapid orientation and you made a decision based on a characterization of that environment."
The command is taking a step back and pulling physical maps back out to emphasize the need to get Marines on the same page, he said.
"Because while AI may help you basically accelerate observation and then accelerate a point of orientation, you still have to create a mental model; you still have to create a heuristic; you still have to create and visualize yourself."
And that's not something the force wants to replace, he added. "I think we want to get to the point where the data begins to be binned, but we've educated the force to use a new model of heuristics, a new model of the ability to interact with it, and then ask iterative questions."
Fletcher emphasized that MARSOC is not developing any AI systems or capabilities independently but generating a requirement in line with the Special Operations Command and Marine Corps enterprises.
"What we're doing is establishing a vision that allows us to leverage off of everybody else's innovation and ensure that it's converging together in that littoral contact space," he said.
One place the command is studying is Ukraine, he said. The war is providing a "live learning lab where their AI space engines, and within the European architecture, is accelerating to the degree where it is very interesting to watch, because they're getting to a point of data fusion and tipping and queuing that we have yet to be able to fully exploit within the DoD side," he said.
Fletcher said he's met with Ukrainian intelligence, surveillance, target acquisition and reconnaissance teams and discussed how AI can help the process.
"As we're working through how to do track warfare in nonpersistent ISR space, how do you leverage AI and AI engines to hold pieces of data over in time so you can generate enough awareness, enough understanding to turn that into an actionable point?" he said. "We got to explore a lot with Palantir's Maven system, but also some of the homegrown Ukrainian systems like the Delta system out there."
Given all the questions to be answered about what AI can and should do, MARSOC is taking a cautious approach to the technology.
"One of the challenges with AI, especially within defense acquisitions, [is] you begin to break into multiple layers of security," he said. "So, there's a cyber consideration there. There's an operational integration; there's a data integration."
It's not just data integration, he said, it's data aggregation.
AI "is only as smart as the data that's coming into it," he said. "The usefulness of an AI tool is as useful as the machine learning that's associated with it, and the body of knowledge and the amount of user interfaces that can educate the AI, whether or not its characterization of the environment is what it needs to be."
Given the Defense Department needs AI in the classified space, there are limits to the user base and interfaces feeding into the machine learning, he said.
"I would compare and contrast that with some of the AI engines that are being used by commercial industries today, where you're open into an unclassified space and you have countless users available that can integrate," he continued.
Thus, MARSOC is "trying to navigate with industry how to properly do this within a cybersecurity-informed environment, within a policy-informed environment, within an environment where we're mindful and protecting DoD and U.S. government data so we don't jump fully into the ChatGPT world" where an AI could end up writing operational orders for the military, he said. ND
Topics: Emerging Technologies