JUST IN: Ukraine War Challenging U.S. Munitions Enterprise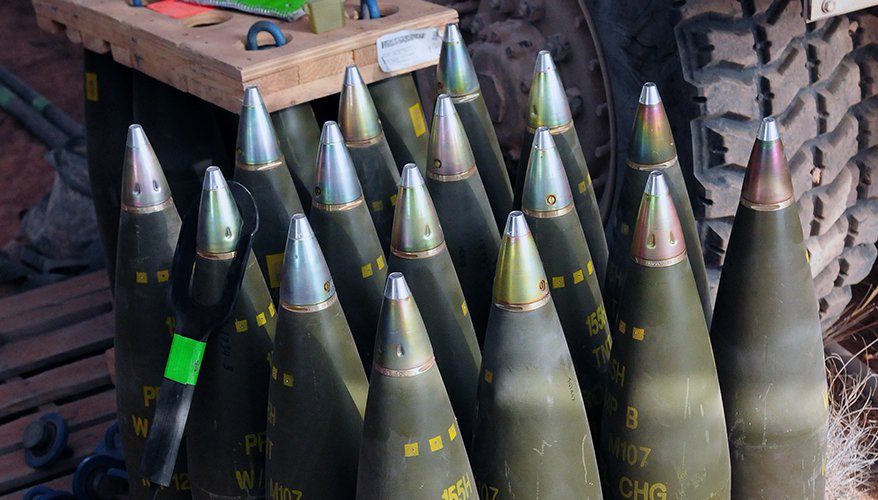 HUNTSVILLE, Alabama — The war in Ukraine has shed light on both challenges and opportunities for the U.S. military, not the least of which is "the criticality of the munitions enterprise," an Army official said Sept. 26.

Army Brig. Gen. John Reim, joint program executive officer armaments and ammunition, called his office "a whirlwind," and "quite the responsibility just to support the Joint Force with readiness and modernization initiatives. But then there's this thing called Ukraine and that's really shone a spotlight on the criticality of the munitions enterprise, your industrial base, and, quite frankly, what we're doing in terms of rebuilding the arsenal of democracy."

Rebuilding the "arsenal of democracy" includes utilizing a collective and hard-worked Army Ammunition Modernization Plan, submitted to Congress every year, he said at the National Defense Industrial Association's FUZE/FFC/DEMIL conference

"And so when Ukraine broke out, we were able to leverage a lot of that planning." Many requirements were already in place and going through prioritization, he said. The key question: "how do we go fast?"

"That's really been the question of the day — how can we go fast, not only to support your Ukraine partners, but also in terms of replenishing for presidential drawdown decisions that are taking inventory from formations of some of our war stocks going forward."

As a result, the Joint Program Executive Office has focused on three lines of effort, Reim said. The first being to "rapidly scale and surge" within the existing footprint.

It has received $1.2 billion to address some of its government-owned, contractor-operated industrial base fiscal requirements, and additional congressional plus-ups of about $1.4 billion, he said. That includes key investments to rapidly scale production of 155mm artillery rounds, he added.
The JPEO is also partnering with select industry members focused on rebuilding supply chain resiliency, he said. "You give us additional options, but also in terms of speed and replenishment."

Reim said today the office has about an additional $7 million additional above its baseline. "So there's a lot of significant work, a lot of heavy lifting in terms of contracting and … funding and execution."

Third, he said, was recognizing "some quick wins that we could rapidly accomplish." Specifically, he referenced the production of 155mm, and the "significant demand" for their production, also highlighted by Ukraine. When he first came to the office, 155mm production was about 14,000 a month. Today, it's 28,000. "This time next year, we'll double that."

While managing its strategic investments, Reim said munitions considerations also need to be looked at internationally.

"Every round that I can procure from an overseas source is one less round coming out of our war stock … so that's a critical line of effort for us going forward," he said.

"So those are our three lines of effort that power attacking the problem to provide munitions at scale and to kind of meet not only Ukraine demands, but … [assure] that we're not realizing undue strategic risks with our own stockpiles."

Another need highlighted by the war in Ukraine has been minefields, and the question of how to breach them, he said. With "variable capabilities in the portfolio," he mentioned looking at "novel concepts of how to address that threat," such as using small UAS systems in subsurface mines, "and then use other kinetic means to keep those clear lanes."

He said one JPEO project office is "doing some neat stuff" with proximity fuzes, which detonate an explosive automatically within a certain distance of its target.

"I think [that's] gonna kind of revolutionize how we do counter UAS," he said. Systems paired with "munitions with proximity fuzes really gives us an awesome capability to get after kind of this small and lethal kind of UAS threat that we see proliferating on the battlefield."

The service is trying to build the Army of 2030 and design the Army of 2040 with the industrial base of 1940, he said. In an effort to "modernize and expand capacity," the Army is making "significant investments" in bringing in the newest technology, including standing up a new metal parts facility with a "completely different workforce than some of the industrial age, equipment and processes."

"And like I mentioned earlier, there's incredible pressure to go fast and operate and scale them," including the "significant demand for munitions — 155[mm] in particular."

Anthony Sebasto, executive director for the Army's Enterprise and System Integration Center, said they are trying to figure out how to engage targets more effectively "without firing an exorbitant amount of rounds of ammunition."

Sebasto listed a number of future technologies the Army Combat Capabilities Development Command Armaments Center, more commonly known as the Armaments Center, is looking toward to solve some of these challenges. Among them, attritable armament systems, optionally autonomous weapon systems, robotic systems, AI-enabled/collaborative fire control and soldier aim augmentation.

"Our plan right now is as the Army Operating Concept 2040 — once it gets finalized, and we saw we got version 1.0 — is to work with the National Armaments Consortium, … to be able to get that to industry, because we really do want to get industry's feedback and industry's thoughts of what you believe armaments could be."
Topics: Global Defense Market