JUST IN: Potential Government Shutdown 'Extremely Disruptive' for Supply Chain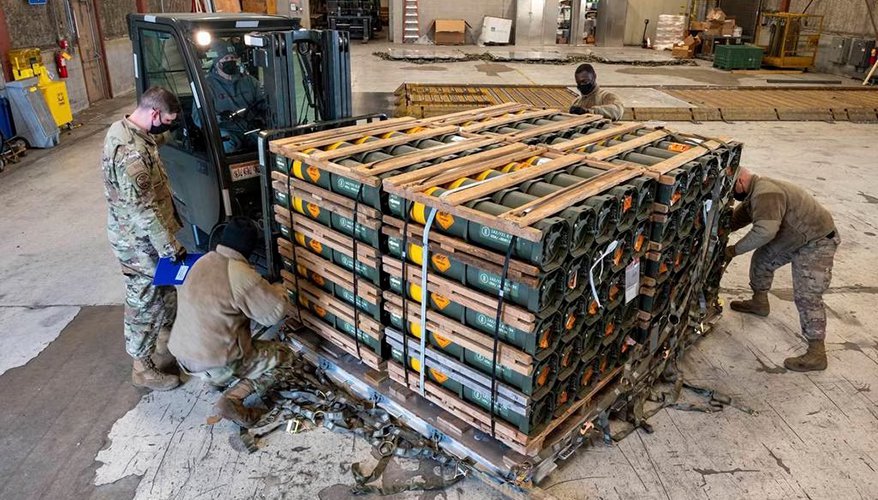 A pallet of ammunition, weapons and other equipment in preparation to be sent Ukraine.
Air Force photo
With the military currently providing aid to Ukraine while simultaneously preparing for a possible Indo-Pacific conflict, a government shutdown would be "extremely disruptive" for production lines, a top Pentagon official said Sept. 26.

William LaPlante, undersecretary of defense for acquisition and sustainment, said when he worked for the Air Force during the 2013 government shutdown, much of the Defense Contracting Management Agency was "not considered essential. And therefore the government could not DD250 items, meaning accept them. So production lines stopped. F-35 stopped, munitions stopped," he said in a panel hosted by the Center for Strategic and International Studies.

There are two potential paths in terms of a government shutdown: a continuing resolution, a CR, or a full shutdown. With a continuing resolution, unless a waiver is obtained, any increase in production is completely halted until it is over. In the past, continuing resolutions have affected the production of systems like the Guided Multiple Launch Rocket System and the MIM-104 Patriot, LaPlante said.

With a complete government shutdown, it's even worse. Testing stops completely, as well as government acceptance of completed equipment and technology.

"Can you imagine if the Chinese had something like this, where their government would shut down every few years?" LaPlante said. "And they would freeze their budgets and not start up things for six months? We would not view that badly. You know, we could teach them how to do that. That would be helpful."

This possible government shutdown comes at an inconvenient time for U.S. production lines and munitions stockpiles. Within the last year or so, U.S. production lines have notably improved to support Ukraine, LaPlante said. "There has been a lot of work done over the last year and a half in Ukraine," he added.
The current hot production lines being used to produce assets to support Ukraine do not overlap much with what the U.S. military needs for a potential Indo-Pacific conflict, he said.

"There's overlap below it, a lot of supplies, whether it's rocket motors or ball bearings, or micro electronics or speakers, whatever," LaPlante said. "And without saying any specific numbers, I would say, we've got work to do there."

The real challenge is matching the consumption rate that "you're trying to predict," he said. "War breaks out, and the consumption rate of X goes up from here quickly. So how do you, in a perfect world, with a buffer, do you match consumption rate with production rate? And can you build that up?"

The greatest challenge that the U.S. faces in the Indo-Pacific is still achieving deterrence.

"We don't want conflict," LaPlante reiterated. "The challenge is threading this needle. We know deterrence works … So the challenge is to make sure that it works, that [it] is believed that there will be consequences, so that conflict doesn't happen."

Another important aspect of strategic deterrence and preventing conflict is communication, LaPlante said.

"We have to open up lines of communication between our countries. Mil to mil, policy to policy, diplomatic, more and all of that," he said. "It's only safer when we're talking to each other. And I think that that's something that is in the interest of both countries, to make sure that those lines of communication stay open. So we understand each other."
Topics: Manufacturing, Munitions Technology, International