Marine Corps Scouting New Reconnaissance Capabilities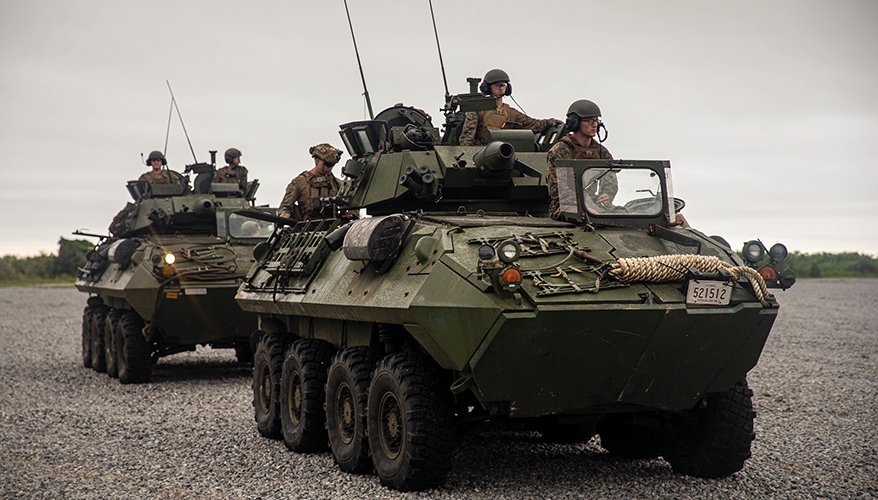 Marines ride in LAV-25 light armored vehicles during a zone reconnaissance exercise.
Marine Corps photo
When the Marines deployed to Afghanistan's Helmand province in 2009, they were fighting in a desert environment against a low-tech, but deeply entrenched Taliban insurgency. The force's reconnaissance assets and tactics were narrowly tailored for that fight.
With the U.S. strategic pivot to the Indo-Pacific, the Marine Corps is retooling its reconnaissance and counter-reconnaissance operations for potential combat in a contested maritime environment where Marines will need to provide key operational insights across multiple domains for the entire Joint Force.
The Marine Corps' reconnaissance capabilities are currently "ground vehicle-centric," according to the 2022 annual update on the service-wide Force Design 2030 modernization campaign. As the service shifts its focus to the Indo-Pacific, "sole reliance on armored ground vehicles for reconnaissance is too limiting, especially in complex littoral environments," the update said.
During keynote remarks at the Modern Day Marine conference in June, then-Marine Corps Commandant Gen. David Berger, who retired in July, said: "The traditional ground reconnaissance, which I grew up in — and airborne reconnaissance and reconnaissance over the water or under the water — can't be three separate units, not to do what we have to do."
The 2023 annual update to Force Design 2030 said going forward, the Marine Corps requires "littoral, multi-domain reconnaissance capabilities that our light armored reconnaissance battalions do not currently provide." The final result will be the transition to what the service is calling "mobile reconnaissance battalions," which will consist of maritime reconnaissance companies, light mobile companies and light armored companies, "all with greater reach and lethality."
Jonathan Wong, a former Marine and the associate director of RAND Arroyo Center's Strategy, Doctrine and Resources program, noted that a major component of Force Design 2030 has been building an understanding of the battlefield, and mobile reconnaissance battalions will play a key role in that effort.
"We kind of took it for granted in the last like 20 years that we could build an operational picture very easily, and so that emphasis on understanding what the battlefield … looks like, understand the operational environment, has always been in Force Design 2030," Wong said in an interview. "And so, when I see what the Marine Corps is doing as they're sketching out these [mobile reconnaissance battalions], that makes sense. … It is going to be, I think, a centerpiece — if not the centerpiece effort — to add that understanding of the battlefield."
And the goal is to provide an understanding of the battlefield not just to fellow Marines, but the entire Joint Force, he added.
Marine Corps reconnaissance has traditionally been "inwardly focused," he said. Light armored reconnaissance battalions would conduct screening missions "for Marine forces … and there was less contribution to the Joint Force and the overall operational picture.
"I think the biggest change — at least from what I understand about the mobile reconnaissance battalions — is that they're meant to provide a more outward-facing operational picture for the Joint Force, particularly for naval forces," he said.
Berger said to accomplish this new multi-domain mission that enables decision-making across the Joint Force, the mobile reconnaissance battalions will require "some combination of vessels, aircraft and vehicles."
"That's what we have to sort out over the next couple of years," he said. "But it's not just one of them. It's clear to us that capability has to be all three: aviation, ground and some kind of vessels, some kind of craft — probably a hybrid of manned and unmanned."
The Force Design 2023 update stated that no later than Sept. 1, the deputy commandant for combat development and integration will provide the assistant commandant of the Marine Corps "a plan for the establishment of a program manager for mobile reconnaissance to execute acquisition activities in support of the transition of" light armored reconnaissance battalions to mobile reconnaissance battalions.
The program manager "will be responsible for executing a synchronized sun-down of the family of light armored vehicles, while simultaneously developing, integrating and fielding new ground, surface and aerial systems," the update said.
Brig. Gen. Stephen Lightfoot, director of the Marine Corps' Capabilities Development Directorate, said during a panel discussion at the conference: "Wherever our units go, they've got to be able to do reconnaissance. And where is that? It's below the surface, it's on the surface and it's in the air.
"So, we're looking closely at those and saying, 'What is the right balance?'" he continued. "That is a high priority for us is moving forward with defining those requirements, then figuring out what do we think are the right vessels, vehicles, loitering munitions, small [unmanned aircraft systems] that we're going to have in the mobile reconnaissance battalion, but it's going to be a combination of all of those things."
On the ground side, the Marine Corps is already in the midst of evaluating prototypes for its Advanced Reconnaissance Vehicle program. Berger said it is "too early to tell" what the new reconnaissance strategy will mean for the program. (See page 24)
While many are interested in the future of the Advanced Reconnaissance Vehicle and the potential of aircraft as showcased in the conflict in Ukraine, Wong said he is "most curious about … what the maritime platforms might look like."
Wong, who served in a boat company, said according to his sources, the service is basing the maritime experiment on its small boat experience. He questioned using something like the service's Combat Rubber Reconnaissance Craft as a baseline, saying the platform is bulky, heavy and has limited range.
"I would be really interested to see what kind of uncrewed vehicles that they're thinking about," particularly subsurface platforms, he said. "My instinct is that that's probably the way to go.
"Maybe the experimentation begins with what they know in terms of small craft and small boats that they have now," he said. "But my sense is that it won't look like the kind of riverine force that the Marine Corps had in Western Iraq, it won't look like boat companies out in the Western Pacific. It'll be much smaller than that … it just seems like a huge logistics footprint and a maintenance footprint for very little gain if it's going to be a crewed system."
The makeup of platforms in the mobile reconnaissance battalions will also "depend on the operational context that you're in," he said. "I can imagine a ratio that skews more heavily toward maritime and air domain platforms for these sensors to sit on in the Indo-Pacific, and then more of a ground-air mixture in Europe."
And just as important as the right mix of platforms and sensors will be "the architecture that's behind it that pulls all that data in and then gets it to the right place," Wong said.
The "initial vision" of the Defense Department's joint all-domain command and control concept was "linking up every sensor to every shooter," he said. That is technologically complicated, and there is growing awareness that a more streamlined architecture that "channels or funnels information to the right echelon, to the right decision maker and to the right shooter is the way to go. And so that, to me, is the most critical bit of the technology, and the least tangible."
The data fabric is not a platform that someone can see at a defense exhibition, but rather "it's a network that's kind of ephemeral," he said. "I think in my mind that's the most important piece of the puzzle for the Marine Corps to solve … how to knit all this together in a coherent architecture."
In March, the service established the Marine Corps Software Factory in Austin, Texas, to "provide viable capabilities to enhance mission readiness through the power of information," deputy commandant for information Lt. Gen. Matthew Glavy said in a statement.
Berger said: "I think it's becoming more apparent that there will probably be a need to … code at the edge. I think that's becoming more and more likely. There will be reach-back capability, but I think to do our reconnaissance, counter-reconnaissance effort, it will very likely mean that we have to code forward."
While the Marine Corps has shown an ability to develop and field technologies and capabilities, training the force on new reconnaissance systems and procedures could be a potential stumbling block, Wong said.
"I think the experimentation, the material side of things, that will hum along — whether it's the ARV, whether it's some sort of maritime [or] some sort of air domain platform," he said. "Setting those aside, I think building the people, the human talent behind that, is going to be the biggest challenge."
The Marine Corps is not only sundowning legacy platforms, but is also shifting its entire mindset of "who are you doing reconnaissance for, and what is the picture that you're building? That will be a huge challenge," Wong said, but noted he is "cautiously optimistic."
"I was actually at the change of command ceremony for [the] Advanced Infantry Training Battalion … and I was just really impressed at the caliber of the training that they have now," he said. "What they're doing today makes the stuff that they were doing back 20 years ago look absolutely junior varsity."
There is "enormous potential" to train and educate Marines "in the way that they want to take advantage of this kind of new way of thinking about reconnaissance," he said. ND
Topics: Emerging Technologies, International