JUST IN: Ukrainian Victory a Global Concern, Says NATO Leader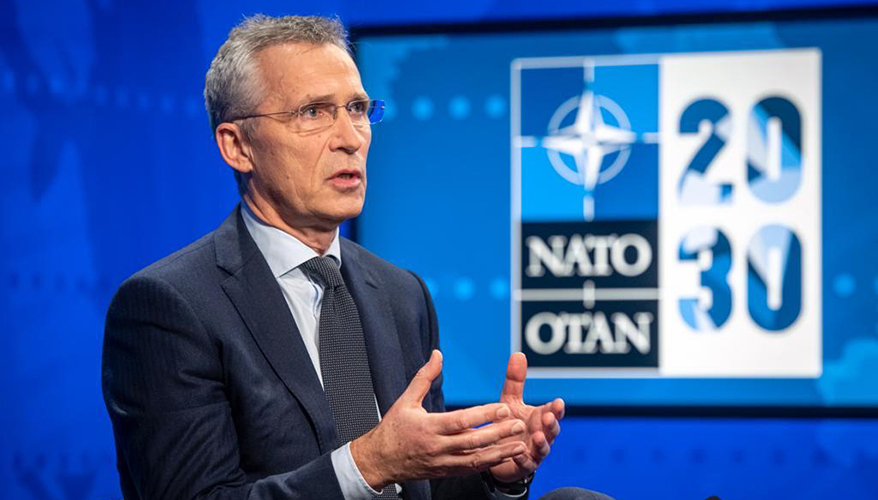 NATO photo
Secretary General of the North Atlantic Treaty Organization Jens Stoltenberg said his main purpose during a visit to New York this week was to "mobilize support for Ukraine," because, among other things, what happens in Ukraine has global implications.

"The main purpose, the main task, for me during this week is to mobilize support for Ukraine," Stoltenberg said during a discussion with the Council on Foreign Relations Sept. 21.

Securing Ukraine's victory is in the best interest of not only the United States, but a global message of security, he said.

"To support Ukraine is something we do, because it's our security interest to ensure that Ukraine prevails as a sovereign independent nation," he said. "It will be a tragedy for Ukraine if … Putin wins, but it will also be extremely dangerous for us. It would make the world more dangerous and more vulnerable."

The outcome of the war in Ukraine is linked to China as well, he said. "Because then the message to President Putin, but also to President Xi, is that when they use military force, when they violate international law, when they invade another country, they get what they want."

If the United States is concerned about China and wants to pivot towards Asia, "then you have to ensure that Putin doesn't win," he added. "If Ukraine wins, then you will have the second biggest army in Europe, the Ukrainian army, battle-hardened on our side, and we have a weakened Russian army."

Ultimately, victory in Ukraine makes China easier to deal with, he said. And a strengthened NATO is an important piece.

Stoltenberg said one of the main reasons Ukraine was invaded in the first place was to have "less NATO" — less members and less presence in eastern border lines. What Russia accomplished, however, is the exact opposite, he said.

As a result of the invasion, Stoltenberg pointed out how NATO activated its defense stance, meaning "we handed over more authorities to our Supreme Allied Commander … and he used that to deploy more forces. So there are more NATO forces, more NATO infrastructure," more ships, more planes and more troops in foreign lands "now than ever before."

Finland became a NATO member earlier this year, in a process Stoltenberg called "the quickest ever," with Sweden on track to become "the second quickest" membership process in history if ratified this fall.

Ukraine is also seeking NATO membership, but before that can happen, the war needs to end, Stoltenberg said.

While granting membership is not possible today, he said three important steps were achieved at the NATO summit in Vilnius, Lithuania, in July.

The first: NATO made the application process easier. At the summit, Stoltenberg said a two-step process became one by removing the requirement for an applying nation to be part of what is called a Membership Action Plan before receiving an invitation.

The second was what Stoltenberg called "a very comprehensive program" ensuring Ukrainian armed forces are fully interoperable with NATO. The multi-year assistance package intends to help transition Ukraine from Soviet-era to NATO equipment and standards.

Thirdly, a NATO-Ukraine Council was established. The council "is an extremely important tool to integrate … Ukraine and NATO even closer," he said. The joint body brings allies and Ukraine as "equal participants to advance political dialogue, engagement, cooperation and Ukraine's aspirations for membership in NATO," a NATO release on the council stated.

"So yes, Ukraine will become a member, but I will say it's even more important that we actually chartered the way for how to achieve that goal," Stoltenberg said. "So, Ukraine is closer to NATO membership now than ever before."

While close, the war in Ukraine makes an invitation tomorrow "impossible," he said. "So, in one way or another, we need to deal with that situation."

At the same time, he said "we need to look beyond the act of war that is ongoing. Because when this war ends … we need to ensure that history doesn't repeat itself. Because you have to remember that this is a pattern of Russian behavior for many years." First, with the "unacceptable" annexation of Crimea in 2014, followed by an armed conflict in the Donbas region of Ukraine in the same year.

Russia has violated ceasefires "again and again" over the years, "and then suddenly, we had a full-fledged invasion" of Ukraine, he said. "We need to ensure this is a real end. It stops there.

"And therefore, it means that there has to be a framework in place to guarantee the security, the territorial integrity, that borders all Ukraine. And of course, NATO membership is one way of achieving that," he said.

Stoltenberg also touched on the Vilnius invitation to four countries from the Asia-Pacific: Australia, Japan, New Zealand and South Korea, emphasizing Russia's threat as global, not just to Europe.

"Security is not regional. Security is global," Stoltenberg said. He noted that Beijing and Moscow are "coming more and more closely together," and that China and Russia signed an agreement weeks before the Russian invasion of Ukraine stating a partnership "without any limits."

"The reality is that China is propping up Russia's war efforts" and "spreading the false narrative" on what the war is about, he said.

What happens in Europe matters for Asia and the rest of the world, he said.
Topics: International, Internation Cooperation