Wormuth: Advanced Cruise Missiles Worry Army (Updated)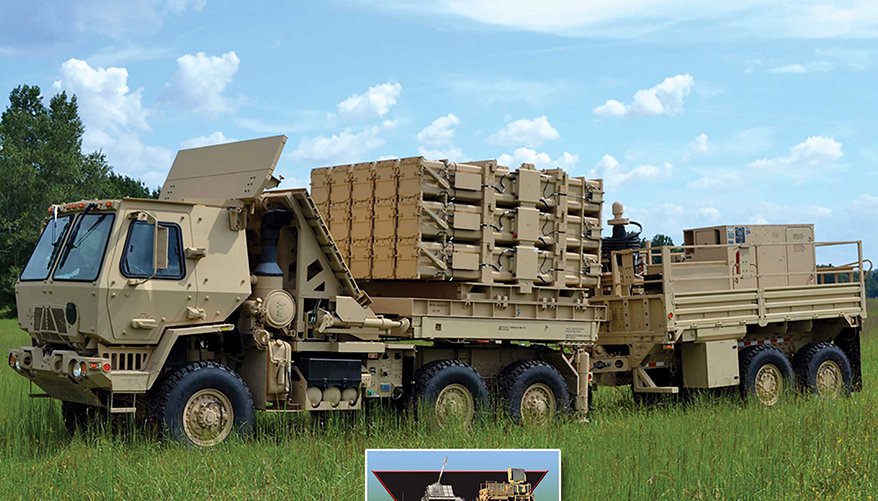 The Indirect Fire Protection Capability Increment 2 System.
United States Army Acquisition Support Center photo
Potential adversaries' advanced cruise missiles continue to concern the Army, the service's secretary said in a recent panel discussion.
"In an environment where our adversaries have the standoff capabilities that they have, and certainly, in the case of the pacing challenge of China, the ranges they have on their munitions are formidable," said Secretary of the Army Christine Wormuth in a panel hosted by the Center for Strategic and International Studies on Sept. 19.
"We need a much more — I would argue — robust cruise missile, air defense capability and that's where [Indirect Fire Protection Capability] comes in. … if you look at some of the munitions that other countries are developing, we have got to be able to counter those sophisticated cruise missiles," Wormuth said.
The Indirect Fire Protection Capability is a mobile, ground-based weapon system designed to defeat cruise missiles, unmanned aircraft systems and rockets, artillery, and mortars. The program, which consists of a launcher and interceptors, is developing an updated increment 2 system scheduled for fielding in fiscal year 2026, a Congressional Research Service report on the program released June 6 stated.
Meanwhile, Wormuth said the next Project Convergence capstone event will include increasing the complexity of the scenarios and use cases and boosting the participation of allies and partners, Wormuth said.
Project Convergence is the Army's version of the Defense Department's Combined Joint All-Domain Command and Control initiative to link sensors to shooters seamlessly through a combat cloud. It has held an annual event to test its CJADC2 technologies, but pushed this year's event back to the spring of 2024. The annual schedule now includes year-round experiments plus the large capstone events.
Wormuth said switching from an annual schedule to a more consistent schedule will allow the Army to "both learn fully from the last year's experience and really build the set of experimentation cases for the next year, so that we get the most out of it."

As tensions in the Indo-Pacific have risen, many experts have raised questions about the Army's role in a regional conflict. That being said, land power has and always will play an extremely crucial role in strategic deterrence and warfighting, even in a region like the Indo-Pacific, the pair said.

"Sovereignty of nations is generally decided on land, and land power, as a result, remains extremely relevant today," Wormuth said. "Most of the fighting, and the fighting that is going to be definitive, is happening on the ground. When you think about the Indo-Pacific, a different theater, land power will be very, very important in terms of enabling air power and sea power."

One strength that the Army has, compared to the other military forces, is scale, said George.

"Historically, I think we've seen that in combat, all the decisive actions happen on land. And I think the Army will continue to be a big part of that. The other thing I would add is for the Army, really, what you get is scale," he said. "The Army is going to handle problems at scale, whether it's logistics, whether it's battalion all the way up to core and theater, that will be the Army — same for integrated air and missile defense."

Though the Army has had problems fielding new platforms in the past, Wormuth remains optimistic that it is taking the correct steps to remedy its acquisition woes.

"The Army is really undergoing its most fundamental transformation in 40 years. We're moving away from the systems that we designed in the '80s to a bunch of new systems," she said. "The Army doesn't have the luxury of just focusing on air defense, or just focusing on fires. We have to do all of those warfighting functions, and hence all of our six modernization portfolios are very important."
The priorities are: long-range fires, Next Generation Combat Vehicle, Future Vertical Lift, the network, air and missile defense and soldier lethality.

The Army improving its research-and-development, as well as renewed focus on continuous transformation and strategic modernization, will hopefully continue long-term, George said.

"What we've kind of learned over the last couple [years] is we've actually started to get to a point where we can actually rotate and move a little bit quicker," he said. "We have to constantly evaluate ourselves on how we build things that are open architecture, that are more modular … [This is] why we really talk about continuous transformation, because I think that that's where we need to be focused."
Correction: a previous version of this story incorrectly stated that the Army was including ballistic missile defense in the next Project Convergence.
Topics: Emerging Technologies, Land Forces