ROBOTICS AND AUTONOMOUS SYSTEMS
DSEI NEWS: Company Introduces 'Drop-and-Forget' Counter-Drone System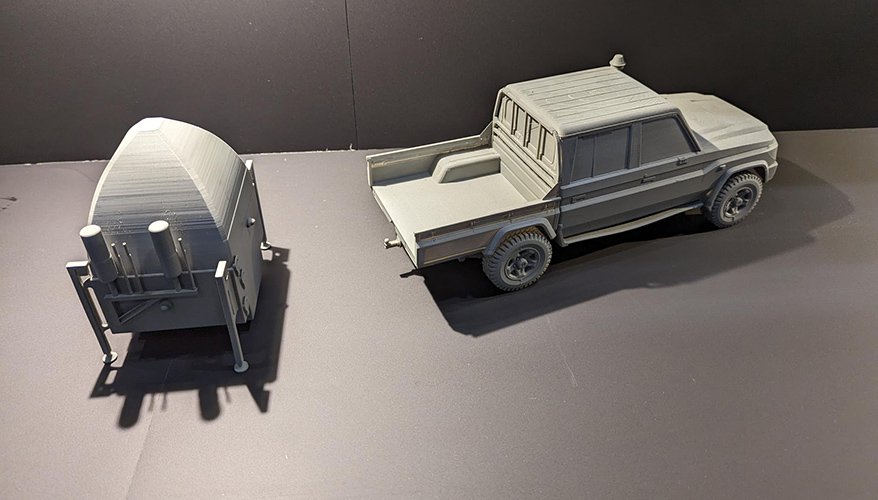 Model of NiDAR X-SCOUT on display at the DSEI trade show in London
MARSS photo
LONDON — Global technology company MARSS debuted several new systems at the DSEI trade show in London designed to combat the ever-growing threat of unmanned aircraft.

The use of unmanned aerial systems by both sides has been a significant element of the war in Ukraine, and developing counter-UAS solutions has become a focus area for militaries across the globe.

MARSS — which has offices in England, Monaco and Saudi Arabia — unveiled a new, short-range version of its counter-UAS Interceptor drone, as well as a "drop-and-forget" expeditionary solution called NiDAR X-SCOUT.

Interceptor is an AI-enabled autonomous UAS that offers an intelligent, cost-effective and low collateral alternative solution to short-range missiles when it comes to neutralizing hostile drones, a MARSS press release said.

The new short-range variant, named Interceptor-SR, is smaller and lighter than the original model the company launched in 2022, and was developed "in direct response to customer demand," Stephen Scott, the company's head of research and development for defense, said in the release.

"When we launched the Interceptor … last year, many customers commented on the need for a portable organic CUAS solution that mounted and dismounted infantry could successfully use to defeat Class 1 threats at shorter ranges," Scott said.

Interceptor-SR is MARSS' answer, about half the size of the original version but with many of the same features, the release said.

In an interview at the show, Scott said: "It's all meant to be really cost-effective from an end-user perspective. … If you compare it to the price of a short-range missile," which can cost hundreds of thousands of dollars, "we're a fraction of that."

The Interceptor is survivable as well, he added. "It can be reused, or if you fire it and decide to abort the engagement, it will just fly and return home and you can just reuse it again, so actually you're getting more than one shot out of it as well," making the "economics from a customer perspective … kind of disruptive actually in the countermeasure space."

Also introduced at DSEI, the NiDAR X-SCOUT is a highly mobile, flexible and easily deployable counter-UAS system that can be transported by pick-up truck, military vehicle, or even air-dropped to any location and remotely operated as a standalone unit for over a week, a press release stated.

The system features cutting-edge cameras and radio frequency detection, capable of detecting a Category 2 drone from over 15 kilometers away, along with jamming capabilities, the release said. X-SCOUT can also connect to other counter-UAS effectors such as MARSS' Interceptor drones to neutralize a hostile craft, and can operate independently as a standalone unit or as part of a mesh network.

"We listened to the needs of our customers who wanted an expedition-ready, drop and forget solution — capable of operating autonomously, meshed into a network of other sensor stations," Frederik Giepmans, manager director at MARSS Safety and Security, said in the release. "An operator with minimal training can get X-SCOUT deployed remotely in under five minutes."

Behind X-SCOUT is MARSS' proprietary hybrid intelligence software and interface NiDAR, which fuses multiple sensors to detect, classify and neutralize threats quickly and accurately, the release said.

Many militaries lack "connected sensors to make autonomous decisions on the fly," Joshua Harman, director of commercial strategy and operations for the MARSS Group, said in an interview. Commands buy a sensor from one source and a weapon system from another, then "they try to integrate it into their current C4, C5 system that's doing a lot of other stuff. You're getting radio calls on where things are at from the radar to the optics to the operator, and it creates a very long lead time on when you can actually tackle the UAS."

What NiDAR does is "bring all those sensors into one common operating picture, and then you give the operator … accuracy at a long distance to make the appropriate decision," Harman said.

MARSS has performed over 55 NiDAR installs for countries in the Gulf Cooperation Council and Middle East and North Africa region, Harman said. This year, the company installed NiDAR on Asterix, a combat support ship operated for the Royal Canadian Navy by Federal Fleet Services.
Topics: Robotics and Autonomous Systems, Global Defense Market, International