DSEI NEWS: BAE Touts Army's New Armored Multi-Purpose Vehicle at International Show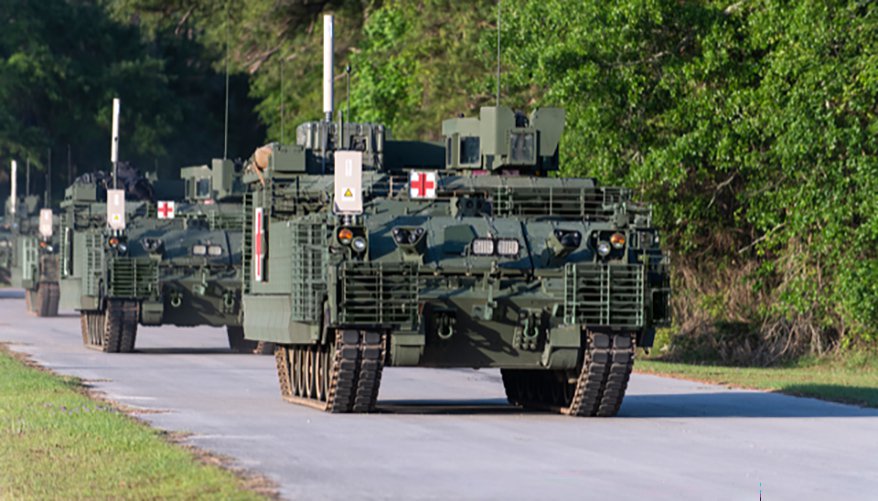 BAE Systems photo
LONDON — BAE Systems brought a variant of the U.S. Army's new Armored Multi-Purpose Vehicle to the United Kingdom's biggest defense trade show in hopes of drumming up potential NATO and allied customers.

The Army in September gave BAE the go ahead for full-rate production and an award of $797 million to continue the program, which replaces the service's M113 family of vehicles that first entered service in 1959.

BAE brought the medical evacuation variant to London's DSEI trade show to make the family of vehicles' international debut.
"This is the natural course now to bring this over here internationally to introduce it to all the allies and partners of the U.S. Army," Bill Sheehy, AMPV program director, said in an interview while standing next to the variant.

For any army that uses the M113, the new vehicle is a "natural fit" and can easily transition into their forces, but with "exponentially better" capabilities, survivability and mobility, he said.

The AMPV comes in five variants — general purpose, medical evacuation, medical treatment, mission command and mortar carrier — and is designed to operate alongside Bradley Fighting Vehicles and Abrams tanks.

Sheehy described the medical evacuation variant as a "serious game changer" that has the mobility and protection to operate on the frontlines and be there with injured troops.

BAE doesn't currently have any particular country or region in mind for international customers other than "partners and allies" of the United States, and noted that there are no technologies that prevent them from being exported.

As for the capacity to add foreign customers to the program, Sheehy said that is something that can be accommodated at its York, Pennsylvania, factory, where all the variants come off the same production line.

Sheehy doubted that an international customer would want all five variants. But if one did, the facility — with its advanced manufacturing capabilities — can handle the extra work.

The factory has demonstrated the ability to produce about 12 or 13 of the vehicles per month, depending on the mix of variants, he said.

"We are on contract to deliver at a certain rate to the Army — not to perturb that at all — then we can layer over whatever other contracts we get," he said.

It will soon reach the 300 vehicle mark, most of which were delivered under previous low-rate initial production contracts. Many of those early production models were done during the COVID-19 pandemic, he noted. "It's impressive what they have done there with all the challenges," he added.

Sheehy noted that the platform shares a common powertrain and suspension with the M2 Bradley Infantry Fighting Vehicle and the M109A7 Paladin self-propelled howitzer, which reduces its logistical footprint and allows mechanics who can fix the latter two vehicles to repair AMPVs as well.
Topics: Global Defense Market, Land Forces, Combat Vehicles