AFA NEWS: Sustainability, Energy Efficiency Critical to Strategic Deterrence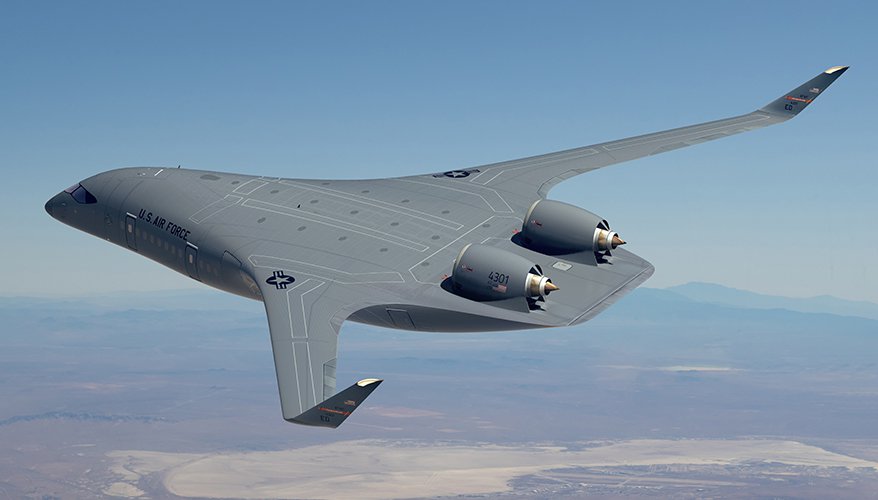 Jet Zero and the Air Force's blended wing body aircraft prototype.
Air Force photo
NATIONAL HARBOR, Maryland — The U.S. Air Force aims to improve aircraft sustainability and energy efficiency as a part of its strategic deterrence initiative to prevent conflict in the Indo-Pacific region.

The Air Force is the largest consumer of fossil fuels in the Defense Department and has "embarked on an aggressive demand reduction approach to address these issues," Dr. Ravi Chaudhary, assistant secretary of the Air Force for Energy, Installations and Environment, said at a media roundtable at the Air and Space Forces Association's Air, Space and Cyber conference Sept. 13.
"We're looking for ways in which we [can] fly aircraft more efficiently," he said. "We're staying on the leading edge and doing everything we can to reduce demand and make sure that we're utilizing capabilities that allow us to reduce our emissions, and we think we're doing a substantial job."

Improving sustainability and energy efficiency plays a large role in the Air Force's strategic deterrence initiative. If the U.S. military is going to serve as an effective integrated deterrent, its critical infrastructure must be ready as well, Chaudhary said.

"We've got to stay laser-focused on that — making sure that we build infrastructure that can deliver decisive blows when and where we need it, but also a renewed focus on ruggedized air installations," he said.

Chaudhary highlighted four key strategic priorities for military installations: delivery of operational imperatives; ruggedizing installations against the full spectrum of threats; delivering operational energy to the warfighter in a contested environment; and investing in "game-changing technologies."

Prioritizing these strategic deterrence initiatives will "translate into victory in a high end fight," Chaudhary said. "That's why the Department of Air Force is looking to advance these technologies more quickly. Again, we're setting the pace, because if we don't, our adversaries will."

In August, the Air Force launched two critical initiatives designed to keep the U.S. military on the leading edge and improve aircraft sustainability and energy efficiency.

The service selected JetZero, a Long Beach, California-based aerospace company to produce a prototype blended wing body aircraft. The concept is designed to "drastically improve efficiency, reduce fuel, fuel cost, expand our range and endurance upwards of 30 percent as well as our capabilities to support our tanker fleet," Chaudhary said.

Fuel efficiency plays a particularly important role in the Indo-Pacific. Distances are longer, time on the ground is longer and the support system from island to island is "sparse," he noted.

"By having greater agility [and] fuel efficiency, you increase range, you increase endurance and the ability to reduce demand on a critical resource. And that's why I say that operational energy is the margin of victory," Chaudhary said. "Reducing how much you consume upwards of 30 percent allows you more agility to generate sorties, and it also gives you the ability to reduce greenhouse gases. These are just things that are both good for the environment and great for the agility of the U.S. military."

Also in August, the Air Force awarded the nation's first deployable micro-reactor pilot program at Eielson Air Force Base to Oklo Inc.

According to an Eielson Air Force Base report, micro-reactors are small nuclear reactors that can "produce clean energy and are equipped with built-in safety features that self-adjust to changing conditions and demands to prevent overheating."

Micro-reactors are able to operate independently from the commercial grid and reduce greenhouse gas emissions, making them a "promising power source for remote domestic military installations critical to the national security infrastructure," the report added.

"Energy is going to be the margin of victory in a near-peer conflict," Chaudhary reiterated. "Energy efficiency ruggedizes our installations, fuel efficiency conserves vital warfighting capabilities and redundant energy systems reduce stress on our grids and build survivability."

Once again, the goal of strategic deterrence is just that — deterrence, he said.

"War is not inevitable. But in order to deter aggression, we must be ready for a fight like no other against a very capable and well-equipped adversary," Chaudhary said. "Bottom line, we're gonna meet this challenge of integrated deterrence by delivering for our theater commanders. Preparing for a high-end conflict is the new standard now."
Topics: Energy, Environment and Energy Security, Emerging Technologies