AFA NEWS: AI Informing CJADC2 in Air and Space, Officials Say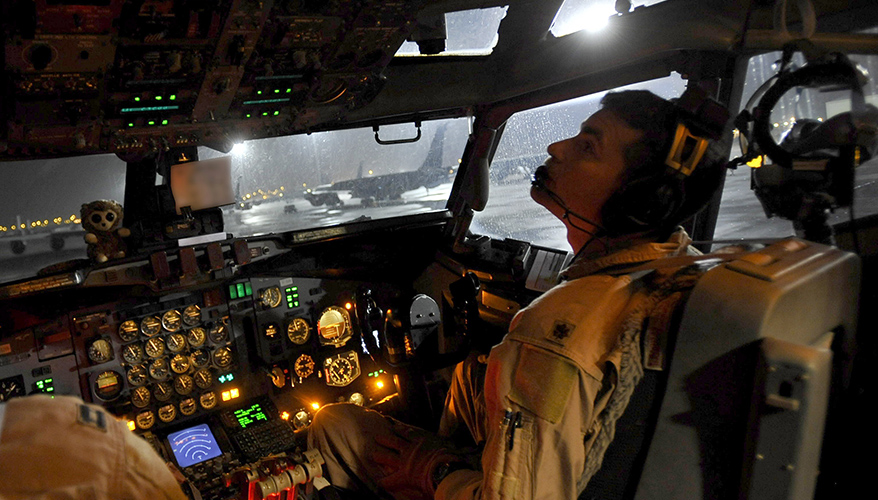 Air Force photo
NATIONAL HARBOR, Maryland — Artificial intelligence will serve as the "backbone" of the Department of the Air Force's Battle Network and further support the combined joint all-domain command and control, or CJADC2, modernization effort in the air and space sectors, officials said.
"When we look at the challenges we face with a near peer adversary or a near-peer challenge or competitor, [it's always] a great power competition," Maj. Gen. John M. Olson, the Space Force lead for JADC2 and ABMS, said at the Air and Space Forces Association's Air, Space and Cyber conference, Sept. 12. "We need resilience, robustness and responsible AI."
Artificial intelligence research and development and capabilities play a large role in the DAF Battle Network and the Air Force's Advanced Battle Management System, or ABMS, the service's contribution to the Defense Department's CJADC2 initiative.
"ABMS proposes using cloud environments and new communications methods to allow Air Force and Space Force systems to share data seamlessly using artificial intelligence to enable faster decision making," according to a February 2022 Congressional Research Service report. "The Air Force describes ABMS as its effort to create an internet of things, which would allow for sensors and C2 systems to be disaggregated from one another (counter to how the Air Force has traditionally performed C2)."
Maj. Gen. Kimberly A. Crider, mobilization assistant to the chief of space operations, said the service will be "able to use artificial intelligence to enhance sensing … expand the ability to sense and reveal the ability to process all of that data coming in from all these sensors so that you can optimize what it is that you're looking for."
In certain cases, AI can provide "the ability to optimize all of the nodes in the network, to be able to get the communications or the service, whatever, available to users whenever they need it across multiple domains, and the ability to ensure that none of those connections are ever dropped," she added.
Communicative feedback and mutual trust with warfighters will be absolutely vital in further building AI capabilities, said Dr. Lynne Graves, chief of the Artificial Intelligence Division at the Department of the Air Force Chief Digital and the Artificial Intelligence Office.
"Ultimately, if we're dealing with AI, we're going to be dealing with unintended biases and unintended consequences. And we're going to have to trust the warfighter to be able to give us that feedback," Graves said. "We're going to have to trust the warfighter, and the warfighter is going to have to trust the system, and this will [help foster] improved visibility, traceability and expandability."
The Air Force and Space Force's AI capabilities are not quite where they fully want it to be, but "this technology is advancing so fast that we are really close to our ability to make this happen and adapt our network," Maj. Gen. Crider said. "This number of programs that we have coming together is really going to be able to help us do this."
During a Sept. 11 discussion with reporters, Air Force Secretary Frank Kendall emphasized that regardless of how far artificial intelligence and autonomous technology advance, humans will always control lethal activities.
"You have to have assurances that you're not engaging something you're not supposed to be engaging," he said. "I don't see at any time that we would completely hand over all the authorities associated with engagements to automated systems,"
"What we'll find … is that our pilots, for example, go through a series of steps to do an engagement, and we're going to get to where the computer can do all the steps in an automated way infinitely faster than any pilot is ever going to be able to do them," he continued.
"So, once you get to that point, you're going to want to have the opportunity for the pilot to intervene and stop the engagement, but you're going to want to let the machine do the function," he continued. "And we're committed to ethical applications of technology, and it includes in that area."
Topics: Battlefield Communications, Cyber