AFA NEWS: Autonomy, Affordability Key to Success of Collaborative Combat Aircraft, Officials Say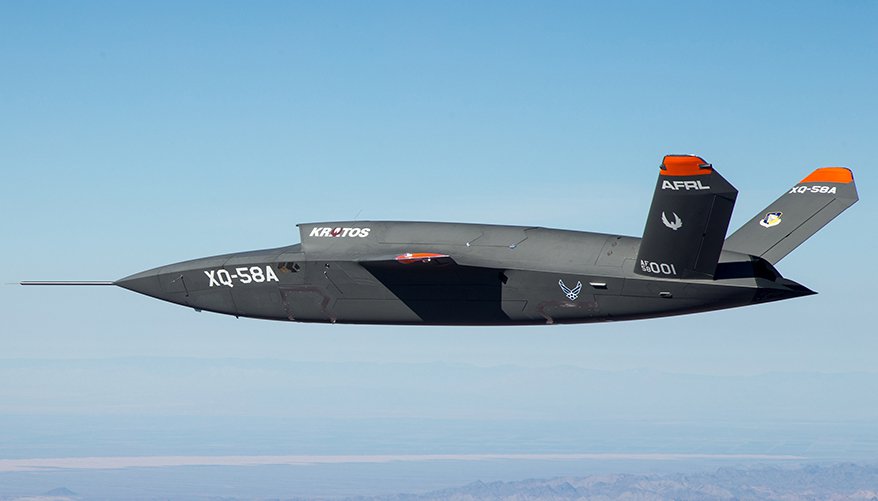 The Kratos XQ-58 Valkyrie, an experimental unmanned combat aircraft designed and built by Kratos Defense & Security Solutions for the Air Force.
Kratos image
NATIONAL HARBOR, Maryland — Defining autonomy, ensuring accurate budgets and increasing affordability is vital to developing collaborative combat aircraft, industry and department officials said.

The Collaborative Combat Aircraft program, or CCA, was launched by the Air Force in March 2023, with a plan to pair at least 1,000 autonomous, unmanned CCAs with fifth or sixth-generation manned fighter aircraft. The CCA program falls under the Air Force's Next-Generation Air Dominance, or NGAD, program that envisions a system-of-systems approach with the next-generation fighter aircraft, weapons, sensors, networking and battle management systems to maintain air superiority in the coming decades, according to an Air Force document.

Mike Benitez, director of product for AI at Shield AI, said despite the fact that autonomous aircraft and vehicles are not a new concept for the Defense Department, there are still very few requirements or even definitions around the technology.

"There is still no Department of Defense definition of autonomy," he said at the Air and Space Forces Association's Air, Space and Cyber conference Sept. 11. "We've been talking about CCA autonomy for two years, still no definition."

All discussions around autonomous systems and autonomous aircraft should be about the level of autonomy needed, he said.

"It's not [an issue of] what is automated, what is autonomy, but what is the level of autonomy that we need to solve this problem for the warfighter, for this mission?" he said.

Benitez went on to explain the five levels of autonomy. Level 1 is simple automatic capabilities, like cruise control or autopilot. Level 2 is "basic foundations of autonomy," like self-driving cars. Level 3 and 4 autonomy are partial automation for specific uses, goals and constraints. Level 5 is full automation.

"In this case, I would argue that Level 3 should be the minimum requirement, and Level 4 is really what we should be shooting for, which is a mission base: Here are your goals, here are your objectives, here are your risks within those constraints and execute," he said.

Along with defining autonomy and differentiating and specifying the level of autonomy needed within the CCA program, another extremely important requirement that must be taken into consideration is affordability without sacrificing battlefield capability.

During a media roundtable at the conference, Air Force Secretary Frank Kendall said he sees CCAs as eventually being a cost-effective solution to address the pacing challenge with China.
"I think it's a good concept," he said. "It's very cost effective. And the reaction we've gotten from industry, from others who looked, at it is very positive."
However, there is a long way to go, he noted. There is $5 billion in projected funding for the next five years to advance the program, he said.
"We are doing efforts to experiment with operational units to try to get a sense of how CCAs would fit into an operational unit," he said. "And we're doing some things to mature the technology, particularly for autonomy, while we're getting started with the actual platform program."
It will be a while before the service has CCAs in large numbers, he added. "Although I expect to have a significant number within the next five years. The force structure that we have and that we have to sustain is going to be the force structure we're depending upon for quite a while.
"So, this doesn't get us out of the woods entirely on long-term affordability, for example. But it's going to be a much more cost-effective mix once we get the CCAs to combine them with our with our crewed aircraft," he said.
However, as he and industry members at the conference noted, it all depends on Congress passing a 2024 National Defense Authorization Act and budget, since the CCA program is a 2024 new start.

Robert Winkler, vice president of corporate development and national security programs at Kratos, said he thinks the Air Force has done a "fantastic job setting their requirements and moving out on good budgets, realistic budgets.
"But it is one thing that I think we could do faster this time, and this time will include making sure that you get a bunch of that continual, persistent funding for these programs," he said.
Topics: Aviation, Defense Department