AFA NEWS: Collaborative Combat Aircraft Will Be 'In A Lot of Places,' Air Force General Says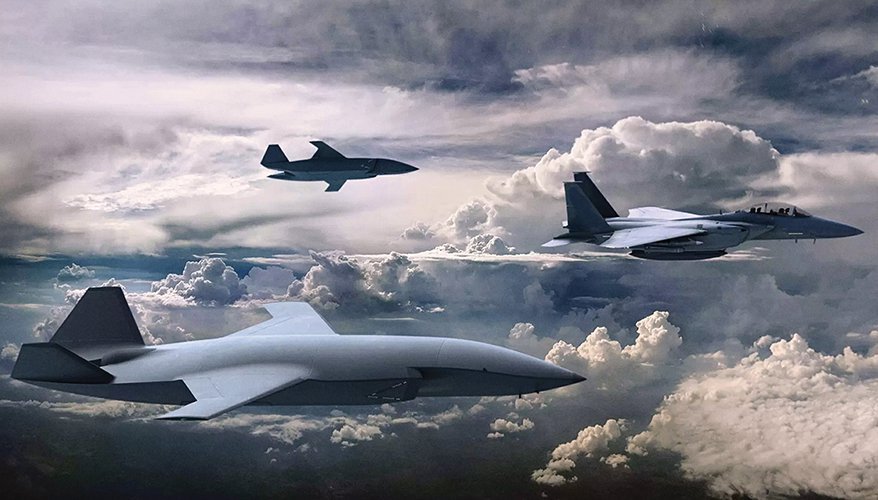 NATIONAL HARBOR, Maryland — To confront potential threats in the Indo-Pacific, Pacific Air Forces is focused on expanding agile combat employment — an operational scheme to develop network of small bases and facilities. One component of the scheme is the collaborative combat aircraft, or CCA, and a top Air Force official said a lot are coming.

The collaborative combat aircraft is an unmanned aircraft that will operate in conjunction with the next-generation air dominance system, as well as the F-35 and other current aircraft. Secretary of the Air Force Frank Kendall announced March 7 that he had issued guidance for the service to plan for an initial tranche for 1,000 CCAs.

Speaking to reporters at the Air and Space Forces Association's Air, Space and Cyber conference Sept. 11, Air Force Gen. Kenneth Wilsbach, commander of Pacific Air Forces, said he can't say where the CCAs will be positioned, but to "be on the lookout, [because] there's gonna be a CCA near you."

Wilsbach said the placement of the CCAs has not been confirmed, and is still "in the beginning stages," but that they're "going to be in a lot of places."

"Whenever they show up … those CCAs will need to be agile and be able to move around the battlespace," he said. "They will need to be in the fight at the same time the manned platforms are there because they're going to complement the crewed platforms."

He said they will need to be able to operate from agile combat employment locations, and therefore won't have a lot of support. "Whatever the case may be, they're going to have to be able to operate from fairly austere locations and be relatively autonomous."

According to PACAF's recently released 2023 strategy, CCAs have already demonstrated they will "increase combat reach and flexibility, while simultaneously reducing risk in high contested environments." The strategy reads that by integrating unmanned combat aircraft across diverse missions, "we continue to develop the ongoing evolution in air combat."

As far as where the hub-and-spoke locations will be, PACAF is in "constant discussion of places where we'd like to go," and while he couldn't share specifics, he said "our options are expanding."

He said fewer options existed a year ago for hub and spoke locations than do today, and while it's slower than he'd like, "it's still expanding and every single additional airfield that I can operate from is … another airfield that China has to put into their targeting … and allocate resources for them, which dilutes their ability to shut us down completely."
Speaking more broadly on the mission of PACAF and the looming possibility of a continuing resolution, Wilsbach said a continuing resolution would impact "everything."
What a continuing resolution does not allow, he said, is to get new projects started, projects like CCA.
"And then as an example, let's say you want to buy a new weapon system. The price today to get started is x. If you have to wait nine months, the price just went up. So that means I need to buy less, because I'm not going to get funding that's inflation adjusted. So everything is impacted and you get to do less."
He said the biggest things he's interested in regarding the fiscal year 2024 budget will be money for repositioning and construction for ACE, new munitions and "critical" modernization of current platforms.
Topics: Air Power