Will U.S., India Pact Boost Defense Innovation?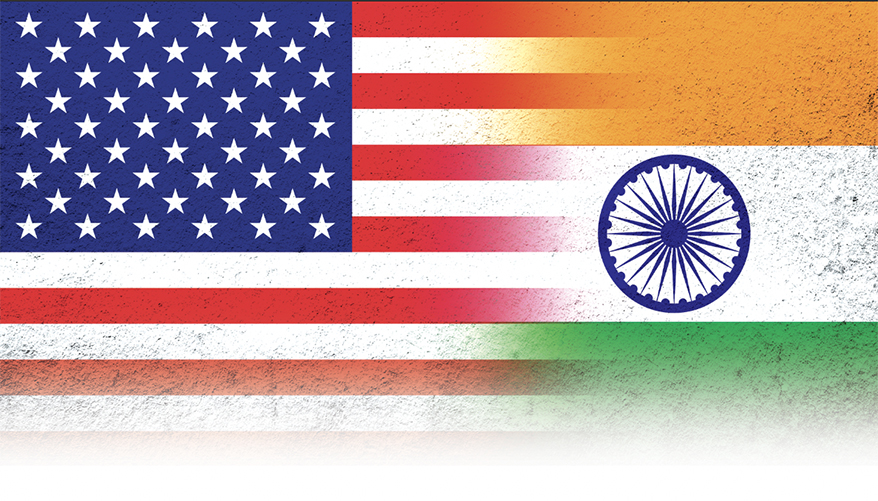 iStock illustration
Driven in part by the need to pull powerful countries from the orbit of its peer competitors, the United States has entered into a new strategic technology partnership with India, but regulatory hurdles could limit the near-term impact of the agreement.
Announced on June 21 during a visit to the United States by Indian Prime Minister Narendra Modi, the India-U.S. Defense Acceleration Ecosystem, or INDUS-X, is meant to "vitalize our defense industrial cooperation and unlock new innovations in technology and manufacturing … and help equip both countries' armed forces with the capabilities they need to defend a free and open Indo-Pacific," according to a Defense Department release.
An INDUS-X collaboration agenda released the same day outlined several "prospective actions" for stakeholders in the initiative to pursue, including mentor-protégé partnerships and an accelerator program for start-ups; joint challenges "that leverage common dual-use cases for both countries" and an Indo-U.S. Joint Innovation Fund that will seek private investment for defense tech.
"With support from our governments, closer cooperation between our private sectors and research institutions will catalyze innovation within our defense industrial bases," a Defense Department fact sheet on INDUS-X said. "Through INDUS-X, we will strengthen ties between our defense industrial ecosystems to make them more innovative, accessible and resilient."
The Defense Department two weeks before the announcement released a "Roadmap for U.S.-India Defense Industrial Cooperation," which identified several "priority areas with [the] most cooperation potential," including: intelligence, surveillance and reconnaissance; undersea domain awareness; air combat and support, including aero engines; munitions systems; and mobility.
Other potential technology areas for INDUS-X could also include space, manned and unmanned aircraft, artificial intelligence, quantum sciences and communications, as well as "other critical and emerging technologies," Rajiv Kumar Narang, senior fellow at the Manohar Parrikar Institute for Defence Studies and Analyses, said in an email. In particular, the Defense Department collaboration with Indian unmanned aircraft systems and space technology start-ups indicate an expanding scope of innovation collaborations, he added.
Kenneth Juster, a distinguished fellow at the Council on Foreign Relations and former ambassador to India, said in an interview that while there is a broad range of capabilities of interest to INDUS-X stakeholders, he is "not aware of a specific target list of projects. Rather, the notion is that the technology and defense ecosystems in [the] two countries should work together and develop products jointly."
Narang said the "U.S. technological ecosystem coupled with Indian innovation [and] ingenuity … can [provide] Indian and U.S. defense forces high technology solutions at lower cost." The hope is that India and the United States' industrial bases "complementing each other and making … innovative and niche technology products at competitive cost" becomes "a habit" going forward, he said.
Ultimately, linking its defense ecosystem with India's could play a key role in the U.S. strategic competition with China, said Sameer Lalwani, a senior expert on South Asia programs at the United States Institute of Peace.
There is an "astonishing amount of innovation talent originating from India already in our respective deep tech ecosystems," Lalwani said in an interview. "As the United States tries to out-compete and out-innovate China, finding partners with the desire and capacity to flow talent with us is going to be at a premium, and India provides this opportunity for us to pool and scale our research and engineering talent pool.
"There's this long-term play, I think, at stake, and INDUS-X is maybe the opening move in that long-term play of the linkage in our science-and-technology ecosystems," he said.
From the Indian point of view, INDUS-X is not "targeted at China" as much as something that fits "the need of the hour" for both the United States and India, said Konark Bhandari, a fellow with Carnegie India.
The war in Ukraine has rapidly depleted the U.S. munitions stockpile, while India is trying to "indigenize" its defense industry and modernize its military, Bhandari said in an interview. "INDUS-X fits perfectly in this particular case.
"If it works out, it will demonstrate how co-development and co-production of defense systems with countries like India could go a long way to replenish these munitions" for the United States, "and in the process, India could become a more" modernized military power, he said.
However, based on past Indo-U.S. agreements, there are many questions about what INDUS-X might deliver. In 2005, the two nations signed the "New Framework for the India-U.S. Defense Relationship," which "laid the foundation for defense cooperation," Narang said. And in 2012, India and the United States launched the Defense Technology and Trade Initiative, or DTTI, which was meant to "to simplify transfer, co-development and co-production of defense technologies," he added.
Lalwani said that while both the new framework and DTTI "were steps in the right direction … I think there [were] still maybe mismatched expectations as to what" the partnership should entail.
"I think the Indians fundamentally wanted to be able to get access to technologies so that they could build things themselves and iterate their own designs for themselves and to maintain and sustain platforms on their own," he said. India's priorities "might have been understood in some pockets of the U.S. government and Defense Department, but … if it was understood at the top, it was not being driven in that way by the U.S. side."
Narang noted that U.S. defense equipment exports to India rose from near zero in 2008 to $20 billion in 2020, but "co-development and co-production with India made little progress."
INDUS-X "is an appreciation of what India is seeking, and the United States believing that it is in the U.S. strategic interest to take on a larger coordinating role to help India get access to technologies, develop them on their own and co-develop and co-innovate technologies that will be a part of the U.S. and Indian defense supply chains," Lalwani said. "So, I think it's another level of partnership, if you will, and willingness to share."
Bhandari said: "Unlike the previous initiatives, where there [were] a lot of expectations, the two sides now are sort of realistic. They're realizing that probably we should provide some modest capital and then see how we can work with other think tanks and incubators and engage with the other [venture capital] firms to secure further resources.
"So, I think for starters, there is a tempering of expectations and the realization that, let's not start with some really ambitious targets which we might not be able to meet," he said.
Private companies and academia will be the "key drivers" of INDUS-X, Narang said. Industry will lead "technology development while academic institutions and start-up accelerators [will] support them in technology development and scaling up production."
Juster agreed the private sector stakeholders from industry and academia will drive the innovation, while the two governments "will be facilitators, trying to stimulate and guide the private sector.
"This initiative is an effort to work from the bottom up with the technology and defense ecosystems of the two countries to see if they can develop greater synergies," he said.
To ensure successful collaboration, a senior advisor group will assess progress and make recommendations to the defense establishments and other stakeholders, the Defense Department fact sheet said. The United States Institute of Peace, Carnegie India, the U.S.-India Business Council, the U.S.-India Strategic Partnership Forum and the Society of Indian Defence Manufacturers "will convene follow-on programming to drive implementation of the collaboration agenda and identify barriers to implementation" for the senior advisor group's consideration.
Identifying potential roadblocks is the likely first step for INDUS-X partners "before we see some big successes" on the technology and innovation front, Bhandari said.
One potential stumbling block — and an area where both nations' governments can play a key role — is policy. India "struggled to establish joint technology development and innovation partnerships with the United States due to its legislative, policy and other challenges" following the 2012 launch of the Defense Technology and Trade Initiative, Narang said.
The United States has a "well-established defense innovation ecosystem for international collaboration," but it must ensure that its government agencies "are on one page for innovation collaboration and technology co-development with India," he said. Meanwhile, India "has to create policies and structures for joint development" to ensure there is sufficient funding, testing, certification and procurement of the technologies and systems developed through INDUS-X.
The public-private partnerships planned for INDUS-X include easing regulations for cross-border development and trade, and standardizing Indo-U.S. certifications for technology start-ups, the Defense Department fact sheet stated.
"Government has a major role to play in the regulatory environment," Lalwani said. "Some of this is about lowering some of the barriers to business-to-business transactions — even if they're between large, established defense primes and emerging, aspiring small [or] medium enterprises — and some of that is just the market signals" that show the government is "invested in the partnership between these two countries and these two countries' defense innovation ecosystems."
While export controls such as the International Traffic in Arms Regulations can't be removed completely, there are ways to adjust policies to reduce "friction," such as speeding up the approval process for licenses and technical assistance agreements, he said.
"If things move faster, that means it's costing companies less time to wait for these cross-national collaborations to bear some fruit, less time for them to be burning capital when they could be moving quickly in terms of their innovation cycle and their product developments and moving to commercialization," Lalwani said.
INDUS-X is "trying to reduce maybe some of the timelines that would otherwise deter a U.S. defense prime from even venturing to try to find an Indian partner to source a sensor system or the targeting pod or something like that."
If U.S. companies know the regulatory processes are moving faster and that "there might be some cost savings on the other end, plus some extra juice from working with a designated strategic partner of the United States, they might be willing to invest that time and … submit through that licensing process," he said. "So, I think that's where you might see immediate improvement." ND
Topics: Government Collaboration, International, Defense Innovation