JUST IN: Air Force Completes First Flight Test for Latest AMRAAM Variant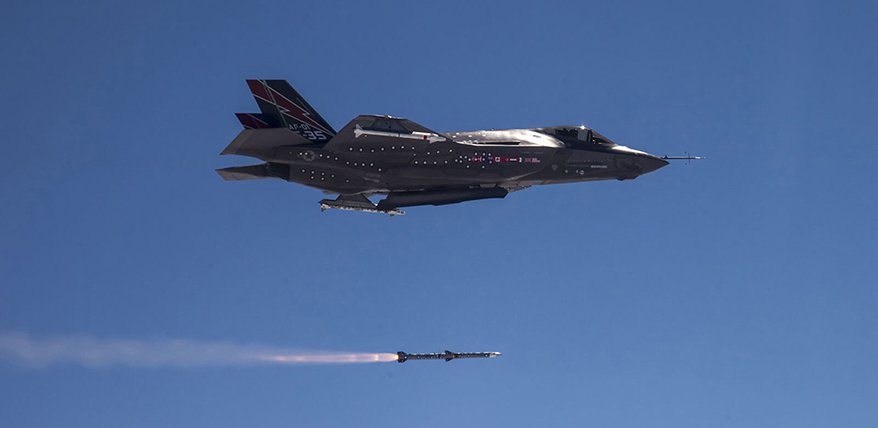 Raytheon image
The U.S. Air Force and Raytheon Technologies announced the first flight test of the AIM-120C-8 missile, the latest international variant of the Advanced Medium Range Air-to-Air Missile, or AMRAAM, has been successfully completed.

The AIM-120C-8 is a new variant of the decades-old missile updated through Raytheon's form, fit, function, refresh, or F3R, program, according to a company press release.
"AMRAAM is a combat-proven missile trusted by more than 40 international partners for both air-to-air and surface-to-air missions," said Paul Ferraro, president of Air Power at Raytheon, in the Sept. 1 release. "With advancements from F3R, which updates both the missile's hardware and allows for future agile software upgrades, we are maximizing the capabilities of this munition for allies around the world."

The first AMRAAMs were delivered to the U.S. military in the late 1980s. Since then, Raytheon has continued upgrading and modernizing the weapon into a lightweight, cost-effective missile, using "inertial guidance, midcourse updates, and an on-board active radar to find the intended target and complete the intercept," according to Raytheon's "AMRAAM Missile" page.

The first AIM-120C-8 flight test follows Raytheon and the Air Force's completion of flight testing of the AIM-120D-3 missile, which was finished 11 months after the initial flight test, Raytheon stated in the release. The Air Force completed its Functional Configuration Audit of the D-3 earlier this year, and the Air Force and Navy are expected to field the missile this year, Raytheon stated in an April release.

The focus of the F3R program is to use model-based systems engineering and other digital technologies to upgrade circuit cards and processors in the guidance section of the missile, and to re-host legacy software in both the AIM-120D-3 and the AIM-120C-3, the release stated.
The Defense Department's fiscal year 2024 budget request proposed a "large lot procurement" pilot program of five-year contracts for AMRAAMs and other munitions. As National Defense reported in May, DoD budget documents said the program was designed so that "synergies in production across different but related programs can generate efficiencies and result in greater production capacity, accelerated delivery and lower unit costs."
The 2024 budget request included 374 AMRAAMs for the Navy and 457 for the Air Force. The AIM-120 is slated to be replaced by the AIM-260 Joint Advanced Tactical Missile, which is behind schedule and will "hopefully" enter production this year, Air Force Secretary Frank Kendall said at a May 2 Senate Armed Services Committee hearing.

In June 2023, the Air Force awarded Raytheon a $1.15 billion AMRAAM contract to produce both AIM-120D-3 and C-8 missiles for 19 countries.
Topics: Emerging Technologies, Global Defense Market, Missile Defense