Handheld Detector IDs Chemicals, Explosives on the Spot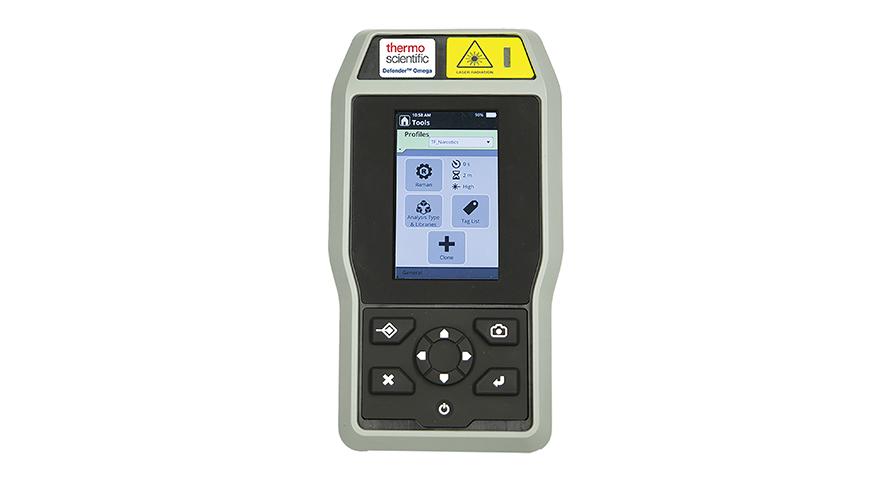 Thermo Fisher Scientific Defender Omega Handheld Raman Analyzer
Arlington, Virginia — Thermo Fisher Scientific recently introduced a handheld device that carries a library of hazardous chemicals with it, allowing users to quickly know what kinds of threats they are facing.
The Defender Omega Handheld Raman Analyzer uses light-scattering technology to observe and analyze molecular structures for defense, security and law enforcement applications.
"The really cool thing about this product is that it does all of that scientific work for you, right in the palm of your hand," said Irene Richard, product manager for the chemical identification safety and security portfolio at Thermo Fisher Scientific, in an interview. "Raman spectroscopy looks at [a substance's] molecular structure. It's got this whole [data] library of different components, and we actually make those libraries using the Defender Omega device, and they're extremely accurate."
And the libraries are what differentiates the Defender Omega for military and defense applications, Richard said. "Not only does it have those narcotics and hazmat libraries, it also has [data on] explosives and chemical warfare agents. ... Defender Omega is really good for both identification and response situations."
The Defender Omega is specifically designed for front-line deployment with dimensions a little larger than a standard brick. The 3.5 pound device has removable rechargeable batteries, IP68-level water resistance, WiFi connectivity and an easy web user interface, according to a product brief.
It also features GPS capability and a digital camera for time and location stamping and instrument logs, which keep track of who scanned what substances and when.
In addition to the library on the device, the Defender Omega's algorithm interprets data differently than other devices do, Richard said.
"It's not only looking at the spectra that comes off the sample, but it's also looking at how the spectra comes off of the sample," she said. That's a patented technique the Massachusetts-based company has been building upon since it was a startup, she added. ND
Topics: Emerging Technologies