BREAKING: Army Awards First Multiyear Munitions Deal, Reveals New Loitering Bomb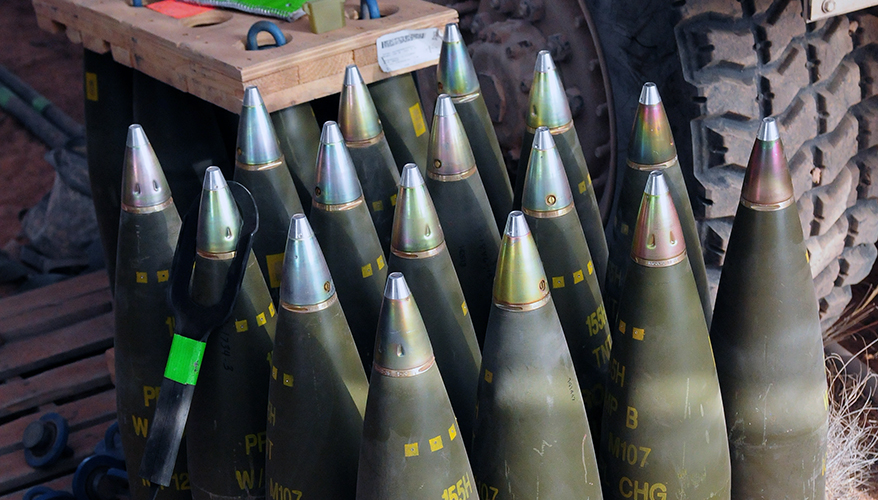 155mm shells
Army photo
ARLINGTON, Virginia — The Army has awarded its first multiyear contract to procure a munition, the service's acquisition chief announced Aug. 7.
The service has begun ramping up artillery production to actively supply munitions to Ukraine while also working to maintain its own stockpiles, Assistant Secretary of the Army for Acquisition, Logistics and Technology Doug Bush said during a media roundtable.

The Army is currently producing 24,000 155mm rounds per month, with the goal to manufacture 80,000 to 85,000 per month by fiscal year 2025, Bush said. "So, that ramp-up is really about to kick in, and we look forward to working with industry as we make that happen. And we made multiple investments there, in multiple facilities. So, we're working with a variety of industry partners on that."

One of those investments was the multiyear contract award to IMT Defense, which spans from fiscal years 2023 to 2027, Bush said. The contract is specifically for M1128 rounds — which Bush described as the Army's "new generation of shell" — and is currently valued at $162.7 million, but there are "hooks in the contract to go higher," he said.

"It's a multiyear contract, so it will allow for additional delivery orders," he said. "We did it that way because we're getting replenishment dollars to replace what we sent to Ukraine, and we want to be able to use this multiyear contract for a good portion of that."

It is the first of four planned multiyear contracts "that will specifically support artillery production," he added.
Industry has long advocated for multiyear contracts as it gives contractors the ability to plan ahead, and procure raw materials at larger quantities, which they say brings prices down. It also saves them from the vagaries of yearly funding from Congress, which rarely passes budgets on time.

"That's something we have had the authority to do for a while," he said. "I think the conflict [in Ukraine] raised the importance of doing it to strengthen the industrial base. And of course, the other multiyears under discussion still require Congressional approval. These four we're doing are under the threshold, and we're able to execute them this year, based on language we received for fiscal year [2023]. So, very excited about that, and more to follow."

Along with producing more artillery rounds, Bush said the Army is also looking to develop one-way attack drones — also known as loitering munitions, which have proven effective in Ukraine.

The service's Program Executive Office Soldier announced on July 7 it had initiated the Low Altitude Stalking and Strike Ordnance, or LASSO, program. The system is "a man-portable, tube-launched, lethal payload munition, unmanned aerial system" that includes an electrical optical/infrared sensor, precision flight control and "the ability to fly, track and engage non-line-of-sight targets and armored vehicles with precision lethal fires," the office's release said.

LASSO will "provide infantry units primarily with a loitering attack munition," Bush said. "We are, though, going to take a competitive approach. So, I think early increments of that might be some of the things that have been sent to Ukraine, but there [are] a lot of companies in that space. So, we're going to leverage competition, as well as maybe have more than one version so we can have more production capacity."
Topics: Army News