NDIA PERSPECTIVE SPECIAL OPERATIONS
Special Operators Essential for National Strategy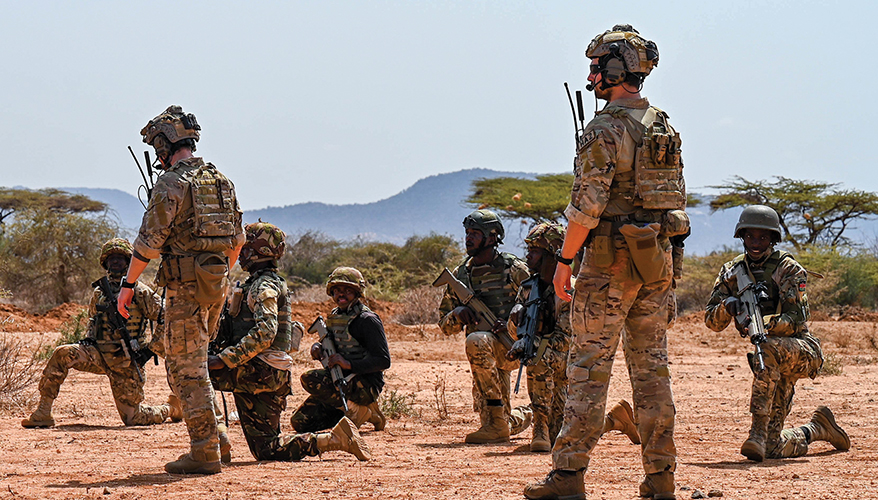 Defense Dept. photo
As we head into a very busy fall season, please pause for a moment to turn your thoughts to our military and their families, especially those deployed around the world protecting our freedom, values and way of life.
Both directly and through our alliances and partnerships around the world, they are deterring tyranny and aggression, and your team at the National Defense Industrial Association remains awed by their committed service.
This month, Congress returns to complete a very full legislative agenda, and NDIA is focused on supporting timely completion of on-time appropriations for the entire federal government. The stakes are high for the Defense Department. Under the recently passed Fiscal Responsibility Act, colloquially referred to as the debt ceiling deal, all appropriations bills must be completed before Jan. 1, or all federal departments and agencies will lose one percent of their funding.
Budget instability, including continuing resolutions, continue to wreak havoc on warfighters and member companies working so hard to support them, and we are committed to educating government stakeholders and the public about the challenges caused by this dysfunction.
Service members and their families deserve better, as do the companies in the defense industrial base that are investing and working to ensure the armed forces have the capabilities, platforms and services they need to effectively defer aggression and to protect the homeland.
The House and Senate will also start negotiating the final Fiscal Year 2024 National Defense Authorization Act, or NDAA. Among the many important provisions, the association is focused on the resolution of extending waivers for streamlined acquisition of defense stocks related to Ukraine and authorizations of additional munitions eligible for multi-year procurement contracts.
These provisions are important, because the illegal and unjust invasion of Ukraine has illuminated production limitations and supply chain challenges that prevent companies in the defense industrial base from quickly accelerating the manufacturing of weapons systems and munitions.
Since the end of the Cold War, the Defense Department has shifted — along with the rest of the U.S. economy — to a "just in time" mindset which has resulted in industrial production capacity that cannot surge quickly during a crisis.
William LaPlante, undersecretary of defense for acquisition and sustainment, is focused on this very challenge. We strongly support his three priority lines of effort for the acquisition and sustainment community: increase U.S. capabilities and production; renew emphasis on allies and partners, especially in the areas of co-production and co-development; and focus development of acquisition strategies and asymmetric technological capabilities to effectively deter near-peer competitors.
In addition, based on the lessons learned from the conflict being waged in Ukraine, he is also emphasizing the importance of realistic training and sustainment requirements during the development phase of systems and platforms. He is challenging the acquisition community to ensure these systems and platforms are both deployable and sustainable during deployments and conflicts.
In addition, earlier this year he established the Joint Production Acceleration Cell as a direct report. He has charged it with building enduring industrial production capacity, resiliency and surge capability for key defense weapon systems and supplies. The purpose is to shift the department from a crisis-management, reactive posture, to one that proactively and continuously analyzes and identifies opportunities to optimize production capacity, resiliency and surge ability. While the cell is initially focused on munitions, the intention is to expand to weapons systems and suppliers.
Another area of congressional focus regarding the conflict in Ukraine is the role of irregular warfare. Peer and near-peer competitors are avoiding direct confrontation with the United States and instead are focusing on conducting sophisticated proxy conflicts and accelerating disinformation and propaganda campaigns. During this decisive decade of global competition, the strategic environment is rapidly shifting to overcome these evolving geopolitical, technological and operational challenges.
A successful and sustained U.S. irregular warfare strategy will be an essential element of an effective response. Therefore, Congress is considering a provision to authorize the secretary of defense to provide support to foreign forces, irregular forces, groups, or individuals engaged in supporting or facilitating ongoing and authorized irregular warfare operations by U.S. Special Operations Forces.
In the larger context, the assistant secretary of defense for special operations and low intensity conflict and the leader of U.S. Special Operations Command are focused on ensuring operators are well-prepared for current and future challenges, and they have coalesced the community around three shared priorities: strengthen our force and families; succeed for the nation; and modernize for the future — or "People. Win. Transform."
To do so, Special Operations Forces will need to rapidly develop and scale new capabilities relevant to today's strategic competition just as they quickly scaled counterterrorism and counter-insurgency capabilities over the preceding decades.
Special Operations Forces are a strategic competitive advantage for the nation, and we are grateful for their service and sacrifices, which have been significant and sustained. I therefore strongly encourage you to join us for the 34th Annual SO/LIC Symposium on Oct. 30-31, at the JW Marriott Washington, D.C.
The focus of the symposium is on special operations priorities and capability requirements in an era of great power competition. Our service members and their families need you. Our member companies welcome you. Join us! ND

Michael Bayer is NDIA board chair and president and CEO of Dumbarton Strategies.
Topics: Special Operations-Low Intensity Conflict, Special Operations