ROBOTICS AND AUTONOMOUS SYSTEMS
WEB EXCLUSIVE: Small Drone Threat Grows More Complex, Deadly as Tech Advances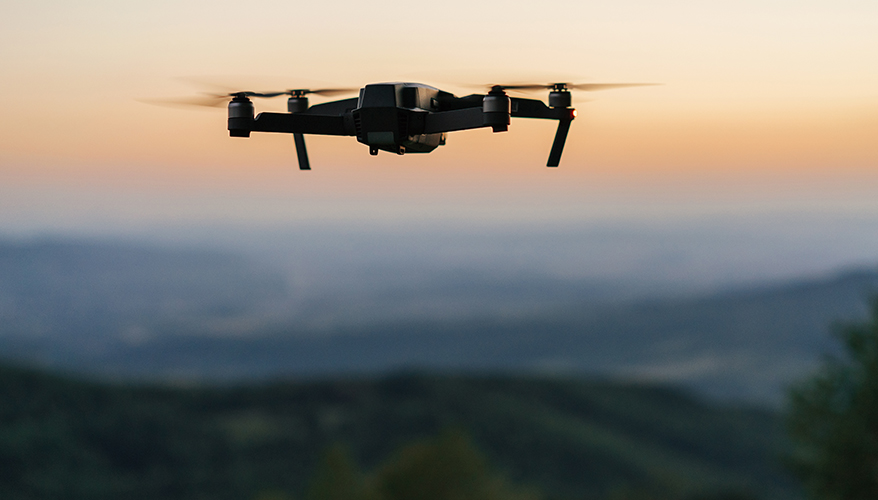 iStock photo
WASHINGTON, D.C. —
If anyone wants to get an idea of how quick and potentially deadly small drones are becoming, all they have to do is head over to their local hobby shop, said one of the Pentagon's key advisors on the threat.
"Today, you see these racing drones that are smaller, they're faster, they're lightweight. Just think of how you — as an adversary — could use something like that in the homeland or abroad," said John McGough, counter uncrewed systems deputy director under the deputy assistant secretary of defense for platform and weapon portfolio management.
"These unmanned aircraft systems are also incorporating the technological innovations and the lethality that can inflict significant damage on the infrastructure and militaries of sovereign countries," he said Aug. 29 at the National Defense Industrial Association's Emerging Technologies Conference and Exhibition in Washington, D.C.
They are now the preferred weapon in conflicts in the Middle East and Europe, McGough said, citing open source intelligence.
The Defense Department in fiscal year 2023 planned to spend $668 million on counter-UAS research and development and an additional $78 million to procure the hardware, according to an April Congressional Research Service report on the topic.
"Small unmanned aircraft systems are growing in variety, quality and quantity. However, their ability to adapt to complex operational environments with autonomy, volume, speed and lethality makes them a very challenging threat," McGough said during a panel discussion at the conference.
Army Col. Michael Rodick, chief of the operations division in the Joint Counter-Small Unmanned Aircraft Systems Office, during the panel showed a series of ways they are being used in Ukraine and elsewhere. The drones loitered for surveillance, or worked in tandem with one spotting the target and a second slamming kamikaze-style into a military vehicle hiding in a garage.
The clips showed artillery pieces and combat vehicles being destroyed and presumably the last moments of a warfighter who heard the drone coming and took cover, but to no avail.
Rodick said the small UAS threat falls into four categories: surveillance; delivery of explosives; loitering munitions, or kamikaze drones; and the "non-nefarious" actors — the hobbyist in the homeland who recklessly wanders into restricted airspace, for example.
The joint office was set up three years ago to help rapidly develop counter-UAS technologies for the three smallest classes of drones. It funds promising technologies and takes them through the test and evaluation in hopes that the services like what they produce and adapt them as their own programs of record.
Finding solutions continues to be challenging as the technology progresses, he said.
"Now, we're seeing UAS able to loiter longer, with longer battery life that can reach farther distances and have increased payloads. They are hardened. They use 5G," he said. They are faster, and can be used in swarms to overwhelm defenses, he added.
The office has held a series of demonstrations based on tasks it would like to see counter-UAS systems perform, such as knocking them out of the sky with electronic warfare techniques. The next demonstration in summer 2024 at Yuma Proving Ground, Arizona, will concentrate on technologies that can defeat swarms, he said.
And to make sure it is open to any new ideas, the joint office holds an industry day once a week where vendors can come in to make presentations, he said.
The main takeaway, Rodick said, is that the threat is always evolving. Another major lesson learned is that there is no "silver bullet" solution to defeating small UAS. Rodick showed a second set of clips of some of the technologies it has funded using different methods to knock down enemy drones.
One drone flew by an encroaching UAS and used electronic warfare to jam its controls, causing it to tumble from the sky. Another ground-based system spotted a target with its radar then blasted it with high-power microwaves and fried its circuits. A third deployed a net, captured it and flew off with its prey.
McGough said his office's role is to help facilitate the short and long-term technology development and to make sure the Departments of the Army, Navy and Air Force are adhering to common counter-UAS technologies, standards, concepts and policies and coordinate with allies and partners. There were some 80 different counter-UAS programs among the services when the joint office was established, Rodick added.
McGough urged industry to start looking at how artificial intelligence and machine learning can be applied to help solve the complex counter-UAS problem.
Rodick said since UAS tech is evolving quickly, "We have to look at creative ways to keep pace with the threat as it advances so rapidly, and look at it from a system-of-systems approach … and maximize the effectiveness of everything you have as opposed to just one silver bullet — because there is there isn't one."
Topics: Robotics and Autonomous Systems, Robotics