New 'Scalable' Hand Grenades on Way to Army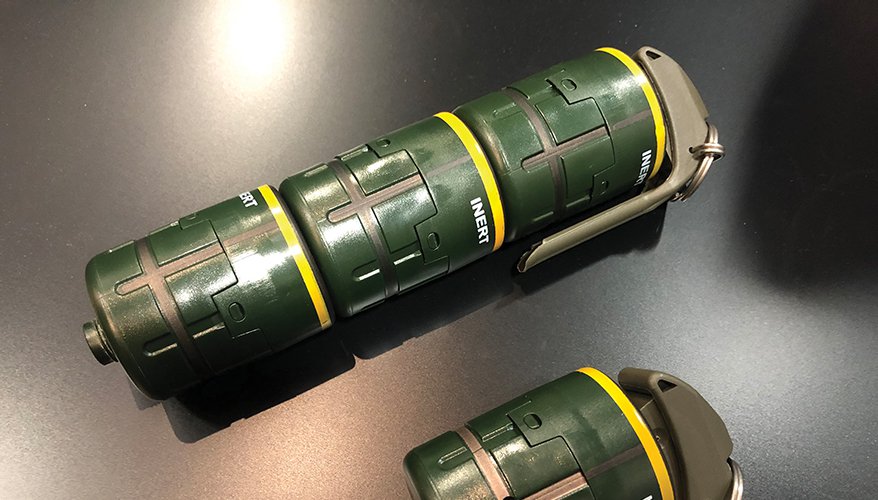 Scott Gourley photo
GJØVIK, Norway — The U.S. Army recently completed first article testing and conducted lot acceptance testing in preparation for fielding a new Scalable Offensive Hand Grenade produced in Norway.
Olli Harju, product director for hand grenades in Nammo Defense Systems' large caliber systems business unit, said a tactical dilemma confronting troops is whether their heavy personal loads should include fragmentation or different sized overpressure grenades.
With the Scalable Offensive Hand Grenade, "you need only one product basically for the offensive environment," he said in an interview at a test range near the company's headquarters.
The design features standard threaded modules that can be used in "base," "base plus 1," or "base plus 2 configurations," he said. The warfighter can connect up to three of the bases depending on how big of a charge they think is needed. Each base contains 115 grams of explosives. They measure 85 millimeters tall with a 53-millimeter diameter.
"The same hand grenade with identical modules can be used in different situations, and the user can scale the effect during the mission," he said.
In addition to scaling the amount of explosives, the design features a "fragmentation sleeve" that slides on the modules "to add some steel in the air," he noted.
Following completion of field acceptance testing in March and lot acceptance testing in June 2023, the program is on track to meet the first two deliveries in October and February 2024, the company said. Under an August 28, 2022 contract award, the Army will receive 76,935 of the scalable grenades.
The scalable design reflects lessons and experiences from the company's manufacture of one million grenades over the past 50 years, Harju said.
The company's "modern era" of offensive hand grenades started with the Fragmentation Hand Grenade 165, a "black ball" design featuring 165 grams of Comp B or PBXN110 explosive in a pre-fragmented steel body that provides nearly 360-degree distribution of 2,500 to 3,000 equal sized lethal fragments.
For other scenarios such as door breaching and clearing improvised explosive devices that call for overpressure effects, the company's more powerful HGO225 explodes with a limited number of fragments. ND
Topics: Munitions Technology