JUST IN: Tech Acceleration, Ally Partnerships Critical to Deter China, Admiral Says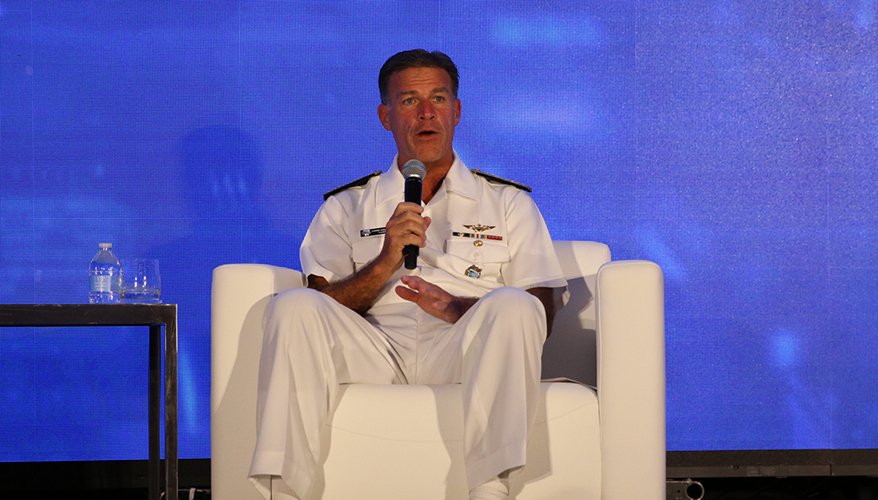 Aquilino
NDIA photo
If the United States hopes to deter China from engaging in conflict, it needs to urgently accelerate the delivery of new technologies, as well as maintain a mutually beneficial, communicative partnership with its regional allies, U.S. Indo-Pacific Command's leader said Aug. 28.
The United States' approach to China is to provide forward lethal combat power that is "prepared to respond, positioned accordingly, communicative with U.S. allies and partners and in possession of the right capabilities," Adm. John Aquilino, Indo-Pacom commander said at the Emerging Technologies for Defense Conference and Exhibition in Washington, D.C.
In order to be prepared for a possible conflict, delivering accelerated capabilities is key.
"We refer to it in terms of decision superiority," Aquilino said. "That means we have it today, but we need to accelerate it. And we need to always stay in front of any adversary."
China has recently focused clearly on delivering a force "capable of taking on the United States. And the speed and acceleration that they have shown and they are delivering [is] the largest military buildup since World War II, both in conventional forces and its strategic nuclear buildup," Aquilino said.
However, he is confident that accelerating the delivery of new weapon systems and capabilities are high on the Defense Department's priorities.
"The department is focusing on the [People's Republic of China] as the primary security challenger, and that defense strategy based budget that has been pushed forward. It certainly is encouraging," he said.
Maintaining allies and partnerships both in and out of the Indo-Pacific is critical to preparing for a possible conflict, and it is something the U.S. must continue to exploit, Aquilino said. The U.S. currently has five treaty allies in the region: Japan, Korea, the Philippines, Australia and Thailand.
"The key, or one of our asymmetric advantages as we work through this delivery of deterrence, is our synchronized information sharing and working together with our allies and partners," he said. "The work that we do together every day — and it is every day — with those allies is critical. The partners, as well as the rest of the nations in the region, what you have seen occur is more integration, more multilateral operations and rehearsals and practice together."
Aquilino said one example is the Joint Fires Network, which is is designed to help the military integrate, synchronize and utilize to deliver effects anywhere in the battle space and other actions across the board, as well as make them applicable to be supported and delivered to allies and partners.
The Mission Partner Environment is another. It allows the military to communicate, and share classified information with its partners both securely and in real time.
The Pacific Multi-Domain Training and Experimentation Capability, or PMTEC, enables "Joint, Combined, and Coalition warfighters to realistically rehearse fighting in highly contested all-domain environments against peer adversary capabilities to support integrated deterrence," according to the command.
Stormbreaker, an artificial intelligence-enabled planning and war gaming capability, allows warfighters to run through scenarios to develop concepts of operations, or CONOPS, to assess those concepts, and plan at an accelerated speed.
Aquilino also made it clear that "the goal is to prevent this conflict, not to have it."
But if deterrence fails, the U.S. must be prepared to engage and win, he said.
Topics: Defense Department, Global Defense Market, International