JUST IN: Defense Innovation Unit Needs to Support Strategic Deterrence, Director Says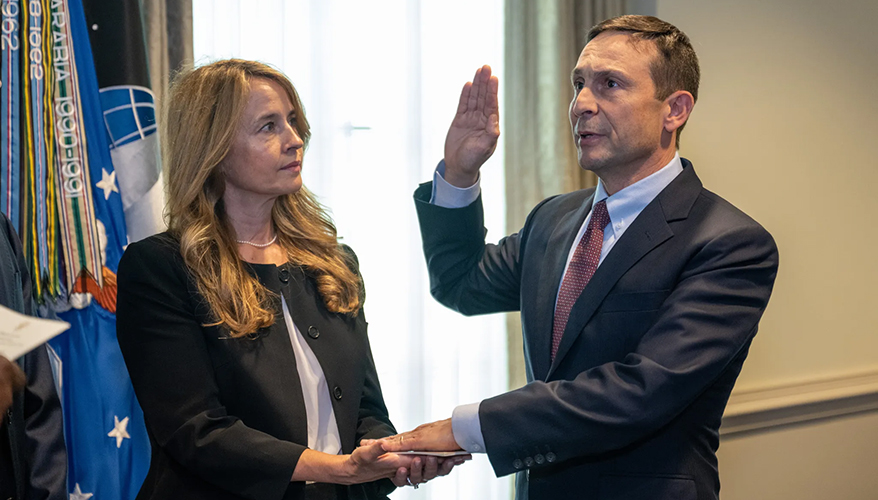 Defense Dept. photo
AUSTIN, Texas — The Defense Innovation Unit has demonstrated success in delivering commercial technology to customers in the Defense Department but needs to take the next step and deliver at a speed and scale that can deter adversaries, said the new director of the unit.

Doug Beck, who took charge of DIU in May, said until now the organization "has really been about proving that you could take a real military problem and a commercially derived technology, bring those things together to come up with a solution to that problem, [and] leverage other transaction authority or something else.

"And that has now been done many, many times at DIU and a lot of the other organizations that are represented here today," he said at the Fed Supernova conference in Austin. "And that is great. And we've seen some real impact from that, including Ukraine."

However, it's not enough to meet the strategic challenges facing the United States, he said.

"What we have to do now is take that capability and apply it for strategic effect," he continued. "And by strategic effect, I mean apply it so that by having done so we are able to help to deter major conflict." Or if deterrence fails, then to change the metric from just measuring how many things DIU prototyped to "by doing so did we meaningfully change our [operational plans]? Did we meaningfully change our deterrence options? Did we meaningfully change the adversary's [operational plans]?"

To achieve strategic impact, DIU — now in what he referred to as iteration 3.0 — will have to focus on a smaller number of projects and core problems and then find the critical technologies in the commercial sector that can solve the problems, he said.

"And then do the hard work to be able to scale them, working with the rest of the department — from the combatant commanders back through the services, both uniform and secretariat and partners across [the Office of the Secretary of Defense] and the joint staff — in order to deliver that scale and do it with speed relevant enough to actually meet that strategic challenge," he said.

The department will soon announce new approaches to scaling innovation and how DIU will be shifting some of its efforts to achieve strategic effects, Beck said on the sidelines of the conference. While he could not provide details, he said there will be more focus on embedding deeply with the combatant commanders, particularly in INDOPACOM and EUCOM "to be in a position to both help shape the way that we're getting after those most critical operational capability gaps, and then find the places where commercial technology, commercially derived technology, can have the greatest impact."

Then the focus will be working with the services and partners to scale the solutions, he said. "And that's a big part of where things have, as you know, kind of [tended] to break down in the past."

Part of the problem was that DIU and the broader innovation community wasn't always at the table during important conversations about needs in the department and what's available in the commercial sector, he said. DIU was sometimes "coming in afterwards to say, 'Hey, there's some great tech here, we can help solve that.' And instead of not being [at] the table, in some very, very concrete ways we are at the table, and in some cases now helping set the table for those discussions."

That's a "massive change" that has resulted from the secretary of defense elevating DIU to a direct report, he said.

While there is a lot of emphasis on the need for capital and investment, that's not the limiting factor in scaling innovation, he said during the conference.

"Capital is actually not the scarce commodity here. There is plenty of capital that is willing and able to invest into this space," he said.

"And the way I think about it is the critical problem here isn't about finding capital, it's about being a better counterparty for capital, which is all about clarifying our demand signal … by first focusing on those things that truly matter," Beck said.

The commercial sector isn't looking for a zero-risk scenario, he said, but it is looking for clarity about what the risks are.

It's about "doing the work to help to clarify which things are likely to actually scale and where we are in that journey," he said.

Beck said that DIU is focusing on three lessons from Ukraine. "It's absolutely clear how much commercial technology or commercially derived technology is making [a] difference in Ukraine … in all kinds of ways, from commercial space for collections or analysis to secure comms, leveraging mesh networking in places that [the] comms infrastructure has been destroyed, or where it's owned by the adversary," he said.

The second lesson is it's often much easier to get commercial technology into the hands of a partner than into a program of record in the department, even when there is a demand within the department.

"There's still just a lot of work that has to go into making those transfers happen, at least today," he said. "And on the other hand, sometimes you can just introduce that partner to a commercial technology and say, 'Hey, you might think about using this.' And that can sometimes happen much more quickly" than it can inside the department.

"And a third lesson is, we've really seen the value of not just putting the technology in the hands of folks who need us, but really helping to bring just the expertise and the talent," he said.

That means deploying people from DIU and the innovation ecosystem into Europe and U.S. European Command to help solve problems for Ukraine.

The lesson the department is still learning from the war in Ukraine is the importance of reaching the scale needed to solve strategic problems.

"And that point of scale is critical," he said. "We've got to figure out how to get to scale, because that scale is how we deliver the strategic impact."

"So, that's something we are focused on right now, figuring out OK, how do we get after that? And that's a big part of what DIU 3.0 is working on doing," he said.
Topics: Defense Department, Defense Innovation