NDIA POLICY POINTS MUNITIONS TECHNOLOGY
Shifting Munitions Requirements for Great Power Competition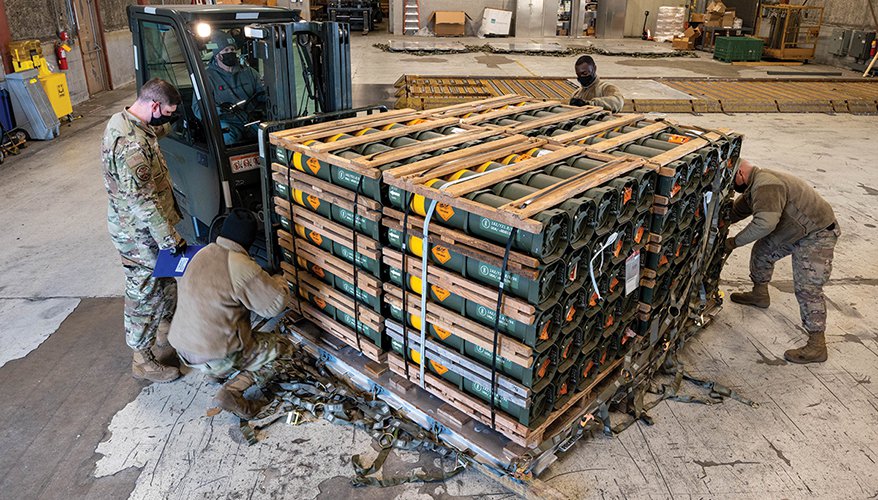 A pallet of ammunition and other equipment
Air Force photo
This fall, the congressional defense committees will be hard at work negotiating the final fiscal year 2024 funding, policies and authorities critical to support our warfighters and the defense industrial base.
One important focus area is the resolution of the president's request for multi-year procurement authorities and funding for specific munitions.
The illegal invasion of Ukraine highlighted surge production challenges with munitions, including supply chain limitations and vulnerabilities, long lead times for components and raw materials, price volatility, the availability of skilled workforce, aging industrial infrastructure and constrained production capacity. These challenges inform the difficulties in meeting immediate requirements to restock current inventories, let alone addressing emerging requirements to scale new production.
Government requirements, budgets and contracts drive both investment and production levels. Munitions requirements generated by the military services are derived from the National Defense Strategy, and these requirements have evolved over the last 30 years. In the 1990s, the munitions requirements for the military services were tied to operational plans with planning assumptions for the United States to prevail in two major theater wars.
Over time, the munitions requirements have adjusted to new national strategies. The first adjustment was to generate requirements needed to prevail in one major theater war while maintaining effective deterrence in a second theater until resources could be shifted.
The second adjustment occurred as the United States shifted from planning for major theater war operations to executing low-to-medium intensity conflicts. This second adjustment also de-prioritized certain categories of munitions such as artillery and long-range fires.
In addition, munitions have often been the bill payers for higher priorities in the Defense Department budgeting process. While the military services and combatant commands reference requirements-based processes, the munitions requirements in the annual budget process are often softened from "what is required" to "what we can afford."
As an example, the services have resourced buying enough munitions to meet training requirements rather than major theater of war requirements. The services also tend to prioritize a wider breadth and shallower depth of munitions capabilities rather than completing the depth of any one capability.
These decisions assumed production could be accelerated in the event of conflict. The services should baseline budget conversations on the total inventory requirement for operational plans for different theaters.
Industry also needs consistent, steady and sustained funding through contract vehicles, not press releases, to ramp up production volume. The importance of the multi-year procurement authorities, and the associated advanced procurement and economic order quantity funding, help companies and investors make important decisions regarding investments in modernizing facilities, infrastructure, production lines and equipment.
For both the commercial and the organic industrial base, it is important these modernization investments include improvements to facilities and infrastructure, not just production lines and equipment. In addition to increasing production, these investments also help industry retain and recruit skilled workers. In a tight labor market, many companies are stretched managing the current production demand signal and need additional support in expanding capacity, both in terms of workforce and industrial footprint.
Ramping up production of munitions will also exacerbate the competition for component parts, such as electronics and circuit cards. The competition is both between munitions categories and with the civilian economy, including the automobile and mobile phone sectors.
This competition puts additional pressure on fluid and unpredictable supply chains. For multiple munitions, the lead time for critical components has nearly doubled, and industry forecasts supply chain challenges will not smooth out until late next calendar year in many of these areas.
Therefore, earlier this year the undersecretary of defense for acquisition and sustainment established the Joint Production Acceleration Cell to shift the department from a crisis-management, reactive posture to a proactive posture that can identify opportunities to optimize production capacity, resiliency and surge capability. Its initial focus will be on munitions.
The Defense Department requested multi-year procurement authorities as part of this larger strategic shift. The purpose is to send a strong demand signal to both industry and to investors. For this effort to be successful, the department will have to also consider carefully providing Economic Price Adjustment clauses in contract vehicles, and Congress will have to be open to providing the associated funding.
In the past year, suppliers have emphasized inflation escalation on long-term contracts as a significant deterrent to signing multi-year contracts, and they have highlighted price volatility in raw chemicals and energy as two specific, but not exclusive, challenges in locking in cost estimates.
The current industrial posture for munitions production did not occur in a vacuum. Thirty years of bipartisan policy and funding decisions have shaped budgeting strategy for government and investment strategy for industry. Each of the powerhouses of U.S. defense industrial readiness — stable and predictable budgets; an experienced and specialized workforce; diversified and modern infrastructure; manufacturing innovation; and sufficient, including idle, capacity — required for scaling munitions production have all atrophied over the last 30 years. Approving and funding the requested multi-year authorities is an important step in reversing that trend. ND

Jennifer Stewart is the National Defense Industrial Association's executive vice president for strategy and policy.
Topics: Budget, Manufacturing