JUST IN: Air Force Selects Startup for Blended Wing Body Aircraft Prototype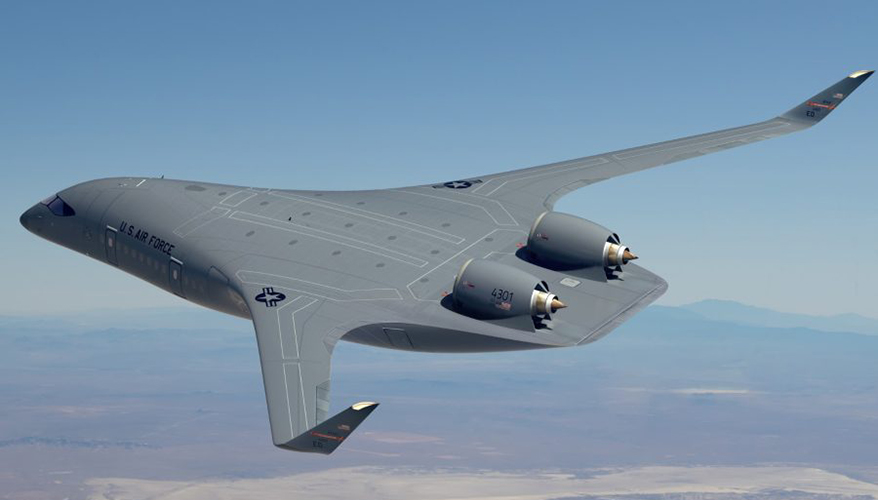 JetZero image
The Air Force has selected JetZero, a Long Beach, California-based aerospace company, to produce a blended wing body aircraft prototype that could serve as a model for much of the service's future fleet.
The blended wing body, or BWB, prototype demonstration project is intended to "accelerate the next generation of what may be the large aircraft fleets that the Air Force needs in the future," said Secretary of the Air Force Frank Kendall at an event hosted by the Air & Space Forces Association on Aug. 16.

Through the project, the Air Force and Defense Department aim "to mature BWB technology and demonstrate its capabilities, giving the department and commercial industry more options for future air platforms," according to an Air Force press release.

"BWB aircraft have the potential to transform air operations for the Air Force and significantly reduce fuel demand, giving our warfighters the strategic advantage they need to win," Kendall said.

A blended wing body aircraft combines conventional aircraft features with a hybrid shape resembling a single flying wing.
NASA, which is also currently exploring blended wing body technology for both civilian and military applications, said in a BWB-technology fact sheet the entire aircraft provides the required lift, merging "efficient high-lift wings with a wide airfoil-shaped body, allowing the entire aircraft to generate lift and minimize drag. This shape helps to increase fuel economy and creates larger payload (cargo or passenger) areas in the center body portion of the aircraft."

Blended wing body technology is not new. The concept was developed before World War II. Both production and research failures brought the development of blended wing body aircraft to a halt around the 1950s, but the technology later took flight on platforms such as the B-2 Spirit stealth bomber and its replacement the B-21 Raider, which is expected to make its delayed first flight sometime this year.
The Air Force stated in a press release that recent technological advancements "in structural design, materials technology, manufacturing and other areas have made large-scale production [of BWB] aircraft achievable."

Dr. Ravi Chaudhary, assistant secretary of the Air Force for Energy, Installations and Environment, said proper development and use of BWB technology, particularly when it comes to fuel efficiency, can help the U.S. maintain its technological edge over China.

"The stakes couldn't be higher in the Indo-Pacific," he said, "It's no stretch to say that operational energy will be the margin of victory in a near-peer conflict. … It's also about efficiency. In the Indo-Pacific, we expend a little more gas. We need a little more efficiency, the distances are a little bit longer, and if you've flown it, you feel it."

Chaudhary said blended wing body capability will be critical in the defense and military sector.

"We can no longer afford to move at the speed of government when technology is moving at the speed of the threat," he said. "If we're going to be successful, we need to come together — government, industry, academia, all with a sense of urgency. Because if we don't, our adversaries will. This is an endeavor in which we dare not come in second place."

Tom O'Leary, co-founder and CEO of JetZero said: "It's a pleasure for us to be of service to the Air Force and to the nation. It's all about bringing capabilities. It's about bringing capabilities to the Air Force, to the warfighter."

The JetZero prototype's first flight is scheduled for 2027, O'Leary added.
Topics: Aviation, Emerging Technologies