ROBOTICS AND AUTONOMOUS SYSTEMS
New Drone Can Drop Variety of Munitions on Targets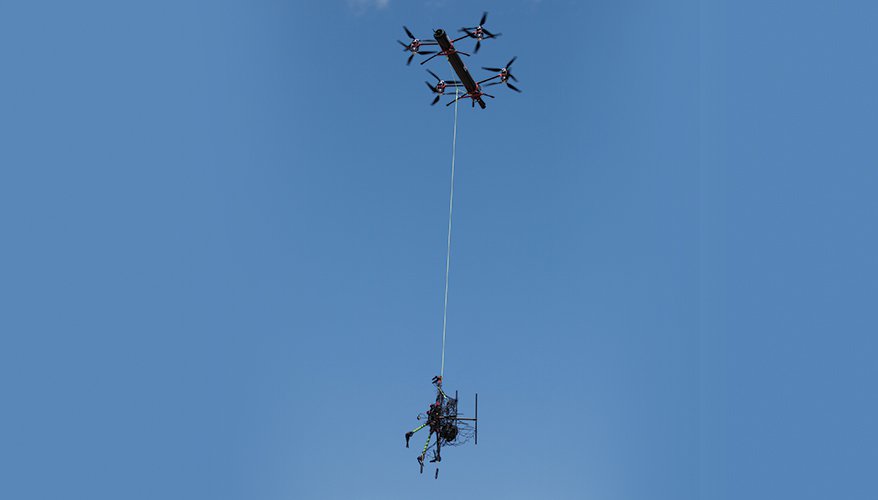 SCI Technology photo
WASHINGTON, D.C. — A manufacturer has developed a cigar-shaped advanced delivery drone that can efficiently drop a variety of munitions on targets without loitering.
The new unmanned aerial vehicle AeroStrike is based on a counter-drone product, AeroGuard, which was designed to detect, capture and dispose of aerial threats, said Max Klein, chief technology officer for Huntsville, Alabama-based SCI Technology.
"The capability AeroStrike provides is effectively a lower-tier aircraft bomber, similar to how AeroGuard is an autonomous, lower-tier air-to-air fighter aircraft," Klein said on the sidelines of the Modern Day Marine conference.
"While various terrorist organizations have been using consumer drones for years to drop mortar rounds and other warheads onto their targets while maintaining their operators well out of harm's way, the use of more purpose-built, one-way trip loitering munitions has been pushed into the public light by the war in Ukraine," Klein said.
Unlike so-called suicide drones, AeroStrike is a fully autonomous, reusable platform that can carry various munitions, including anti-armor and anti-personnel munitions, on a rail underneath its heavy-lift, high-speed airframe, Klein said. "AeroStrike allows the [munitions] to be dropped on the target while the delivery platform — including the airframe, flight controls and targeting systems — is fully reusable."
The drone can also dispense between 10 to 40 kilometers of optical fiber behind it while flying, he added.
"You can be totally spectrum denied, have no radio signal emitting — so you're not detected and have nothing to jam — and still have a very high bandwidth [command-and-control] datalink," Klein said. "You could put ultra-HD cameras, hyperspectral imagers — all that in real-time data feeds while you're flying." Even if the fiber line is cut en route, the drone is programmed to return to where it was originally deployed, he continued.
Based on the given geolocation, AeroStrike can also do its own calculations, allowing the drone to drop its munitions on its designated target without loitering. Since the airframe was originally designed to be able to tow up to 55 pounds, the available thrust increases the drone's speed and efficiency for its missions, Klein said. ND
Topics: Robotics, Robotics and Autonomous Systems