Pentagon Mapping Wearable Sensor Tech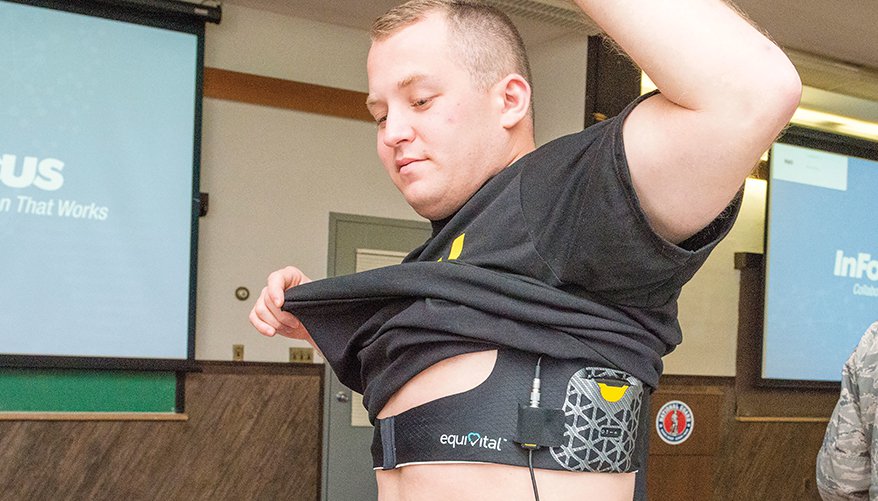 A soldier tries on a wearable monitor.
Defense Dept. photo
HONOLULU — Wearable sensors that keep track of athletes' vital signs are common in today's sports arenas.
And smartwatches worn by the public can monitor a user's health.
Various Defense Department agencies and labs for the past decade have also been looking at how the emerging field of "wearables" could benefit warfighters in battle zones.
Now, the Pentagon is looking to get a handle on all the programs that are underway and to come up with a roadmap for the technology's future.
Dave Restione, director of the Defense Department's wearables pilot program, in the office of the undersecretary of defense for acquisition and sustainment, chemical and biological defense division, said the study on all the Defense Department programs came at the behest of his boss, William LaPlante.
"I think the undersecretary noticed last year that there were so many different efforts going on across the department that in a few years we would have soldiers, sailors, airmen, etc. wearing six watches, five chest straps and 10 rings," Restione said during a recent panel discussion at the National Defense Industrial Association's Pacific Operational Science and Technology conference in Honolulu.
Wearable sensors take many shapes and forms, including the watches and rings that are showing up in the consumer market, patches, the chest straps seen on soccer players, special fabrics intertwined in clothing and sensors that dangle off a subject sniffing the air for chemical or biological agents.
Military wearable sensor programs are generally divided into three categories: medical care — including battlefield triage and diagnosing illnesses ahead of the curve; tracking physical performance; and detecting chemical or biological attacks, he said.
The first category received a lot of attention and research-and-development funding through the CARES Act during the COVID-19 pandemic, while the Defense Threat Reduction Agency has been keenly interested in early warning for chem-bio attacks, he noted.
As for monitoring vital signs, a body emits about 12 basic indicators that can be picked up by minimally invasive sensors. The myriad programs from different communities — all looking at the benefits of each of the 12 categories — was another reason LaPlante wanted to consolidate efforts, he said.
For example, body temperature. "There [were] a whole bunch of programs looking at minimizing heat strain or identifying heat strain or excess heat," Restione said.
Similarly, there were several ongoing programs investigating and monitoring sleep patterns.
Indo-Pacific Command, which co-hosted the conference, was running one of the programs. There are a lot of sleep deprived personnel in Hawaii who have to get up at 3 a.m. every day to call into meetings held at the Pentagon, he noted.
"We certainly realized that on the commercial side that the technology for the hardware is quite robust. And that's why we're leveraging that in the studies that we're conducting. We're not trying to develop a new hardware solution," Restione said.
The year-long study on wearables began in August 2022 and was expected to wrap up after 12 months, he said. It will include findings and recommendations for the wearables sensor community as well as provide a recommendation as to which agency should be the lead synchronizer across the department, he said.
Chris Kiley, chief scientist at the Defense Threat Reduction Agency's digital battlespace management division in the research-and-development directorate's chemical and biological technologies section, said the agency is interested in wearable sensors because it wants to be less reactionary.
"We are waiting for after a chemical or biological attack for our service members to show up with overt signs and symptoms before we begin to take action, leveraging our screening assays and then implementing countermeasures," he said.
"We are trying to get ahead of that before we have overt signs and symptoms to deploy those assets earlier to reduce mission disruption," he said.
As for biological attacks or naturally occurring diseases, the agency through a wearable device did prove it could detect COVID-19 about two days before a subject began to feel symptoms. Now, the agency wants to know if the same computer software algorithms used in that program could work for other communicable diseases, he said.
It has millions of hours of data from the COVID program to help it, and now the agency wants to use artificial intelligence and machine learning to sort through that data and see what else it can do, he added.
"We're taking the algorithm that was trained on the COVID data and applying this to influenza. It has never seen influenza before. Is it something that could perform on another respiratory illness?" he asked.
So far, the agency's research has shown the device does pick up the flu bug, but so far it has not accomplished the two-day early lead time that the technology demonstrated with COVID, he added.
The program is also looking at breath-based diagnostics, which is still in the early stages. "There is a lot of R&D that needs to be done here," he said.
Peter Shoubridge, chief of land and joint warfare at the Defense Science and Technology Group, Australia Defence Force, said Australia, the United States and the United Kingdom are working together on several wearable technology programs.
"You've got a lot of noisy data, how do you then really use data analytics and AI to really try to look for the patterns, filter out all that noise and try to make understandings of all of this?" he asked.
"We're looking at the human as the sensor and really trying to focus on detecting how people are getting sick and why they're getting sick," he said.
The chem-bio sensors are looking outward, and the early disease detection and human performance sensors are looking inward. The challenge is to make correlations between the two, he said.
"Can this amplify or confirm or correlate and give you help to deal with all the noisy data and help with some of those correlations by bringing the two things together?" he asked.
Along with detecting chemical or biological attacks, Australia is looking at adding directed energy attacks into the mix, he added.
While Shoubridge did not mention the Havana Syndrome, medical experts who had access to the early victims of the alleged attacks on members of the U.S. intelligence community posited that the symptoms of the mysterious ailment could have been caused by directed energy that affected the inner ear.
One possible detector of such energy is a "performance patch," a wearable sensor Australia has developed that was at first used to gather metrics around human performance. "What we've been doing is trying to adapt that work and add to it to try to identify … some of these threats and stresses on the body," he said.
It began looking at heat stress, physical stress, muscular-skeletal stress and then started to investigate psychological and psycho-social issues, he said.
"Sleep is a big one," he added. Australia has been doing work with its submariners, looking at underwater operations and sleep behavior and trying to adapt the techniques used in civilian sleep centers, he said.
Restione said there will be many wearable sensor experiments at this year's Talisman Sabre, a biennial military exercise with Australia and the United States. Some of the experiments will help create the roadmap due to be completed later in 2023.
Meanwhile, the overall study is being conducted by several working groups that have a lot of issues to ponder, he noted.
One is cybersecurity, Restione said.
"We have to make sure that we maintain control of the data that is being collected. We have to have positive control of that. That does not always work with every commercial model," he said.
Then there are the regulatory issues. For example, do the wearable sensors need to be approved by the Food and Drug Administration?
As for policy, can the military compel someone to wear a device and under what conditions would they wear them? What are the ethical implications? he asked.
An off-duty servicemember might want to go to a local bar, have some drinks and unwind a bit. Is the data collected if the subject is intoxicated something a service needs to know about?
What about radio frequency signals emitted by the devices? They could give away positions to the enemy, he noted.
The study will include a technology roundup to see what kinds of wearable technologies are being pursued in academia, industry and across the laboratories and services.
The roadmap will spell out what hardware solutions will fit the different concepts of operations, he added.
"It could be quite different depending on where you are. If you're overseas in an operation, you may want a smaller device, whereas if you're in garrison, maybe the watch and the ring work fine," he said.
It will also look at specific technology readiness levels for the various solutions in the works, he added.
And finally, the report will identify the wearables lead within the Defense Department, or who should be bringing everybody together at the department level, he said.
"It's a bit of a cat herding project," Restione said. ND
Topics: Defense Innovation, Defense Department