Postcard from Le Bourget: Air Taxis Quietly Make Progress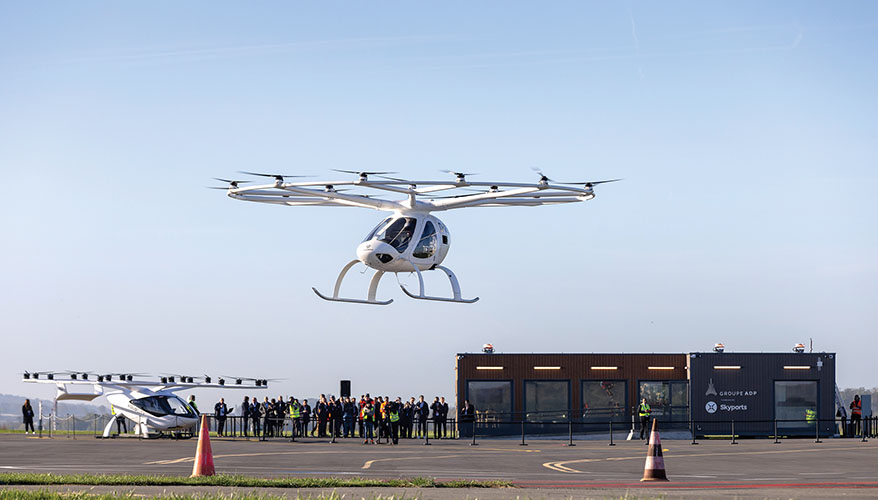 Volocopter photo
PARIS — For a variety of reasons — none worth going into detail here — I have never in my 18-year tenure at National Defense covered the Paris Air Show.
But at last, I made it to its 54th iteration at Le Bourget Airport in the northern suburbs of Paris.
L3Harris and Northrop Grumman, two of the biggest U.S. defense contractors, declared that they were not attending the show this year, which at first seemed shocking. But after day one traveling in the notoriously hot, stifling trains and buses that take passengers to the historic airport and back, I thought: "they might be onto something."
Of course, I look at a trade show through a different prism than an aerospace and defense business executive. I'm looking for interesting news, features and analysis for our readers. They're looking to ink billion-dollar deals and make connections with primes or sub-suppliers.
And their executives are not taking buses that remind me of Paul Newman in the prison movie "Cool Hand Luke" being sent "to the box" for punishment. They are transported from the city center in nice, air-conditioned limos rather than public transportation.
And if this year's show is any indication, they will all one day be picked up from the Parisian hotels and flown to Le Bourget in electric vertical take-off and landing air taxis, or eVTOLs.
Fortunately, the enormous exhibition halls were nice and cool, which was an engineering feat. I wish I could say the same for Parc des Expositions up the rail line where they hold the Eurosatory defense trade show on alternating years. That facility should figure out how Le Bourget keeps their big buildings chilled.
The fact is, the Paris Air Show is not a defense trade show, it is a commercial aviation show with a small percentage of defense content and contractors on hand. But it is so vast that even a small percentage of it adds up to hundreds of booths pertinent to defense.
"It's a lot like the SHOT Show in Las Vegas," I told Adam, a media relations pro I have known for years. He looked at me like I had been under the sun on the tarmac for too long.
"Most of the vendors have nothing to do with defense, and the others are scattered around the exhibition halls, so you really have to hunt."
"Oh," he said, finally getting my point, and acknowledging that it was probably the first and last time anyone will compare the SHOT Show to the Paris Air Show. Although both cities have Eiffel Towers, I should note.
As for the commercial side, those eVTOL aircraft that will one day serve as intra-city air taxis — along with sustainable fuel — were front and center at this year's show.
While they were all being marketed to the commercial aviation sector, these dual-use technologies often find their way into military programs. The U.S. Air Force is already investing in eVTOL technology through its Agility Prime program. And during the show, advanced air mobility company AutoFlight and airport operator Groupe ADP announced plans to fly passengers around Paris during the Summer Olympics being held there next year.
United Airlines recently announced its intentions to start commuter service to San Francisco using Eve Air Mobility eVTOLs.
As for Le Bourget, there seemed to be an electric-hybrid or all-electric aircraft on display in the exhibition halls in about every aisle. But these were mostly mock-ups.
One of the few actually on aerial display was the Volocopter, which is manufactured by a German company of the same name. It was occasionally seen quietly flying around above the runway in circles.
One highlight of any air show is the jet fighters that come screaming over the tarmac, their roar sending attendees scurrying out of the exhibit halls with their smartphones recording the acrobatic maneuvers. The jets loudly advertise their presence.
That won't be the case as these all-electric aircraft in future years begin to take over. No one is going to know they're there.
But they are coming. Not all of them seen in the aisles in the exhibit hall are going to make it though, analysts at McKinsey & Company consulting firm suggested at a briefing at the air show.
It costs $1 billion to $2 billion just to certify a passenger aircraft depending on its size and complexity, according to its estimates.
There is an increasing gap between companies that have adequate funding in place and those that don't. Consolidation is on its way, the experts said.
Yet there is a total backlog of 18,000 eVTOL orders worth some $111 billion ranging from small air cargo delivery drones to supersonic aircraft, the firm's numbers indicate. And this is just the start.
Look for an article on these new aircraft in the September issue of the magazine.
Meanwhile — maybe three or four Paris Air Shows in the future — the hot, sticky trains and buses will be empty as air taxis pick up passengers at their hotels in the city and whisk them away to Le Bourget.
Probably not reporters, but one can dream anyway. ND
Topics: Emerging Technologies