Air Force Research Lab Looking at Uncertainties with Electronics (UPDATED)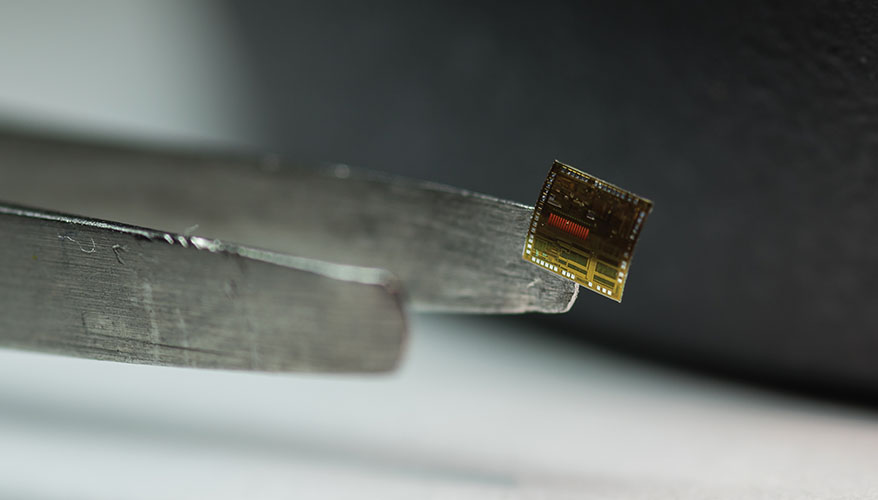 Air Force photo
SAN ANTONIO, Texas — The war in Ukraine shows that the present and future of conflict will involve contested environments, requiring complex and resilient electronic devices and systems. The Air Force Research Laboratory wants to ensure these technologies can not only be produced, but trusted.
"You hear a lot about cyber warfare as a new warfighting domain, information operations and things like that," said Yadunath Zambre, chief microelectronics technology officer for the Air Force Research Laboratory, speaking recently at the National Defense Industrial Association's Science and Engineering Technology conference. "Fundamental to that is the electronics that's in all of our systems."
The Air Force Research Lab is focused on ensuring visibility through all phases of electronics production.
"How do we know we can actually get access to the supply of electronics we need?" Zambre said. "And how do we know that we can actually trust it? If you can't do that, we've got issues."
Often, the Defense Department needs highly specialized electrical components and in small quantities, which means there is a limited supplier base. Then, there are high-value platforms that need sense-making capabilities that use larger node sizes, he added. "You just need bigger stuff" than what is commercially available.
Add to that environmental requirements and other constraints on what the department can and can't use, and the universe of potential suppliers shrinks further, he added.
Even within the small universe, however, it's easy to lose sight of what's taking place in the manufacturing process. Designing and packaging chips is complicated by multiple stages of production at different locations, and there are many parts with no commonality — "performing the same function, but there are maybe 50 or 60 different implementations across different programs," he said.
The Defense Department needs to aggregate, but they also "need to partner with a set of organizations we can trust," he said. "[So we] have some assurance of what's actually in the design, and what's actually being produced."
Vulnerabilities exist at each stage of microelectronics production, from the physical manufacturing to the classified data and specifications, he said.
"I want to make sure that there's no way anybody is going to exfiltrate that design so that the adversary can take advantage of it, and there's no way for them to compromise the design," he said.
Much of the risk lies not in the foundries, but in the packaging, he said. "So, we've got to take a holistic look and partner holistically across the entire supply chain."
As part of an effort to form a new microelectronics strategy, the Air Force Research Laboratory embarked on a data collecting mission that revealed that trust is correlated with awareness and visibility into the supply chain.
"At a high level … our program offices and our contractors as a collective do not have good visibility into the electronics and the designs that they're actually delivering into the field," he said. Most contractors don't have a bill of materials of what parts are in their system, he added.
"If I don't know what's in my system, how can I possibly trust it? So, that's a big issue," he said.
The problem is not just with systems in the field, but also systems that are being developed today, he said. And the solution may be buried at the acquisitions level.
"A lot of this is [an] acquisition problem of how we write contracts," Zambre said. Contracts need to be simpler, and cut through the technical jargon to point vendors to what Zambre called the "BOM," or Bill of Materials—"a very important item" in the contract — the information they need to know about what is in their systems.
In addition, reforming the acquisition process for electronics will address another problem — the fact that 70 percent of lifecycle production costs occur during sustainment.
"What that tells you is, we're doing some things wrong acquisitions-wise," he said. "We need to do more early in the program to reduce that cost."
The lifecycle cost impact is compounded by the fact that many platforms "are not operationally ready for battle" due to sustainment or obsolescence issues, he added. "There's a twofold hit that we take by not designing things properly in the first place and having a connection between the acquisition side and the operation side."
Zambre said the Air Force Research Laboratory also found that Defense Department programs as an aggregate "do not proactively manage their systems and their designs with upgrade in mind," meaning when the time comes for upgrades, either the hardware changed enough so that the software cost was "off the charts," or parts were obsolete even before initial operating capability.
"Big issue, right?" Zambre said. "So, it's already in the red before you can start fielding the system."
So, what options do programs have for mitigating obsolescence? Part of the Air Force Research Laboratory's microelectronics strategy is rethinking design with digital engineering.
The laboratory's "reason for existing" is to keep a long-term technical vision for future operational dominance, said Dr. Timothy Bunning, its chief technology officer. While the lab's strategy can't predict the future, it can rework its approach.
Zambre noted that the Defense Department's practice of lifetime or block buys is common but also expensive, and demand is difficult to predict for the lifetime of a product.
Commercial products for hardware typically become obsolete after about 10 years, he said. "So, there's no way you're going to get Intel to sell you an Intel 386 processor when it was built back in the 90s. They just don't make it anymore."
Within product lines, upgrades tend to happen about once every one to three years, he said. "So, unless our guys are designing properly with that in mind, we're going to have some problems."
The defense industry's approach to design with application-specific integrated circuits or field programmable gate arrays is "the usual system engineering," Zambre said: build it, test it, find that it broke and start the cycle all over again.
That cycle for designing a custom, application-specific integrated circuit can take up to 12 months. The foundry runs alone often take nine months or more. What the commercial sector does is simulate and emulate everything virtually, he said.
"So, those chips … where they went off to the foundry or built something … is all done virtually in a supercomputing center." Nine months now drops to one month or less, he said.
Zambre referenced a startup company that designed a chip and ran the operating system and expected workloads on an emulator, "basically in an Amazon Cloud and managed to run … about a quadrillion instructions just by doing different software." An emulator is hardware or software that enables one computer system to behave like another.
"So, point here is, it is possible to emulate the digital chips out there, in some cases to within 1 percent, in an exact mode. So, that's a big advance in terms of commercial tooling that we have not taken advantage of," he said.
The Air Force Research Laboratory is ready to take advantage of it, he noted.
"We've conducted a number of pilot tests with digital engineering for electronics, specifically over the past three or four years," Zambre said.
As an example, a contractor estimated it would cost more than $250 million to modernize a particular component within a system. Instead, the lab built a digital twin of the system and determined that all that was needed was to replace a single chip, which nullified the contractor's estimate, Zambre said.
"So again, a very large return on investment," he said.
That kind of savings is significant given what the Defense Department spends on microelectronics. The department is funding $1.1 billion for dual-use technology in 2023, more than double the $531 million in 2022, according to the report "Government CHIPS on the Table: How Higher DoD Microelectronics Funding in Here to Stay," published by McKinsey & Company.
Within the fiscal year 2024 budget request, about $6.93 billion of science-and-technology and prototyping funding is aimed at 14 critical technology areas, one being microelectronics.
"So, we've got the money now to build out more of that digital engineering infrastructure," Zambre said. Now the department needs to work toward changing the culture, he said.
Part of the culture shift is educating contractors and program managers that "things can be done differently," he added.
The Defense Department does not tend to buy or acquire technical data packages associated with purchased hardware — something that would make digital engineering "a lot easier," he said. Part of the Air Force Research Laboratory's strategy moving forward is to offer guidance to contractors on how to obtain technical data packages and clarify the government's role in access versus ownership of the data.
"Getting access to a technical data package does not mean we own it," he said. "That's the big issue we run into … is people believe that means the government needs ownership. No, what we need to have is the appropriate rights to access that IP at a later date, if and when the contractor is not able or unwilling to deliver the product or support it."
Thinking differently is part of the cultural shift, and what the next five years of Future Years Defense Program funding is for, Zambre said. "To slowly build that expertise up, and get that knowledge out there, and tools into practice."
The Air Force Research Laboratory is working to begin the education early, Zambre said.
He said the lab has trained an internal workforce of "alpha nerds … basically straight out of college."
"It took about three years to train these guys," he said. "We then move that expertise to help with government programs … and we're now in a feedback loop where the programs are actually teaching our guys more about what they need to do. And this is what's needed out there."
What the Air Force Research Laboratory is hoping to do with their funding is amplify this pattern, Zambre said. "Develop new methodologies and train more folks, and in the process actually train … our senior partners as well as our industrial base."

Correction: A previous version of this story misidentified "BOM" as "bomb."
Topics: Defense Department, Manufacturing