BATTLEFIELD COMMUNICATIONS
JUST IN: To Avoid Conflict, U.S. and China Need to Talk Things Out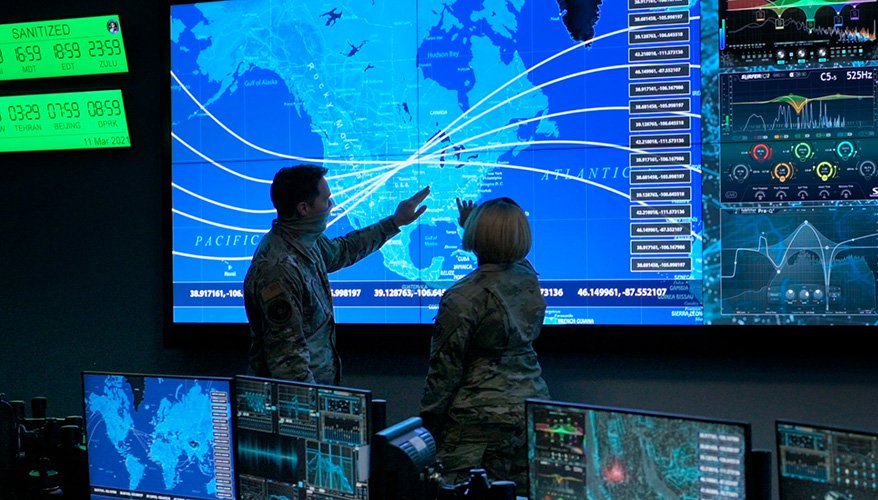 Defense Dept. photo
China's military has grown more capable and more adventurous in the Indo-Pacific, and if the United States and China are going to avoid a military conflict in the region, they need to have formal and transparent communications, experts said.
The U.S. military, along with other militaries in the Western Pacific region, have been increasingly met with "unsafe and unprofessional" behavior by the People's Liberation Army, said Josiah Case, research analyst at the Center for Naval Analyses.
In June, a PLA destroyer almost collided with a U.S. Navy destroyer in the Taiwan Strait, crossing the bow of the USS Chung-Hoon at 150 yards, forcing it to slow "to avoid collision," according to U.S. Indo-Pacific Command. This violated the rules of safe passage in international waters, Case pointed out at a July 26 panel hosted by Brookings Institution in Washington, D.C.
Back in May, a PLA pilot in a J-16 fighter jet performed an "unnecessarily aggressive maneuver"' near a U.S. Air Force RC-135 reconnaissance aircraft, INDOPACOM said in statement. The Chinese aircraft crossed directly in front of the U.S. plane in international airspace over the South China Sea.

"China has shown itself to be extremely invested in shaping international narratives on issues that pertain to its own image and that of the United States," Case said.
"Oftentimes, the big question is, 'What are they trying to do here?'" he continued. "I think this can sometimes be defending their own actions, trying to justify what they're doing," but it can also be an effort to undermine and portray the United States as the source of tensions in the region.
U.S. and Chinese military ships and aircraft are encountering each other on a more regular basis, but Case said this is not necessarily a surprise.

"The PLA navy has made massive steps in the past decade and a half towards becoming a bonafide blue-water navy," he said. "When you think about the logistics of it, if there are more ships on the water able to operate away from home port for longer periods of time, it's natural that there are going to be more opportunities for encounters with foreign warships."

The way governments communicate with each other is extremely important, Case said. The United States and China simply do not foster direct lines of communication, which is a major concern.

"Oftentimes, what pushes something from an isolated incident to a major crisis is how governments talk about them, both to each other and also to their own people," he said, "These are not the first times that the PLA has behaved unprofessionally. There's a precedent for this.
"But I think part of why what we're seeing today is so worrying is that these aren't happening in a vacuum," he continued. "These are happening at a time when the defense relationship between the U.S. and Chinese militaries is in a pretty rough state. We don't have the communication that we would like."

Roderick Lee, director of research at the China Aerospace Studies Institute, Air University, said that miscommunication, or no communication in general, leads to misunderstandings, and that leads to conflict when a U.S. aircraft, satellite or ship "gets too close" to Chinese assets, or vice versa.

"Because we don't communicate with each other, we suddenly find ourselves in a serious crisis or conflict," he said.

Lee doesn't think that China is at all interested in fostering an increase in formal communications.

"I think they're pretty confident that they can get their point across without having to pick up a phone and say, 'Hey, this is my point,' and vice versa," he said, "I suspect that they think the United States is very deliberate in our actions — whether we are or not is a different issue. But I think that they think the United States is very deliberate in the way that we communicate to them through nonverbal communication."

Reliance on solely nonverbal communication risks misinterpretation and misunderstanding, and as tensions rise, that is the last thing the United States and China need right now.

"That's what my concern is, even if we ran into each other again in the air, I think it would result in a crisis," Lee said, adding that he also feels "pretty confident we could manage it."
Topics: International