Air Force Special Ops Wants Runway Independence, More Speed (UPDATED)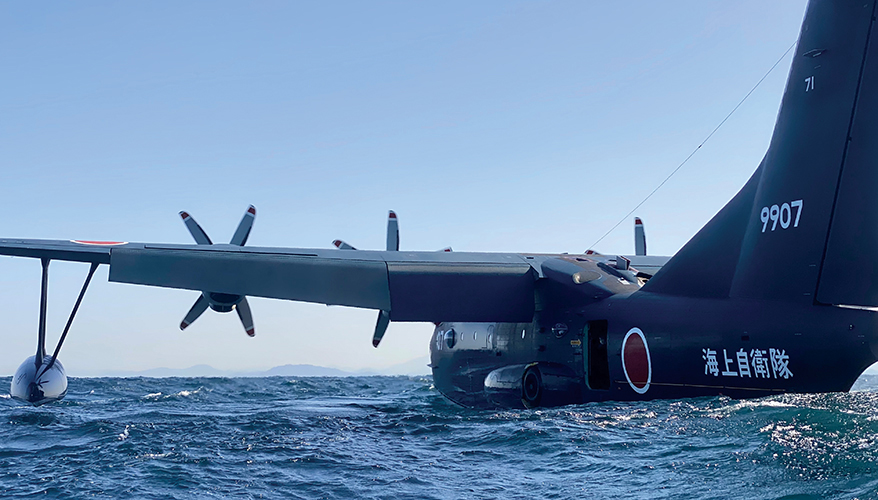 Air Force photo
TAMPA, Florida — Air Force Special Operations Command has a long technology wish list.
The command is tasked with transporting commandos covertly, quickly and across long distances and to penetrate where other aircraft can't normally go. Naturally, it wants to improve its performance in all these categories, especially the latter, taking personnel to locations where there are no runways — a job best carried out by rotary-wing aircraft.
But what if almost three-fourths of the planet could serve as a runway by allowing fixed-wing aircraft to land on water? The entire Indo-Pacific could be considered a runway, SOCOM Acquisitions Executive James Smith told reporters recently.
That's the reasoning behind the idea to bolt pontoons onto a MC-130J airlifter to convert it into a float plane, a concept the command has been studying for more than two years.
Air Force Col. Ken Kuebler, program executive officer for fixed-wing aircraft at SOCOM, said: "We continue to push forward with some of that technology [but] it's a really hard engineering problem," he said during a presentation at the SOF Week conference.
The office is carrying out hydro- and sub-scale testing, studying how it would perform in various sea states, and is moving toward a critical design review, he said.
In addition, the command is looking at more mundane day-to-day operations such as maintenance and support, equipment needs, training and "how do we go with this whole systems of systems approach to be able to do that," he said.
The command is working with several organizations to carry out the studies and tests. "We are looking at two to three years to go do a demonstration of the full capability," he said.
Kuebler was asked if the command would consider acquiring the ShinMaywa US-2 fixed-wing amphibious aircraft — which is flown by the Japan Self-Defense Force — as a stopgap solution.
Nothing has been ruled out, Kuebler said. The program executive office has had talks with Japan about its float plane capabilities, especially as it works out concepts of operation and training, he said.
"We are looking across the globe at these capabilities," he said. "I think everything in the acquisition strategy is still on the table as we look at different lines of efforts to make sure that we can have a runway independent and amphibious capability," he said.
The ShinMaywa US-2 can land on runways or water and is primarily used for search-and-rescue missions. It can carry a crew of 11 plus 20 passengers, or 12 on stretchers. It is driven by four Rolls-Royce AE 2100 engines, has a 108-foot wingspan and cruises at about 300 miles per hour. It can operate in sea states of up to nine feet and on land only requires about one-quarter of the distance of a typical commercial airliner to take off and land, making it practical for many of Japan's remote and austere runways.
It has a range of 2,980 miles, which is roughly five and a half times farther than a typical search-and-rescue helicopter, according to information from its manufacturer ShinMaywa Industries Ltd.
Japan currently has eight of the aircraft with plans to build six more. The company said the aircraft has saved more than 1,000 lives so far. ShinMaywa Industries is actively seeking export opportunities but has yet to find an overseas buyer for the aircraft.
Former AFSOC deputy commander Maj. Gen. Eric Hill before he retired visited Marine Corps Air Station Iwakuni in Japan in April 2022 to check out the US-2 and flew in it to observe the crew carrying out exercises, according to Stars and Stripes. The amphibious aircraft is "an incredible platform," he said.
"Flying an airplane that can land on water isn't a new concept, but few aviators have the experience of amphibious aviation," Hill told the newspaper. "Gaining lessons from our partners will help us learn what to anticipate as we begin to build our own tactics and techniques moving forward."
The purpose of the visit was to gather facts as SOCOM explores its own amphib program, he said. "We think partnering with our allies here and learning from them, seeing that they're on their second variant of a seaplane, and I think there is a lot of education we can share back and forth," Hill added.
Smith, while not specifically addressing the US-2, said not every country has what it takes to partner with SOCOM when it comes to developing new technologies, but Japan does check off all the boxes.
"We're always looking for what I refer to as the 'Goldilocks partnership,'" he said.
First, Japan has invested heavily in its own special operations forces. Not every nation does, Smith noted.
A potential partner should also have a robust industrial base capable of producing advanced technology. Obviously, Japan fits that description.
Finally, they must have strong cybersecurity protocols in place to protect any information SOCOM shares with them, he said.
"When we find a country that hits all three of those marks, we are interested in working with them," he said.
Meanwhile, Kuebler shared details on another new program being developed in partnership with the Defense Advanced Research Projects Agency that has "runway independence" near the top of its requirements list.
The agency in March revealed the Speed and Runway Independent Technologies, or SPRINT, X-plane demonstration project. Its Tactical Technology Office is soliciting proposals to design, build, certify and fly an X-plane to demonstrate speed and runway independence for a next generation of air mobility platforms, an agency statement said.
The announcement said runway independence was "envisioned as the ability to operate and hover near unprepared surfaces, such as sections of damaged runways, remote highways/roadways, unprepared fields with dry grass, parking lots, etc."
The broad agency announcement released March 9 did not mention whether the aircraft should be crewed, uncrewed, or optionally piloted. The announcement also did not mention whether it should use conventional or hybrid engines, only that it "must demonstrate the ability to generate and distribute power in all modes of flight and during transition between these modes of flight."
The announcement did, however, specify that the aircraft be scalable, cruise at speeds from 400 to 450 knots and at relevant altitudes between 15,000 and 30,000 feet. It should carry a payload of 5,000 pounds, with a substantial 30-foot-long, eight-foot-wide cargo bay capable of carrying a small vehicle or two and a half pallets, it said. The initial requirement for endurance is one and a half hours and 200 nautical miles.
While the announcement stressed runway independence, the most important capability AFSOC is looking for in the new X-plane is high speed, Kuebler said. What is the definition of "high-speed?" It's whatever the program can provide, he said.
"If I tell you 400 knots, then tomorrow I'll be asking for 450 knots and the next day I'll ask for 500, but we're really trying to get after that win," he added.
It will be a three-phase project, with the first phase seeking proposals. The entities selected will share $15 million to refine their concepts. The second part includes a downselect with $75 million for risk reduction work and air certification approvals, then a further downselect to build and fly the aircraft. That amount was undisclosed.
"The goal of SPRINT is to reach first flight of the demonstrator no more than 42 months from contract award," the announcement said.
The artist's concept that accompanied the post portrayed an aircraft that looked much like the next-generation, autonomous hybrid-electric commuter aircraft that several companies are currently developing.
Geoffrey Downer, SOCOM's program executive officer for rotary wing, said a host of established aircraft makers and startups are offering so-called "flying cars" — all electric or electric-hybrid, runway independent vertical takeoff and landing vehicles that may appear to be a perfect fit for special operations missions — but so far, none impress.
The PEO has studied many of the nascent industry's commuter aircraft offerings but found that they are all lacking the requirements needed for special ops missions.
"All these electric configurations don't meet our helicopter missions based on the studies that we're looking at," he said.
Special operations helicopters need to hover for long periods of time, and the new wave of electric aircraft don't do that, he said. The amount of downwash is also problematic, as is the ability to get the crew in and out of the aircraft quickly, he said.
PEO Rotary Wing will also start a program in 2024 with DARPA to look at hybrid-electric aircraft with the goal of increasing speed.
"The studies that we've done [have] shown that you can get anywhere from 25 percent to 100 percent increase in speed," he said. That could take it from 90 knots to 170 to 180 knots, he said. Or it could result in a 25 to 75 percent increase in range. "That's huge," he added. ND
Correction: A previous version of this story incorrectly stated the ShinMaywa US-2 has six Rolls-Royce AE 2100 engines.
Topics: Acquisition, Aviation, Air Force News