BATTLEFIELD COMMUNICATIONS
SPECIAL REPORT: Air Force Reorganizes to Tackle JADC2 Complexities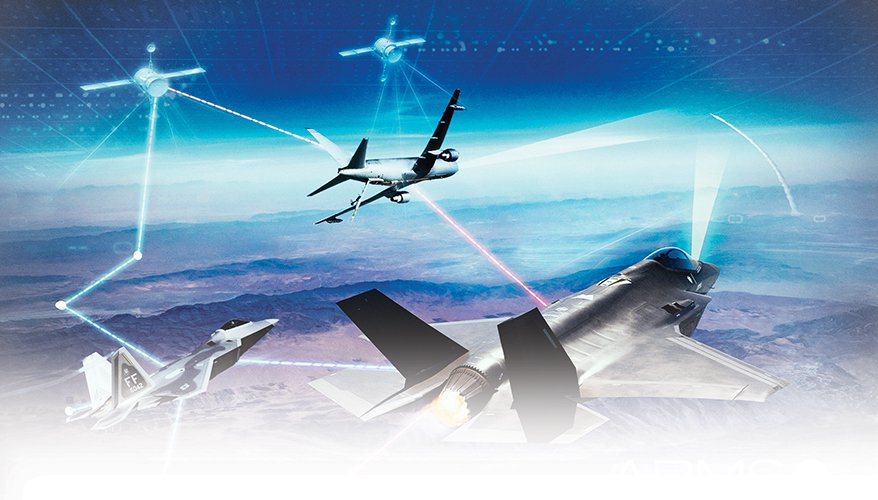 Air Force concept
Part 4 of 7-part special report on the Defense Department's joint all-domain command and control, or JADC2, concept.
While the Advanced Battle Management System has been the Air Force's main program to realize the Defense Department's joint all-domain command and control vision, the service is aiming higher, seeking to build a battle network to unify JADC2 efforts within the service.
The Air Force launched the ABMS program to build a resilient command-and-control infrastructure to connect and integrate sensors, move and manage data and enable commanders to make operational decisions quickly, according to descriptions of the program in Government Accountability Office reports.
Over time, the service determined the Advanced Battle Management System does not capture the entirety of Air Force JADC2 efforts. Last fall, the Air Force established the Program Executive Office for Command, Control, Communications and Battle Management, or C3BM, which took ownership of the Advanced Battle Management System. This spring, the service announced an overarching initiative: the Department of the Air Force, or DAF, Battle Network, according to Assistant Secretary of the Air Force for Acquisition, Technology and Logistics Andrew Hunter.
"While we still have ABMS, we have added some additional terms to the discussion," Hunter said at a May 18 discussion at George Mason University's Greg and Camille Baroni Center for Government Contracting. "As we've really gotten into this, what we've started to understand is there [are] a lot of levels to successful JADC2, and ABMS is really a set of programs the Air Force is working on to ensure that we can do command and control" for different missions across the Air Force and Joint Force in the near and long term.
"ABMS continues to have programs that are off doing things and actually making a lot of progress in the near term to deliver those capabilities," he added. "What we also understand, though, is we can't just look at ABMS and say, 'Okay, go fix command and control for the Air Force.'"
The entire Air Force must change its approach to command and control, and that involves partnering with the Space Force, he said. "You literally cannot even begin to succeed in this without Space Force capabilities, some of which are fielded and some of which are fielding in the near term. So, it is the entire enterprise that has to be able to deliver this capability."
Last fall, the Air Force tapped Brig. Gen. Luke Cropsey to serve as the new PEO's leader. That move rolled up the Advanced Battle Management System acquisition authorities from the Rapid Capabilities Office and Chief Architect Authorities under Cropsey.
"ABMS is in his portfolio, but his portfolio is broader because he has to be able to enable the entire enterprise to integrate for successful command, control, communications, battle management," Hunter said. "And then the other kind of new-ish term that we brought to the table with our [fiscal year 2024] budget request is what we're calling the DAF Battle Network."
That was a recognition that the Advanced Battle Management System is not broad enough to address the JADC2 command-and-control needs, he said.
"We have capabilities built into all of our aircraft that are for command, control, battle management, communications capabilities and situational awareness capabilities that are fundamental to successful command and control," Hunter said. "It's not all on the ABMS program to deliver this, the battle network is something that spans the entire enterprise."
Adding DAF Battle Network and C3BM has created challenges, he said. "Because then people are like, 'Wait, I don't understand what you're talking about, and what happened to ABMS?' Well, we still have it. And it's necessary but not sufficient."
The new structure will help the service conceptualize and integrate into the Defense Department's larger joint all-domain command and control effort, he said.
For example, the Defense Department's Chief Digital and Artificial Intelligence Office is tasked with creating a data layer for the Joint Force, and the DAF Battle Network will contribute to and be a part of the data layer, he said.
Heather Penney, senior fellow at the Mitchell Institute for Aerospace Studies, said the creation of the C3BM PEO was a crucial step to give elements of ABMS a champion and program of record.
"Rather than having to find and maneuver their way into already defined modernization programs, having a C3BM PEO allows them to focus on the development as a program of record and then mature to the point where other major weapon systems can then pull that in, as opposed to bearing the burden of the development on their own," she said in an interview.
"And frankly, it's also the other reason why C3BM is going to be really important is because if we want to have this kind of machine-to-machine connectivity, that's really where you're going to make that happen," she said. "Because the focus in that PEO is going to be that connective tissue rather than simply hoping that the different weapon systems will bear the burden on their own of trying to connect with others."
While the creation of the new PEO might have been a crucial step, there are still many questions about how the Air Force will proceed with its JADC2 efforts. Cropsey moderated a panel discussion on ABMS during the Air and Space Forces Association's Warfare Symposium in Aurora, Colorado, in March. His framing of the conversation indicated the service is still working to define the problem.
"… if we can identify, clearly articulate the operational problem that we're trying to get after and do that in a way that allows us to all share the same vision of what that problem looks like, then we can figure out how we back our way through the rest of that kill chain and the rest of the mission threads that are going to be required in order for us to solve this," he said.
Industry members on the panel noted that traditionally vendors have been platform centered — they build aircraft or satellites — but ABMS and JADC2 require integrating platforms into a kill chain, and those platforms were built by different companies.
That means industry must rethink its approach, said Dan Markham, director for Lockheed Martin joint all-domain operations and Advanced Battle Management System efforts.
"That collaboration is critical, and making sure that we are enabling that and partnering with both industry and the government is a unique experience that we're all working through," he said.
While there are still challenges with defining the problem and developing the coordination mechanisms, the Air Force has made progress on C3BM by working with the Navy to solve similar operational problems, Hunter said.
"And in many cases, we bring something to the table — we bring space data transport, we bring a lot of capability with our aircraft to transmit information," he continued. "The Navy brings a lot to the table. They bring a lot of great work they've done over many years on networking and waveforms. So, we've actually found a lot of benefit from working closely together."
In addition, the Air Force has participated in the Army's Project Convergence experiments to test networks in realistic scenarios, he said.
"And we've gained a lot of knowledge doing that," he added. "So, there [are] a lot of pockets where we're starting to show, I think, real progress and real success at doing joint command and control."
Penney said it has been heartening to see the rigor with which the Air Force has been decomposing its mission threads and mission elements during ABMS experiments.
"[That] is giving them a better understanding of the nuts and bolts of how you build kill chains and what are the dependencies of each capability as it goes into the battlespace and tries to accomplish its particular piece of that mission element and how they're connected," she said.
"At the same time, it's been at least three years that the Air Force has been really seriously pursuing ABMS, and … it seems like we're still doing the experimentation piece, and it's time for us to begin fielding capability, even if it's a minimum viable product, even if it's just a small step in the right direction," she added. "Having that incremental delivery gives us something to move forward on" even if it isn't perfect.
"You may field that and go, 'Oh, OK, initial fielding — we've got a lot of bugs we need to work out.' Or it might actually give you insight, … you need to pivot a little bit or make some adjustments," she said. "It may prove that some of your initial concepts need to be revised, but we're not going to find that out until we actually try to field something in a minimum viable product."
Penney said a bottom-up focus is needed to avoid being paralyzed by the search for a grand unified theory of battle management.
"That's one of the things that I like about the Advanced Battle Management System and how they shifted and pivoted," she said. "They're like, 'OK, let's just start with some basic blocking and tackling. Let's look at a mission thread. What are the things that we need to do within that mission thread? And you know, what's the combination of sensors, platforms, data links, etc. that we have right now? And then how could we potentially connect across them to then build more novel kill chains?'"
It is important for the Air Force to recognize kill chains are physical things that operate in a physical world, and not all sensors, data links, weapons and platforms are equal, she said.
"That's another thing that I like about the advanced battle management approach is because they are taking where are we today and they're baselining that on current capabilities and platforms," she said. "It allows them to look at the capabilities and limitations of our current force as they build kill chains that have that scale, scope, speed and survivability and allows them to see where they need to bias those kill chains in that competitive context.
"Because again, it is a competition," she said. "That decision doesn't matter if you can't take action, it just means that you die with high situational awareness and good intentions."
Part 2 - Army

Part 3 - Special Operations Command

Part 4 - Air Force

Part 5 - Space

Part 6 - Navy

Part 7 - China
Topics: Air Force News, Cyber-augmented Operations