BATTLEFIELD COMMUNICATIONS
SPECIAL REPORT: Special Operations Command Has Key Role to Play in JADC2 Success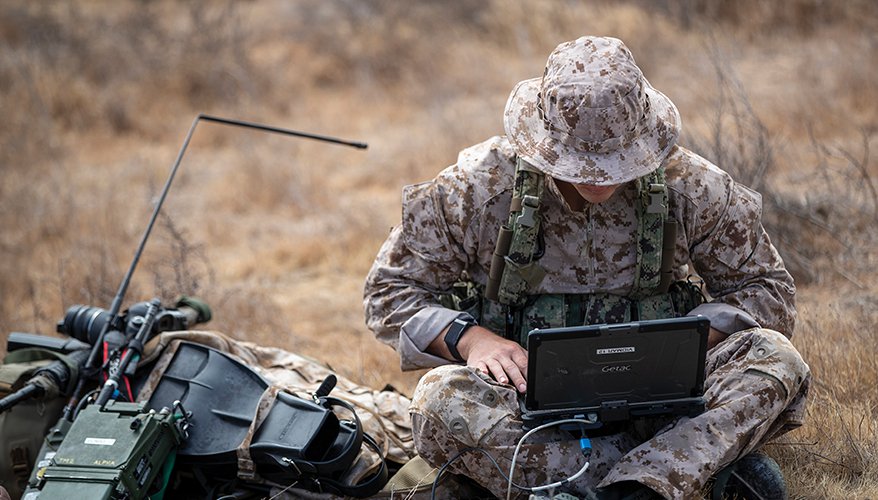 Defense Dept. photo
Part 3 of a 7-part special report on the Defense Department's joint all-domain command and control, or JADC2, concept.
TAMPA, Florida — While the Army, Navy and Air Force all have different programs and separate funding streams to develop joint all-domain command and control, the three services are expected to one day operate a truly seamless "joint" system with no communication barriers.
Special Operations Command can play a key role in ensuring that this goal comes to fruition, a senior executive said.
The command has a seat at the table and attends all the key meetings of the JADC2 working group, James Smith, SOCOM acquisition executive, told reporters recently.
The overall goal for the three services is to deploy a network connecting sensors and shooters, relying on artificial intelligence to quickly identify targets and then locate a weapon to destroy them. That choice of "shooter" should be the best available solution, whether it is an Air Force jet fighter, an Army Howitzer or a Navy destroyer.
"There's a strong definition of what we will need to do to ensure that outcome for JADC2 is truly joint," Smith said.
The Army has Project Convergence, the Navy Project Overmatch and the Air Force the Advanced Battle Management System.
Despite the three different programs, "we believe that JADC2 has to result in a joint solution," he said.
And if it is not truly joint and interoperable, SOCOM will be the first to know, he added.
Army Green Berets will have to plug into the Army's JADC2 system, Navy SEALs and Marine Corps special operators will have to plug into the Navy's system and Air Force Special Operations Command personnel will have to connect to the Air Force, he noted.
And all these special operations forces fight together, he added.
"USSOCOM is going to be a canary in the coal mine on whether or not JADC2 is truly joint," he said.
The command must make sure that there's an architecture that enables its operators to plug into the three major programs, he said.
"We personally are invested in an open architecture and are working across all the services for that," Smith said.
"But I think we're going to maybe potentially be one of the first identifiers of mismatches," he added.
There must be a strong definition of what needs to be accomplished for JADC2 to become truly joint, he said, noting that now there is a "C" in front of the acronym that stands for "combined," which makes the goal more difficult.
"We're still looking for some definitions there," he said.
As for specific programs and capabilities special operators are bringing to the table, Smith declined to go into details.
Meanwhile, one of the command's key offices that will help it feed into the three larger JADC2 programs is the two-year-old Program Executive Office for Software.
Chad Raaymakers, acting program manager for mission command system/common operating picture at the PEO, said at an industry conference panel discussion, "I think we were called the doorway to JADC2. I like to say we're a doorway to JADC2 — we're not solving that whole problem. But we are looking through our capabilities to enable JADC2 with the joint force." ND
Part 2 - Army

Part 3 - Special Operations Command

Part 4 - Air Force

Part 5 - Space

Part 6 - Navy

Part 7 - China