Despite Budget Cuts, Marine Corps Modernizing Ground Vehicles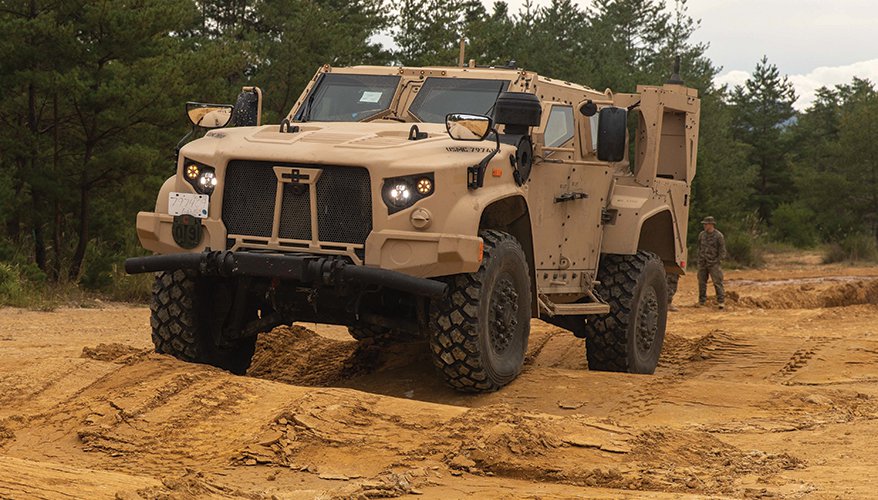 Joint Light Tactical Vehicle
Marine Corps photo
COLUMBUS, Ohio — With the U.S. pivot to the Indo-Pacific, the Marine Corps is prioritizing investment in maritime capabilities, rapidly reducing the resources for its tactical wheeled vehicles.
In his opening remarks at the National Defense Industrial Association's Tactical Wheeled Vehicles conference in February, Marine Corps Systems Command's portfolio manager for Logistics Combat Element Systems Col. John Gutierrez succinctly summarized the goal of the Marine Corps' Force Design 2030 initiative: "to reestablish the Marine Corps as a naval expeditionary force that's prepared to operate in contested maritime spaces in support of the fleet."
In fiscal year 2021, the service's budget for its light tactical vehicle fleet was $383.2 million, according to slides shown at the conference by Gutierrez. In fiscal year 2023, the budget dropped to $251.7 million, a decrease of more than 34 percent in two years. The budget for medium and heavy tactical vehicles also dropped more than 32 percent in that same span.
Examination of how Marines conduct reconnaissance and counter-reconnaissance missions has prompted the service "to reassess the [Ground Combat Tactical Vehicle Strategy] and current and future investments tied to our ground portfolio," the Marine Corps' annual update on Force Design 2030 from May 2022 said. "While we must retain appropriate ground mobility capabilities and capacities, the principal theater is maritime and our core competency is naval in nature. Heavy ground vehicles do not align with these priorities because they are difficult to transport and operate in the littorals, they require significant quantities of fuel and they are challenging to maneuver on fragile host-nation infrastructure."
To continue modernizing its ground fleet while facing funding shortfalls, the Marine Corps is "divesting of a significant amount of equipment," Gutierrez said, including bridging systems and vehicles like Humvees and the Mine-Resistant Ambush-Protected, or MRAP, fleet. Divesting systems allows the Marine Corps to "get credits and apply that to other new and emerging technologies," he said.
The key capability for Marine Corps ground vehicle systems going forward will be their ability to enable "logistics in contested environments," he said. "The opportunities and challenges we face are really in this space, and how we can equip and modernize our Marines and sailors."
On the medium and heavy tactical vehicle side, the Marine Corps' top modernization priority is the Medium Tactical Truck, which will replace the service's Medium Tactical Vehicle Replacement, or MTVR, platform, said Marine Corps Systems Command's medium and heavy tactical vehicles program manager Lorrie Owens.
"Not too often do major vehicle programs start within the Marine Corps, and we are at ground zero when it comes to the Medium Tactical Truck," Owens said. The service extended the service life of the MTVR to 2042, but based on a cost analysis the Marine Corps decided a further extension of that platform wasn't feasible, she said.
"We looked at other services and what they provided in the medium-lift capability, and based on … unique requirements that we have in the Marine Corps, it was decided that it was best to go after a purpose-built truck, and that's exactly what MTT is," Owens said. The Marine Corps held discussions with the Army regarding the Army's Common Tactical Truck program, she said, but added that the Common Tactical Truck "is more on the heavy-lift capability, not so much the medium lift," making it incompatible as a replacement for MTVR.
A key requirement for the Medium Tactical Truck is a variant of the vehicle with a 10-foot bed, she said. MTVRs have a 14-foot or 20-foot bed, and the smaller variant of the Medium Tactical Truck is "something looking forward in force design and the things that we're going to be doing in the future and the operational environments we're going to be in in the future," she said.
Other unique requirements for the Medium Tactical Truck include a hybrid propulsion system, portable power and modular and scalable armor, Owens said.
Marine Corps Systems Command partnered with the Office of Naval Research for the conceptual design phase of the Medium Tactical Truck program, which will wrap up in early summer, Owens said. A technology demonstrator option is included in the conceptual design contract, which will be awarded to one vendor, she added.
"That technology demonstrator, what we're trying to get after is objective level requirements," she said. "We really want to push the limits in that technology demonstrator."
Following the conceptual design phase will be a competitive prototyping phase, with the intention to award contracts to three vendors as soon as possible in fiscal year 2024, she said.
"We're really looking for partnerships, teaming and vendors that can give us the total product, which means they can design the truck, build it and support it in test moving forward," she said. Both the conceptual design and competitive prototyping phases will inform the final requirements for the truck, with the goal to reach the engineering and manufacturing development phase in early fiscal year 2027, she added.
Meanwhile, the service's light tactical vehicle fleet is undergoing a massive transformation. "Every single light tactical vehicle is being modernized at the same time," said Jenn Moore, the program manager for light tactical vehicles at Marine Corps Systems Command.
In particular, the Marine Corps is "fully divesting" its Humvees and replacing them "one for one" with the Joint Light Tactical Vehicle, or JLTV, Moore said. "There will be no remaining Humvees after the last JLTV has been fielded," she added, later noting that the service is scheduled to procure its last JLTV "in the 2030 timeframe."
Currently, the Marine Corps' light tactical vehicle fleet is about one-third JLTVs and two-thirds Humvees, she said. "You're going to start seeing that switch to a 50/50 [split] here in the next 18 months, as we are going to be fielding well over 1,200 JLTVs this fiscal year. So, we are accelerating the divestment of Humvees to the greatest extent."
The Marine Corps asked to procure 396 JLTVs in its fiscal year 2024 budget request at a cost of $232.5 million. Previously produced by Oshkosh Defense, JLTVs will now be built by AM General following the award of a follow-on contract in February. Split procurement between both companies will occur in fiscal years 2023 and 2024 "based on the approved acquisition strategy," according to Department of the Navy budget documents.
The service is also in the process of replacing its Utility Task Vehicle with the Ultra-light Tactical Vehicle, or ULTV, with the Polaris MRZR Alpha serving as the base vehicle platform, Moore said.
The ULTV will enhance "infantry, reconnaissance, and logistics mobility and sustainability" and have the ability to conduct "operations in an anti-access/area denial environment where currently fielded ground mobility platforms may be unsuitable due to size, weight and transportability," according to the Marine Corps Systems Command website. Fielding of the ultra-light vehicle is scheduled to begin in the second half of 2023, Moore said.
Along with ground vehicles, the Marine Corps is also looking to modernize its wheeled amphibious fleet. The service is currently evaluating three prototypes for its Advanced Reconnaissance Vehicle, or ARV, program, which will replace the Marine Corps' Light Armored Vehicle.
General Dynamics Land Systems and Textron Systems delivered ARV prototypes to the Marine Corps in December, while the service is also evaluating a third offering produced by BAE Systems, a Marine Corps release said.
The vehicle "will employ transformational sensors, communications and combat capabilities to collect and communicate information, while integrating robotics and artificial intelligence technologies into manned-unmanned teams," the release said. "The ARV is expected to give the Fleet Marine Force a survivable, mobile, networked, and lethal platform optimized for naval transport and amphibious employment in the littoral operating environment."
Initial testing of the prototypes — which will focus on "mobility in complex terrains" — is scheduled to be completed in the third quarter of 2023, the release said. The Marine Corps received $70.6 million in research, development, test and evaluation funding for ARV in fiscal year 2023 and asked for $63.6 million in its fiscal year 2024 budget request, according to Department of the Navy budget documents.
As the Marine Corps thinks about operating tactical wheeled vehicles in austere environments, industry should be thinking about weight reduction technologies such as lightweight armor, corrosion mitigation and resistance for saltwater environments and solutions for operating vehicles in extreme heat or cold, Moore said.
And with the service rapidly divesting legacy vehicles and introducing new systems, the Marine Corps' modernization strategy is impacting how Marines train on these platforms, she said.
Not only are there opportunities for hands-on training for operators and maintainers, "but there's a growing interest in virtual training," she said. "I do not have a requirement for virtual training systems, but we do have that in the Marine Corps. So, these are areas that are being discussed more and more."
Topics: Marine Corps News, Logistics, Manufacturing, Tactical Wheeled Vehicles