JUST IN: B-21 Will Send Message to Adversaries, Official Says (Updated)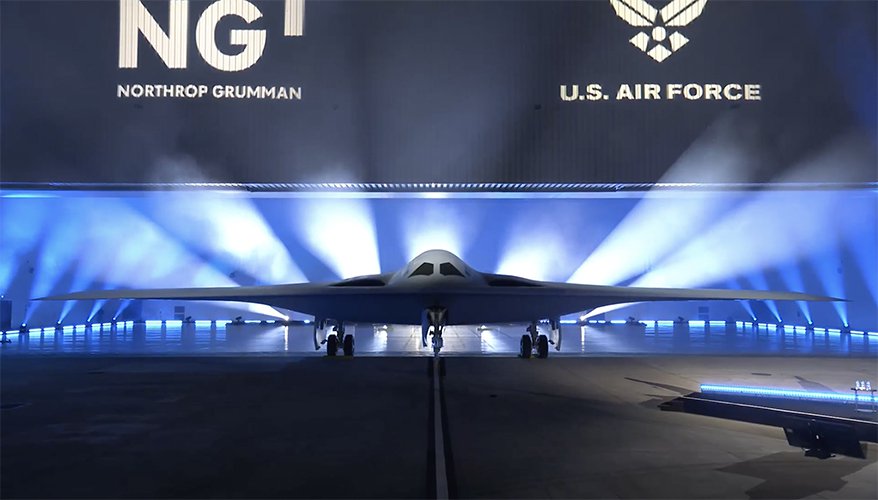 The Air Force's B-21 stealth bomber, first revealed in December, is set to make its first flight later this year, which will send an important message to U.S. adversaries about American military capability, said the chief of the Air Force.
"It's just sending the message that you want to be received by our adversaries, and by our allies and partners," said Air Force Gen. Charles Q. Brown Jr., during a conversation at the Mitchell Institute for Aerospace studies June 7. "We're just going to fly and then hope that's going to send the right message."
Brown, who has been nominated to serve as the next chairman of the Joint Chiefs, said the Air Force is seeking to strike a balance between capability and capacity when it comes to the B-21 and other aircraft and weapons procurement and ensure that everything adds together to reinforce the message.
"It's not just the bomber, it's the munitions that go with it. It's the essentials of support, it's the airmen, it's all these things that kind of come together, and if you don't have that, you don't have a complete package," he said. "And so that's an area that I do focus on, to ensure that we're able to have the complete package."
Currently, the Air Force intends to procure up to 100 B-21s. A Mitchell Institute report in March called for the Air Force to procure 225 B-21s to deter China.
Brown noted that the Air Force is "early on" in its production phase, so it might be possible to increase production capacity. That's in part due to what Brown called the successful collaboration that's gone into the program.
"In the collaboration between our [operational] requirements, with our acquisition professionals and with our industry partners, they work very closely together," he said. In addition, the service has employed digital engineering and is building early versions on the production line that will manufacture the final aircraft.
"We're only learning how we're going to be better, and then that'll drive down costs — get airplanes on time," he added. That will facilitate increased production if needed, he said.
Collaboration has been critical in moving quickly, he said. "Who do you want to do it first? Us or them? And there's times that we've got to be able to move forward. That's American innovation engineering, being able to step out and take a little bit of risk … but we're also able to mitigate that risk because of the collaboration and great teamwork across the board."
Brown noted that unless the B-21 or any other aircraft has the right munitions, it won't send the necessary message.
Currently, the Air Force's fiscal year 2023 budget has a "multiyear procurement laid out for three munitions," which are the Advanced Medium Range Air-to-Air Missile, Joint Air-to-Surface Standoff Missile and Long Range Anti-Ship Missile.
"As we start to upgrade to munitions and look at how we have some of the testing on collaborative munitions … it's taken the tools that we have today and working with our fellow innovative airmen, but also with industry, where we have opportunities," he said.
The need to ramp up munition production is vital to ensure the Air Force has enough to support the United States, as well as allies and partners, he continued.
"This is something that I think we need to continue to focus on and ensure we have a complete package of capability for all our weapons systems," he said.
Another priority is fielding the most current and capable F-35s, he said. That means completing Technology Refresh 3 to get to the block 4 upgrade that will help the Air Force "stay ahead of the threat," he added.
"The test community with Lockheed Martin has already [flown TR-3] on the airplane, which then opens the door to bring in some of the other capabilities, avionics, upgrades and alike to block 4," he said. "That's important, because as we watch where the threat is going, it helps us get to a point where we are more capable against the threat."
The service is seeking to procure 48 F-35s in 2024. Other critical Air Force programs going forward include the collaborative combat aircraft, the E-7 Wedgetail replacement for the E-3 and the Sentinel intercontinental ballistic missile, Brown said.
Congress is set to begin its delayed markup of the 2024 National Defense Authorization Act in the coming weeks, and the Air Force is seeking $185 billion in funding for 2024.
Brown said that the Air Force has gained traction in its 2023 budget and its 2024 request. "My goal now is to maintain that momentum."
"Just like any other budget, there's always going to be tough choices," he said. "It's how we prioritize and not only for the Air Force, [but] ensure we have a combat credible Air Force with a Space Force … I will continue to push ourselves to ensure that we have capabilities to provide the nation what they've asked us to do to ensure not only our security, but the security with our allies and partners."
Correction: A previous version stated that the Air Force intends to procure 72 F-35s in 2024. The service plans to procure 72 fighter aircraft, including 48 F-35s.
Topics: Air Power, Aviation, Munitions Technology