JUST IN: Marine Corps Faces Command, Control Challenges at Sea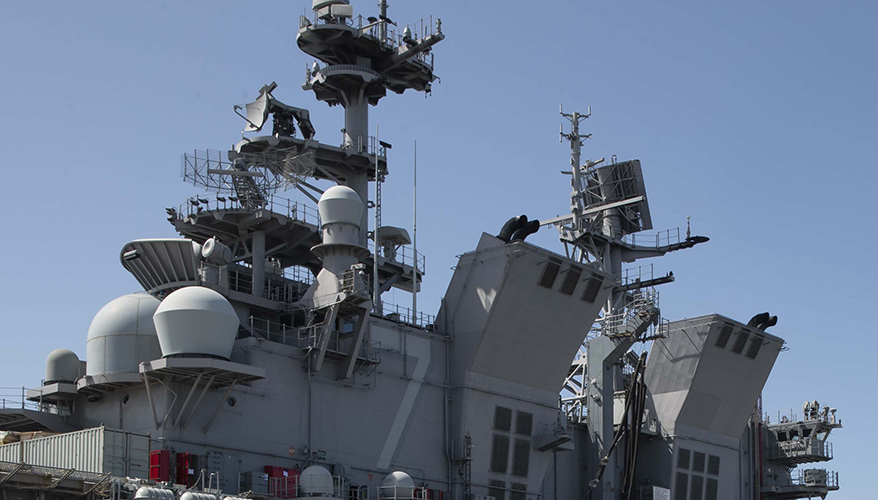 Navy photo
WASHINGTON, D.C. — Marine Corps maritime expeditionary warfare capability is critical to operating in the Indo-Pacific — and as much as the right ships are needed for successful operations — technology gaps in command-and-control systems at sea might be the immediate vulnerability, officials said.
"There's nobody else in the world that can do maritime expeditionary warfare like we do," Shon Brodie, director of the Marine Corps' Maritime Expeditionary Warfare Division, said at the Modern Day Marine conference June 28. "We build some of the finest ships capable of those things in the world and probably in the history of the world. But we have an adversary that's gaining on us in that particular area of advantage."
In particular, afloat combat command, control, communications, computers and intelligence, or AC5I, modernization is not keeping pace with advances in technology, he said.
Scott Cook, afloat C5I branch head for the Maritime Expeditionary Warfare Division, said once the platform, access and tools are in place for expeditionary warfare, a commander needs to be able to coordinate the activities, and that requires networking the force.
"In the littorals — the maritime nearshore environment — that is your most difficult environment, both from spectrum saturation, from threats, from the mediums," he said. "The way waves propagate on the water is different [than] the way they will propagate over land."
It's a tough environment, and maritime expeditionary warfare requires connecting the widest range of platforms in that environment, he said.
"How do you do a long-range strike with a joint strike fighter? How do you coordinate an [humanitarian assistance and disaster relief] mission to get the logistics? How do you find a high-value target and main target custody?" he said. "All of these things require your AC5I systems to be modernized and work together."
While there have been successes and advances in that regard — connecting remote units with ships and command centers to transfer data — the division is tracking 123 systems in an environment of rapid change, which is no small task.
"The enterprise, the policy, the funding, the resourcing, the commercial and industrial base, make all of those 123 systems working in concert a constant challenge, especially if you follow Moore's law, when those things change every 18 to 24 months," he said.
There are two specific challenges to improving AC5I, he said in an interview at the conference.
"One is, when you're looking at the systems, you need the systems to do different things in different places," he said. "For example, if I'm the Navy, and I'm trying to hide the ship because of my electromagnetic signature against a big blue canvas, I'm going to want different systems and do things a different way than if I'm a four-man team in Triple Canopy."
A lot of the time the needs involve the same box, but the box can't meet both needs simultaneously.
"There's enough environmental, technical and operational challenges that you sometimes need two boxes for the same purpose because of the way they're going to be used," he said. "The challenge is making sure the boxes work together."
The Navy is spectrum challenged, he said. "The Marine Corps also operates at the operational and tactical level," he continued. "So, [radio frequency] is more important to us. The Navy operates at the operational and strategic level. So, they're looking for the long reach back, the space segments that can support their global operations. So, I think that there's a disconnect, or a difference in mission assignments that we have to close the loop on at that level."
His office is exploring some capabilities that the Marines have ashore to figure out how to get them to talk to a ship. "And the Navy has identified a threat. And they're addressing the threat. But it takes two racks of equipment, and 1,000 watts of power to do it. So, you can't put that on a lance corporal's back. So how do we make those two boxes work?"
The second major challenge is addressing the needs created by disbursed operations, involving numerous small teams spread out across long distances, he said.
"We've got commanders and systems that need more information faster and we're farther apart. We've got a challenge when we're together sharing that kind of information," he said.
"So, because of the concepts, we've got the additional challenge of now we have to get all that information that we used to get maybe to another part of the ship, to another aircraft," he continued. "Now we got to move it maybe to another ocean, or to another hemisphere, another time zone. How do we do that?"
While there are some commercial technologies that can solve some of the problem, the commercial sector simply moves too fast for the military and it can't address classification needs, so the solution will be a mix of commercial and military, he said.
It's a microcosm of the joint all-domain command and control challenge, the need to link sensors, transmit data to command centers for quick decision making and then get the information out to shooters to take action. And each service has its own mission needs and systems, which makes the task of connecting things even more complicated, he said.
"[The way] the Air Force runs a mission is different than the way the Marine Corps or the Army is going to run a mission," he said. The "Navy has got some things they do differently than the other for obvious reasons. So, sometimes the systems will have to be different."
What the JADC2 effort can do is help decide what language the services and systems will speak, he said.
"I think there are going to be interfaces, and/or translators or connectors that we're going to have to design into the architectures to connect those boxes that have to be different," he said. "Or if you can't change it for the next 30 years because it's going to cost you $40 billion, we find a way to make them work in the current environment."
There are multiple layers to the problem: policy, authorities, technology and transport, which involves moving data over RF, fiber or other means, he said.
"I would focus on the transport piece of the Joint Force right now," he said. "And I think there are DoD and [National Security Agency] mandate directives that are coming that most services are preparing for, I think those are going to be important to put into place."
The details are classified, he noted. "I think if we do those, will be set up on that transport side, which is critical to everything else that happens underneath it, or on top of it," he said.


Topics: Marine Corps News, Navy News