VIEWPOINT CHEM BIO PROTECTION
U.S. Must Strengthen Biodefense, Reauthorize Laws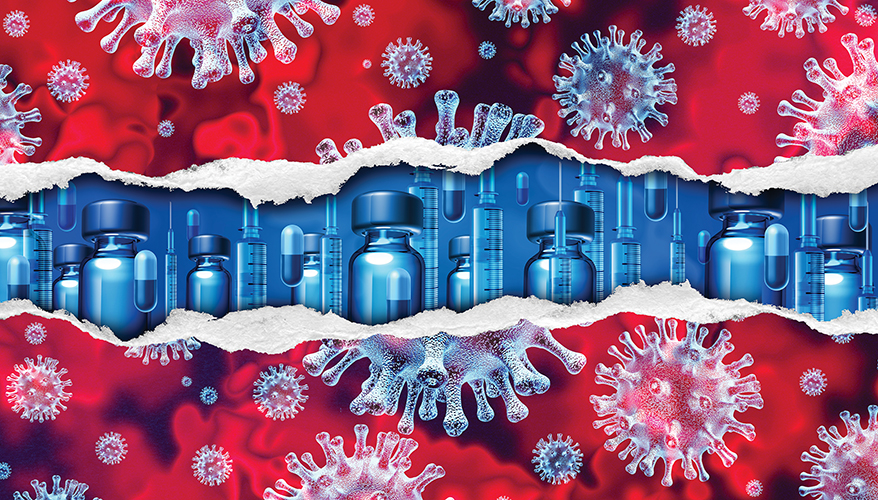 iStock illustration
Many Americans are tired of the trauma, life challenges and losses of Covid-19 and the scare of continued pandemics and catastrophic weapon of mass destruction events. Over the past three years of living through this pandemic, more than 1.1 million Americans lost their lives, costing more than $30 trillion of national treasure.
Despite this, the nation is still dragging its feet and — in some cases — reversing efforts already made to prepare for the next pandemic.
One critical resource on preparedness is the Bipartisan Commission on Biological Defense report, "The Athena Agenda: Advancing the Apollo Program for Biodefense," released in April 2022. The commission recently issued its 2.0 version of the report and continues to provide an online status tracker of the actions taken — and more importantly — not taken.
As of last year, of the 87 recommendations, only three were completed, four were in action, 34 were in partial action and 46 were not actioned. Today that has improved slightly with the same three completed, six in action, 56 in partial action, and 22 with no action.
The Government Accountability Office published in March their snapshot report, "Biodefense: Actions Needed to Address Long Standing Challenges." The GAO's original report published in 2021 had 29 recommendations, but 21 remain unimplemented. Most GAO recommendations match those in the commission report.
In fact, since Jan. 21, 2021, when the Biden administration started its first day releasing National Security Memorandum Number 1 and its 199-page "National Strategy for Covid-19 Response and Pandemic Preparedness," there have been numerous strategies and assessments released that document the threats and extensive listings of recommendations — many of them repeated from one report to the next — of what should be done to address those gaps.
The National Defense Industrial Association's National Defense and other news outlets have reported extensively and had the same conclusions. These articles, reports, assessments and strategies are not only released at the U.S. federal level — the European Union and NATO have published similar material.
Nearly two decades ago, Congress passed the Pandemic and All-Hazards Preparedness Act to protect the country and prepare for natural disasters and biological, chemical and radiological threats. Since then, the provisions enacted in that legislation and subsequent reauthorizations have proven critical to shoring up public health infrastructure and protecting national health security.
With the act up for reauthorization again this year, we applaud the bipartisan leadership of the Senate Health, Education, Labor and Pensions and House Energy and Commerce Committees for beginning the critical work of ensuring that the nation's preparedness programs are properly funded, sustained and improved.
Since the act's inception and subsequent reauthorizations, both Republicans and Democrats showed overwhelming support for strengthening the nation's preparedness for the full range of natural or manmade threats and hazards. Protecting the nation's health and well-being should not be a partisan issue, and we call on leaders to continue that bipartisan tradition.
This year will mark the first time Congress will be tasked with reauthorizing the act following the pandemic. Congress must take the lessons learned over the past three years to enhance the nation's preparedness ahead of the next pandemic — as it's not a question of if, but when, the next one will occur.
Congress should avoid distractions of past partisan fights or tangential policy issues. The nation's preparedness is too important to jeopardize, and these programs must not lapse.
Congress has taken meaningful steps to improve public health preparedness throughout the Covid-19 pandemic, including the enactment of the bipartisan PREVENT Pandemics Act in last year's omnibus appropriations package. Congress has shown that it recognizes the fundamental importance of fortifying defenses against disasters and public health crises. However, much remains to be done.
We urge Congress to capitalize on this momentum to bolster national security and enhance public health preparedness by reauthorizing the Pandemic and All-Hazards Preparedness Act before its expiration Oct. 1.
Now some of you are thinking, why is he making these very sensational comments? Well, we know the threats now and can somewhat confidently predict what is in the realm of the possible, and we know what needs to be done to better prepare and respond.
What we clearly lack is the will to make the necessary changes in: leadership and management; authorities and policies; measurable and accountable implementation; plans and operations; technology and material acquisition and development; and hiring qualified people to make it happen.
This is not to imply that the personnel in the key roles and positions are not capable. The challenge is to proactively participate, ask the right questions, deduce what can and should be done to help and to learn from the past so we do not have to pay such a high cost for the next weapon of mass destruction event.
The NDIA CBRN conference July 24-26 in Baltimore, Maryland, will bring together many of the senior government leaders to hear what is being done today and in the near future — and more importantly — hear from industry and academia representatives on what they think should be accomplished. This year's theme is "Biodefense and Pandemic Preparedness in an Era of Persistent Conflict." ND

Retired Brig. Gen. William King served as the commanding general of the 20th CBRNE Command before retiring in 2017 with 30 plus years of active-duty Army service. He is chair of the NDIA CBRN Division, and a senior fellow and principal/director at Booz Allen Hamilton.
Topics: Health Affairs, Viewpoint