PARIS AIR SHOW NEWS: Ukraine, China Dictate Global Trends in Defense Spending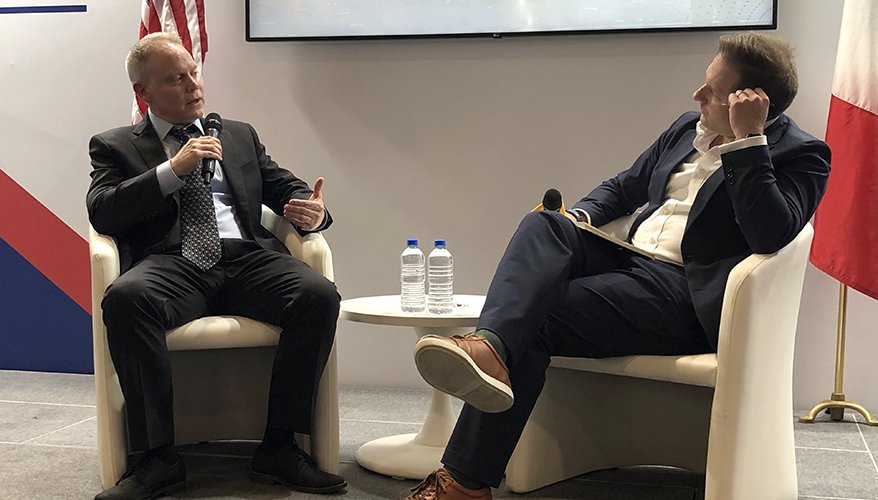 Dan Darling, left, speaks with Marcus Weisgerber during a talk on global defense spending at the Paris Air Show June 20.
Laura Heckmann photo
PARIS — Upward trends in defense spending across the globe are largely triggered by the same catalysts that could send them spiraling the other direction or multiply even further: the war in Ukraine and a potential conflict with China.

The European market has seen defense spending on the rise since 2014 after the Russian takeover of Crimea, said Dan Darling, Forecast International's director of military and defense markets, during a talk at the Paris Air Show June 20.

That resulted in a NATO summit at which members committed to returning to a standard of spending a minimum of 2 percent of their gross domestic product on defense, Darling said. What started as slow progress over the next nine years has now been jolted by the Russian invasion of Ukraine.

Along with the invasion came a realization in many European countries that they were now in what Darling called a "post post-Cold War environment." In 2022, NATO members recommitted to the 2 percent with investments largely focused on air defense systems, multiple launch rocket systems, recruitment and military transport and artillery systems, he added.

Particularly in Europe, many of the capabilities sought have been in response to a backlog created from aiding Ukraine. The Netherlands, for example, donated "a lot of surplus hardware" to the Ukraine cause and are now in a position of having to backfill lost firepower, ordnance and ammunition, Darling said.

Also contributing to defense spending trends are Sweden and Finland's applications for NATO membership, with Finland accepted and Sweden waiting in the wings. Adding the two countries to the European market makes it a bit more robust, as both have to commit to the 2 percent GDP standard, Darling said.

But more importantly, NATO's expansion locks in Russia in the North Sea and in the high North, he added.

"They now have NATO countries all across northern Europe, but hemming them in," he said.

Another trend in defense spending has been investments in advanced capabilities such as space, cyber and two sixth-generation fighter programs.

"It's a broad military modernization environment in Europe," he said. This is in stark contrast to what used to be a decline in Europe's share of the world defense total, he added. "They were probably beginning to move it to well under 25 percent of total global defense spending."

Now, Europe is calling some of that back. The French announced a 432-billion-euro funding package through 2030 and Germany has a 100 billion "special fund" to reequip the Bundeswehr, or the German armed forces, after "years of neglect," he said.

Europe is in the midst of resupplying and rebuilding after three decades of already being "stripped down to the bone" from personnel cuts and equipment costs, Darling said. "Right now, it's just getting the basic things back."

Meanwhile, much of the United States' defense budget is focused on the Indo-Pacific, and a potential conflict with China.

China's budget has a simple trajectory, Darling said: up. China will spend much of its funding on production of systems such as helicopters, unmanned aerial vehicles and strategic bombers. Another "big trend" in China's defense budget is shipbuilding, he added.

"They continue to produce frigates and destroyers and now aircraft carriers at a pace that's pretty much unparalleled since World War II with the United States when we were in conflict with Japan," Darling said.

China is trying to control one area of the world's oceans, rather than being a global policeman like the United States, he said. The United States must cover multiple regions and oceans, and in a shooting match with China, China doesn't have to surge capacity. The. United States does.

"So shipbuilding is one of the major things that military observers watch with China," he said.

Also significant is China's defense budget, particularly the fact that it does not include research-and-development funding. Darling called China's research-and-development spending "very opaque" and noted China spends "greatly" in advanced technologies such as artificial intelligence, cyber, big data and quantum technologies.

Along with U.S. adversaries, allies are spending, too. Japan's defense budget is the most remarkable, Darling said. "Basically, Japan is doubling their budget within a five-year period."

Japan used to adhere to a traditional 1 percent of GDP cap, he said. But as one of the world's largest economies, 1 percent used to translate to robust military capability. Now, however, in the wake of what U.S. military leaders are calling a great power competition, Japan is realizing 1 percent is no longer viable in a possible conflict against China.

Japan's defense budget rose 26 percent this year in nominal terms, Darling said. Next year it is projected to grow another 14 percent and hit the 2 percent GDP metric by 2027, he added. It's a remarkable statistic for a country that calls its military the "Self Defense Force."

"But the calculus has changed," Darling said.

Regarding Australia, it has adhered to the 2 percent of GDP since 2019, Darling said. Much of its spending is now going toward its portion of the Australia-United Kingdom-United States agreement to deliver SSN-AUKUS, a conventionally-armed nuclear-powered submarine, based on a U.K. design and incorporating technologies from all three nations.

If anything is going to disrupt the global upward trend in defense spending, it would be peace in Ukraine, Darling said.

"I think peace in Ukraine means that 2 percent commitment becomes a little shaky," he said.

A conflict, however, could send the budget skyrocketing even further.

"Anything with China, because that's going to be a large, industrial-scale war and you're going to see greatly-amplified spending in Asia where spending is already rising," he said.

"So Asia is where everything really is going with defense," he added.
Topics: Budget, International