PARIS AIR SHOW NEWS: Destinus Reveals Hydrogen-Fueled Supersonic Prototype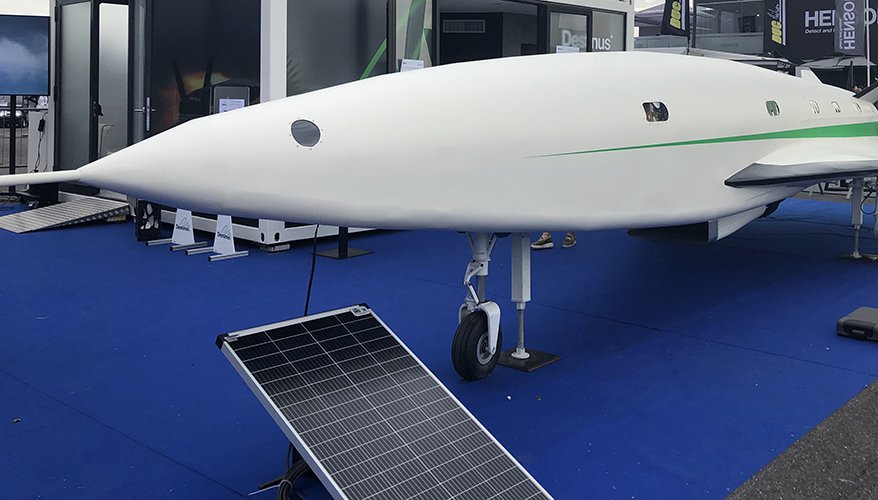 Laura Heckmann photo
PARIS
— A European aerospace company revealed a prototype for what could be the first hydrogen-fueled supersonic plane in aviation history at the Paris Air Show.
Switzerland-based Destinus unveiled the Destinus-3 at its static display at the Paris-Le Bourget Airport alongside its first two prototypes Jungfrau/Destinus-1 and Eiger/Destinus-2, both of which have already successfully flown subsonic.
"This [Destinus-3] prototype will be extremely important for two reasons," said Destinus CEO Mikhail Kokorich during an interview in Paris June 20. The first is it will be the company's first prototype to use liquid hydrogen fuel, he said.
Using hydrogen will remedy a problem currently plaguing turbojet engines. When turbojet engines fly above Mach 2, compression inside creates air so hot that the performance of the aircraft suffers. "The efficiency of the engine drops, and even military jets ... usually don't fly very good at 2 Mach," Kokorich said.
He called what Destinus is doing "very simple," and a trick that has existed for 50 years: they use hydrogen to both fuel the afterburner and precool the air going inside the engine, Kokorich said.
An afterburner is an additional combustion component used on a turbojet engine for generating more thrust by injecting additional fuel
—
in this case hydrogen
—
into the turbine exhaust stream, according to a Destinus press release.
The increased thrust generated by afterburners enables aircraft to achieve higher speeds and climb rates. Afterburners can provide the necessary power to achieve supersonic speeds. In addition, this configuration enables the use of two fuels in the same propulsion system, speeding up the platform development.
Cooling the air using hydrogen fuel could take an aircraft from Mach 1.5 to Mach 2.5 with the same engine, Kokorich said.
"And then the miracle happens," he added. "Because at this speed, you can actually switch to the ramjet." He described the ramjet engine as the most "simple as possible" engine, usually used on rockets.
Rockets usually accelerate with boosters, however — something planes don't have. With hydrogen, Destinus is closing that gap between Mach 1.5 and Mach 2.5, he said. Kokorich called this speed "between what is possible to do with a turbojet engine and between what is [a] good speed to start with ramjet." Ramjet engines can fly up to Mach 6.
"Hydrogen is very good fuel," he said. "It's a clean fuel, it's a very efficient fuel." But what is most unique for the Destinus-3 is hydrogen is nature's coolant, he added. "So, we're essentially flying with a tank of liquid hydrogen, which is a source of energy and also our big refrigerator."
While the ultimate goal at Destinus is hypersonic flight, the Destinus-3 technology also has big implications for the defense world.
"The defense people, they want faster," he said. The war in Ukraine revealed a shift in warfare "because of drones," he said. "They shifted to the air defense." Russia and China are also developing their own hypersonic weapons, making the ability to intercept them important, "so definitely this will be important, and the hypersonic drones can be very good for this."
Kokorich said the second reason the Destinus-3 is "extremely important" is because it will serve as the airframe of the company's future military combat drone, Destinus-E.
Destinus-E is a remote or AI-controlled jet-powered, three-ton unmanned aerial vehicle and will use the Destinus-3 airframe, and Kokorich said Destinus has had "very intense discussions" with defense authorities about the drone.
The Destinus-3 airframe on display at the Paris Air Show was a model, but inside was a functioning hydrogen system, Kokorich said. The airframe is in the production process, he added.
Destinus hopes to fly the Destinus-3 sometime next year, which, when flown supersonically with hydrogen, would make it the first hydrogen-fueled supersonic plane in aviation history, Kokorich said.
But he's not getting a big head about it. The road to unveiling the prototype has been paved with "small and big, difficult problems," he said. "So, you basically do not have time to become … proud and arrogant. But as your president told, we are doing this not because it's easy, [but] because it's hard," he said, quoting John F. Kennedy's 1962 speech about going to the moon.
Among the small and big problems have been a short development time, generating funding and a company that grew quickly in a short time, he said. "It's a pain, it's sweat, it's blood ... everything we can imagine. It's hard."
The Destinus-3 was funded by a combination of private money raised and grants from the European government to develop hydrogen technologies, he said.
Manufacturing of the airframe has begun and should be ready for ground tests by the end of the year, with flights sometime next year, Kokorich said.
Topics: Global Defense Market, International