Japan Pushing Its Tech Companies to Partner with U.S. Defense Industry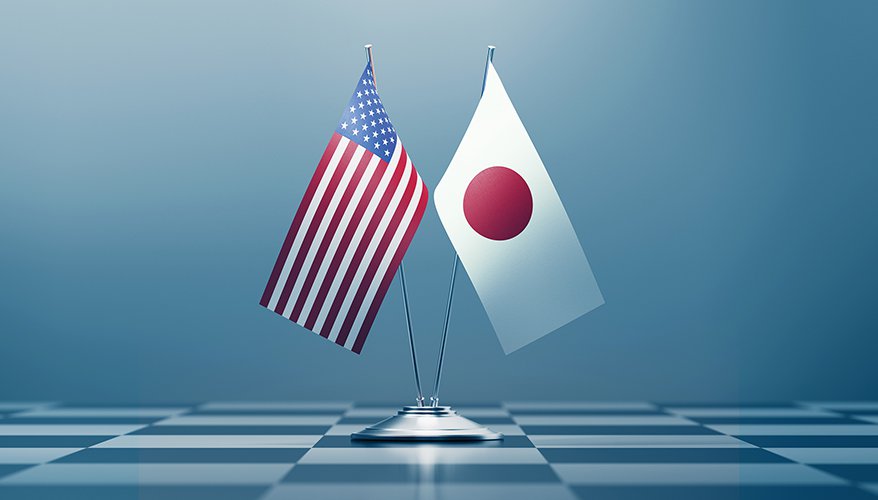 iStock illustration
CHIBA, Japan
— It's a new dawn of defense cooperation in the Indo-Pacific as nations such as Japan and the United States grow closer militarily as a hedge against China's ambitions in the region.
The two nations, of course, have been close since the end of World War II, when the United States established Air Force, Navy and Marine Corps bases on the archipelago.
But Japan late last year issued new documents spelling out that it intends to be more proactive when it comes to defending itself, and its Self-Defense Forces budget is expected to grow tenfold over the next decade.
The government has signaled its intent to develop a host of new military technologies and will be seeking help from domestic and foreign contractors to assist it.
While the two nations' militaries have enjoyed a long, enduring alliance, their respective defense industries have not.
"This is the right moment for international defense companies to look for Japanese partners," Zachary Harkenrider, counselor for political-military affairs at the U.S. Embassy in Tokyo, said recently at the DSEI Japan trade show in Chiba, Japan.
Shigenori Mishima, vice commissioner and chief technology officer at the Japanese Ministry of Defense's Acquisition, Technology and Logistics Agency, at the conference listed several areas where Japan is seeking cooperation with the United States "and like-minded allies."
One of the nation's top priorities is developing defensive systems to deter aggression — namely integrated air and missile defense technologies, including countering hypersonic vehicles as well as a railgun, he said.
If deterrence fails, Japan is seeking upgrades to its offensive systems, including an upgraded Type-12 surface-to-ship missile, a medium-range surface-to-air missile, hypersonic weapons and other anti-ship missiles for island defense, he said.
It is also seeking directed energy weapons to counter drones and drone swarms such as high-energy lasers and high-powered microwave radiation technology, he said.
For unmanned systems, it is looking for command-and-control technologies for both underwater and ground robots, he said.
The nation's highest profile cooperative defense program since the new strategies were announced is the Global Combat Air Program, a joint effort with the United Kingdom and Italy to develop a sixth-generation jet fighter.
Harkenrider said Japan's new National Security Strategy, National Defense Strategy and the defense budget buildup will result in "historic resourcing and policy shifts that respond to the challenges of the age."
However, decades of pacifistic policies and reliance on the United States for a security umbrella have resulted in a Japanese defense industry that is still finding its footing, speakers at the conference said.
The concern is not so much about Japan's industrial giants — Mitsubishi Heavy Industries, Kawasaki Heavy Industries, Toshiba Corp. and the like — but the small and medium-sized firms that may have a lot of innovation to offer but lack the tools and international business acumen to create alliances with their U.S. and other counterparts, speakers said.
"The small and medium-sized suppliers don't have a strong track record of doing business overseas," said Hideki Fukawa, director of the defense industry and aerospace division at the Ministry of Economy, Trade and Industry's manufacturing industries bureau.
They may excel at supplying parts and services to the Japanese prime contractors — who in turn sell weapon systems abroad — but many are lost when it comes to doing business directly with overseas contractors, he said.
"This relationship is one way inward to the Japanese market, not out to the global market," he said.
One issue is a lack of knowledge about Japanese export regulations, he said. There is often confusion as to when dual-use items can be exported as a commercial item or a defense item, Fukawa said.
There is also a problem of standards.
"Japanese companies fall short in getting certifications, so even when they have good quality parts, they are not even considered," he said.
Robert Moss, senior director of sales and business development in the Asia-Pacific for U.S.-based Teledyne FLIR Defense, said Japanese companies complying with standards would go a long way to making business easier.
"Having those standards and having that smooth transition of how things are going to fit in — and the understanding of how things are going to fit in — makes every level of that business transaction easier and more accomplishable within a cross-cultural context," he said.
The ideal to aim for is the U.S.-Australia industrial relationship, he said.
The two nations have a treaty that allows them to trade back and forth without licensing — skipping much of the overhead that is caused by regulations, Moss said.
"Those transactions move more quickly. They make the understanding of what's going on much easier and they make it much more simplistic to do business between the two countries. It would be wonderful to see a standard transaction framework that allows for a similar pass of defense materials back and forth between Japan and the United States or Japan and the European countries or other countries you wish to do business with," he said.
Harkenrider said the Japanese government is moving ahead with reforms to export controls and seeking to cut red tape.
"We defer to the Japanese government on potential revisions to their defense export policy, but welcome any policy that bolsters our alliances, and allows for enhanced engagement with those who maintain peace, freedom and stability in the Indo-Pacific," he said.
And then there are cross-cultural problems. They go both ways, Moss noted.
"Unfortunately, many U.S. companies — particularly defense companies — join into their business outside of the United States with the same norms and ideas that they bring to the United States and DoD. And that doesn't work in a country like Japan. It doesn't work in a country like India. It doesn't work in many places," he said.
Conversely, Japanese companies "have to understand where those American companies or European companies are coming from — what their thought process and norms are," he said.
Not understanding cultural norms "are going to be points that stop you from doing business smoothly and efficiently and being welcomed into that business culture," he added.
Yasuyuki Todo, professor of economics at Tokyo's Waseda University, during a Wilson Center webcast discussion on U.S.-Japan security cooperation said he has conducted studies that show "geographically diversified knowledge networks" are more innovative and productive than domestic networks.
"The results of international cooperation [are] much better than the results of domestic cooperation," he said.
"Unfortunately, Japan's international research cooperation is not very active," he said.
His studies have also shown that international supply chains are also more robust than domestic supply chains. The "onshoring" trend, where manufacturing is taken back from China and returned to Japan or the United States, is a positive trend, but better yet is so-called "friend-shoring," where trusted allies are part of an international supply chain.
This is particularly important for Japan as it is prone to natural disasters, he said.
At the center of the onshoring trend is returning computer chip manufacturing back to the United States.
Shihoko Goto, director of geoeconomics and Indo-Pacific enterprise and deputy director of the Asia program at the Wilson Center, asked whether the growing convergence of economic concerns and national security interests could bring the two countries closer together. "Or are we actually at the height of cooperation and looking to see greater divergence between the two sides from here on out?"
Protectionist tendencies in the two nations could win out, she added. "We are also seeing the rise of industrial policy to promote the development of critical technologies at home and protectionist measures that could go against efforts for coordination, even amongst like-minded partners."
Jun Osawa, a senior research fellow at the Nakasone Peace Institute, during the webinar agreed that the countries should cooperate to make supply chains more robust, and pointed out that cybersecurity was another area where the two nations' industries could work together as they are equally being targeted by Chinese hackers looking to steal intellectual property.
"Both the United States and Japan should cooperate to protect critical infrastructure, which is the foundation of national security and economic activities. We have to protect these infrastructures from cyberattacks," he said.
Todo had three policy suggestions that could make Japan-U.S. defense cooperation more active as both countries seek to reduce reliance on China for goods and raw materials.
First, the two governments should promote "friend-shoring" over onshoring.
The Indo-Pacific Economic Framework for Prosperity proposed by President Joe Biden during a trip to Japan in May 2022 is a good start to foster international cooperation and friend-shoring, he said. Along with Japan, Australia, Brunei Darussalam, Fiji, India, Indonesia, South Korea, Malaysia, New Zealand, Philippines, Singapore, Thailand and Vietnam are part of the framework.
Under the framework, governments should engage in information sharing on what technologies they need. That can reduce business uncertainty, he said.
Partner nations can also use the framework to do business matchmaking, he suggested.
The framework could also be a means to give out research grants that involve international cooperation, which is something the European Union has done quite effectively, he said.
Todo applauded the Japanese government's support of international cooperation with the United States and Taiwan when it comes to the semiconductor industry, "however, these policies should not be limited to the semiconductor industry but should be provided to a wide range of industries," he added.
Fukawa said the Ministry of Economy, Trade and Industry's manufacturing industries bureau intends to be proactive when it comes to promoting partnerships.
It is organizing a meet-and-greet for small and medium-sized Japanese companies in Washington, D.C., this fall.
Harkenrider said: "We hope and expect to see growth in Japanese defense industry manifest cooperatively rather than competitively. The huge number of partner needs in the region leaves plenty of space for win-win collaboration between our countries and our companies."
Topics: International, Global Defense Market