NORTHCOM Confronts Cultural Barriers To Innovation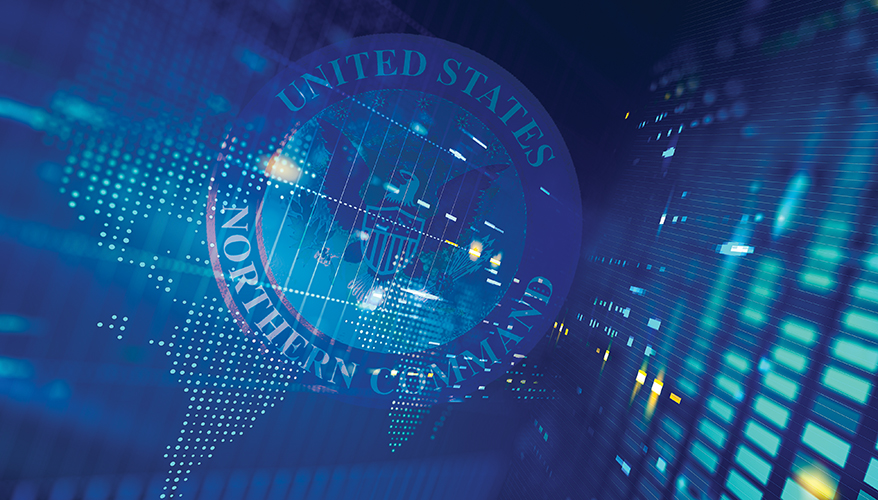 iStock illustration
SAN ANTONIO, Texas — Distance has long been one of the best weapons the Pentagon has to protect the homeland, but new threats are emerging that chip away at the notion that the United States can see an attack coming in plenty of time.
But generational barriers are preventing the adoption of new technologies at Northern Command, its leaders say.
Increasingly sophisticated long-range missiles in the hands of Russia and China, including hypersonic weapons and fractional orbital bombardment systems, have shattered the notion of the homeland as a sanctuary, said Brig. Gen. Paul Murray, North American Aerospace Defense Command's (NORAD) deputy director of operations.
"[The threat] is not one that we thought of, and it's not one that our nation has had to deal with for a very long time," Murray said at the National Defense Industrial Association's Science and Engineering Technology conference in May. Both Russia and China have "very quiet, very sophisticated stuff," capable of firing into the homeland "relatively close" from both sea and air, he added.
Northern Command and NORAD's strategic approaches to these advanced threats range from restructured deterrence models down to the digital realm, where a campaign of experimentation and transformation has been launched with one simple objective: move faster.
The challenge is overcoming cultural inertia, officials say. Meeting objectives requires addressing generational tensions, policy barriers, the legacy acquisitions bureaucracy and the growing volume and complexity of data.
NORAD and NORTHCOM Commander Gen. Glen VanHerck recently testified before the Senate Armed Services Subcommittee on Strategic Forces that the greatest risk for the United States "stems from our inability to change at the pace required by the changing strategic environment."
Keeping up with that pace is not a thinking or innovation problem, said James Rizzo, chief data officer for the commands. It's a transition problem.
"From the digital transformation perspective, the goal of our program really is not wrapped around technology," Rizzo said. "It's more about generating an environment of innovation within the headquarters."
Trying "four or five, maybe six different ways" to get at innovation has revealed more through failures than successes, Rizzo said.
One source of failure was the infamous "Valley of Death," which Rizzo preferred to call the "trough of disillusionment" — a phenomenon that swallows innovative technology in bureaucracy between prototype and fielding. "We tried to implement technology and it just doesn't work," he said.
Within the test community, Rizzo said "everybody thinks the same. Everybody's trying to get the next thing done. Everybody is operating with a sense of urgency." That's not true at headquarters, he said.
The test community's drive for innovation is met with "antibodies to using something different than they've been doing for the last 20 years" at headquarters, Rizzo said. There's a cultural divide that is "so hard to bridge."
He has seen a cultural sweet spot thrive in pockets within headquarters, however, and it could be a model for the way forward.
"If I can bring technology in, provide an engineer and provide a contractor and give them to highly motivated subject matter experts and have them start iterating on something, that seed starts to form and it starts to build a cell of people that are more willing to accept the outcome of a change in … processes," he said.
The goal is to bring performative technology that "actually gets stuff done," earning support from leadership who in turn would support change, he added.
One effort is the Digital Warfighter Program, which offers training on technology and lost skill sets such as coding. Another is an initiative called "The Forge," described in slides as a campaign of science, tech and experimentation to align, or "forge," priorities and efforts in time, space and purpose and accelerate the delivery of joint capabilities, Rizzo said.
"What we're going to try to do is leverage technology to improve efficiency and effectiveness. But it has to be done by the people that are in that individual work center or that place. So, if we do [a science-and-technology] thing that transitions over to an experiment, and it gets to the right … level, then it's my responsibility to [transfer] whatever that is into operations," Rizzo said.
The process exists and is "kind of forming on its own," he said. They are still learning how to get operators to accept new technology. In some instances, it's like handing an F-22 to the Wright Brothers.
"When the Wright brothers go to sleep at night, they think about the newest principle and how things work and how I can fly in other theaters," he said. "We give them the F-22 and we wish all of those things away, and now they have something that's highly performant … but they don't know what to do with it. So, there's a lot of education that needs to be done to help operators understand how to leverage technology."
Col. Derrick Franck, chief of NORTHCOM's experimentation and strategic analysis division, said the commander's remit is to move faster — to "break out of the mold" and the "traditional way of how we acquire things."
"The [Planning, Programming, Budgeting and Execution] and Joint Planning system [are] truly designed to build industrial things — ships, planes and tanks" — not software, Franck said.
"So, where we're trying to move faster is … how do we create all-domain awareness from subsurface all the way to on-orbit and make it a data problem that we can seek software solutions toward … collaborative sense making and information dominance," he said.
"Nobody ever accused the Department of Defense of being innovative," Franck said. "We're a combatant command without acquisitions authorities and without a whole lot of money." So NORAD and NORTHCOM need to advocate, he said.
"Advocacy is how we find people who do have those acquisitions authorities and money to spend to care about the things that we care about," he added.
And everybody must care, he said. He called Murray's drumbeat that the homeland is no longer a sanctuary a warning. "Based on that message, the thing we're trying to do is build the data."
What that means is using experimentation and prototyping to develop data "that then we turn to the department and say, 'This is the data-driven app. This is the compelling narrative of why you need to care about it,'" he said. "Because when it comes to operating inside of the Pentagon in the budgeting process, you can have an emotional argument that goes nowhere. You need the data in the form of advocacy to say, 'This is what we think the future looks like.'"
Traditionally, within headquarters, they have not operated in that space, he said. He referenced over-the-horizon radar as an example of technology "we did a good job of" that took too long. "That took us 15 years to make that case. It's already too late."
Part of the challenge in fielding technology faster is a cultural divide thwarting transformation.
In a digital age with a proliferation of sensors that collect troves of data, trying to make sense of all the information has sparked discussions about the use of artificial intelligence and exposed generational bias, Rizzo said.
The younger generation is generally more trusting of how data is presented, whereas the older generation has a distrust of data, he said. Data presented from AI, or curated prior to receiving it, may not be trusted.
With so much data coming from so many places, some may not even need to see the data — just trends, because "the numbers become moot," Rizzo said.
"It's more about the analytics of the data rather than the data itself," he said. "There's an issue that needs to be resolved here. I don't really have a good answer for how we're going to resolve it."
Murray called it a "frozen middle," where the younger generation sees eye to eye with leadership on technology and data yet they are separated by "people in the middle who keep that connection from being made."
"There's more to this problem than just acceptance of technology," said Rizzo. "How do you bring young, smart people … and keep them motivated, and how do you get them to come into work every day?"
The "frozen middle" is a cultural bind that may be demotivational to the younger generation, he said. "They can build out a product that presents information in a manner that's easily digestible in a day or two, and then provide real-time information to the seniors for decision, but there's that frozen middleman there that's like, 'Wait a minute, I don't know how to answer the question because the numbers have changed.'"
As NORAD and NORTHCOM aim to align thinking across industry, generations and headquarters, Rizzo encouraged everybody to "think … a little bit differently," driving home a theme of the transformation and experimentation campaigns.
"Instead of building bespoke systems with sensors that are a monolithic capability to do a thing, maybe there's a better way to do that," he said. "Maybe if we solved the domain awareness problem and put that data into a massive data analytics and geospatial visualization system, maybe we can short cycle that to be a year or less, rather than go through this massive [Program Objective Memorandum] process, and get back in with the rest of the bureaucrats and try to get something done." ND
Topics: Emerging Technologies, Technology Tomorrow