V-22 Production Winds Down As Deployments Ramp Up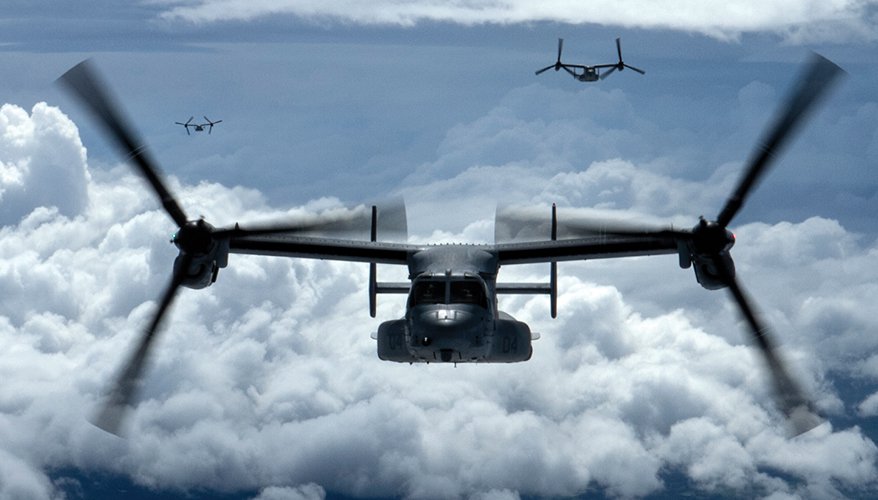 Defense Dept. photo
When the Army selected Bell Textron's tiltrotor V-280 as its Black Hawk replacement last year, many analysts expressed surprise that the service would go all in on a tiltrotor airframe given the checkered history of the V-22 Osprey flown by the Marine Corps and Special Operations Command and recently fledged by the Navy.
The V-22 platform, which is currently expected to fly until 2055, has experienced numerous fatal mishaps since two of the first five prototypes crashed in the early 1990s. Googling "V-22 accident" brings up a Wikipedia page "Accidents and incidents involving the V-22 Osprey." Other hits include harrowing videos of Osprey crashes.
Yet, the Osprey gradually found its wings, and today it is one of the Marine Corps' most visible and relied on platforms.
"Watching the V-22's arc has been pretty fascinating as it came in as a CH-46 replacement," said Marine Corps Col. Brian Taylor, V-22 joint program manager. "Initially it was used in kind of a traditional medium-lift helicopter role. And then once the capabilities of the platform really kind of started becoming more and more evident, I do think that we're seeing unbelievable growth in the roles and missions that the aircraft is being used for."
However — barring any further action from Congress — the Defense Department is ending procurement of V-22s in the 2023 budget, and once the last few aircraft are delivered in 2026, the production line will shut down.
The possible end of the production line comes as the Marines continue to find new missions for the aircraft. The initial expectation was for the V-22 to provide assault support: moving troops, equipment and logistics from sea bases to objective areas over long ranges, Taylor said.
"We're starting to see some new applications, especially like in airborne networking and other roles, where the range and the speed of the platform really provide a nice template or a canvas — so to speak — for the future capability people at the Marine Corps to help use the V-22 to enable force design," he continued.
The V-22 is essential to distributed operations envisioned under Force Design 2030, the Marine Corps' plan to organize and equip for maritime operations focusing on the Indo-Pacific, he said.
The programs of record for the services require a fleet of 360 Marine Corps MV-22s, 48 Navy CMV-22s and 56 Air Force Special Operations Command CV-22s.
"We're finally getting ourselves to the point where we've got all the aircraft fully fielded," Taylor said. "We're pretty confident in the way we've been able to operate, and we can operate it from the sea base. We can operate from forward deployed locations. And so now we're just starting to hit our stride."
However, that stride was interrupted in February when the V-22 Joint Program Office grounded a "subset of V-22s" to replace input quills in the hard clutch assembly that had grounded the Special Ops fleet of CV-22s last year. At the time, a Marine Corps spokesperson noted that the service had known about the hard clutch problem since 2010.
The process of repairing the affected aircraft is ahead of schedule, Taylor said. Originally, it was expected to take until sometime in 2024 to complete, but now it looks like late summer or early fall of 2023, he said.
"We went from making about 10 or so of these input quills a year, and now this year we're going to produce somewhere over 200," he said. "So, the ability to ramp up and scale like that is, from my perspective, truly the uniqueness of the American industrial base."
That ability to quickly increase production of a part will be essential going forward if the production line shuts down as planned in 2026.
The services will need to continue to source as many as 62,000 parts to sustain and maintain the aircraft, Taylor said. The V-22 program office and Bell and Boeing have been working for years on communicating to suppliers that there is going to be an ongoing need for parts, although the demand signal may not be as consistent as that during production.
"Those are the discussions that we're having right now between us and our partners at the defense logistics agencies to make sure that we have the sustainment contracts in place, that industry can see the demand signal for this," he said.
"Electronics obsolescence is always going to be a challenge on technical aircraft," Taylor added. "We're flying a 21st century aircraft, and the rate at which things change in the electronics world is significantly faster than typically the way aircrafts have changed."
For manufacturer Bell, maintaining the fleet is the number one priority, said Kurt Fuller, V-22 vice president and program director at Bell Flight. He said the company will continue to provide major upgrades to the aircraft, which will keep some of the workforce and supply chain active.
One major project will be nacelle upgrades, based on years of field data on aircraft maintenance, he said.
"We're able to take all that data and roll in design improvements to the wiring architecture as well as the structure," he said. "What we're actually doing on the Air Force side is we're bringing their craft back into Amarillo, which is where we do final assembly for new production V-22s, and we're upgrading those aircraft with new nacelles and then flying them back out of the factory."
That allows Bell to maintain human capital while improving readiness of the airframe, he said.
Still, the end of production will create challenges, he said. "Those unique one-off parts are harder to come by for support," he said.
"We have an industrial base of over 27,000 employees across 500 suppliers, and some portion of that will still be needed to support the repairs and spare parts," he said. "But then there's a large portion of that industrial base that doesn't necessarily provide parts that are typically spared or repaired."
However, there are mechanisms to address that, said J.J. Gertler, senior analyst at the Teal Group.
"Typically, what happens in those cases is that at the end of a procurement there is a bill for shut down cost, which is the cost to the manufacturers of closing down the production line, but also includes often laying in stocks of parts for the future," he said.
"The other part about that is that most of the things that are involved in sustainment are coming from subcontractors," he continued. "They're not coming from Bell or Boeing. … So, it's not a question of keeping open the production line for the V-22 in order to keep sustainment going."
That said, the manufacturers believe there are reasons to keep the production line active. A Boeing spokesperson said in an email that the manufacturer is "exploring all options to extend the production line. We remain focused on addressing business and customer needs."
Bell thinks the Navy might want more CMV-22s, which are gradually replacing the C-2 Greyhound as the Navy's carrier onboard delivery aircraft, and Bell believes the Osprey can cover more mission needs for the service.
"We've done a number of different studies we've shared with the Navy; they've done a couple of their own," Fuller said. "But from our studies we can show upwards of a 50 percent increase in their program of record to support contested logistics, distributed maritime operations [in the] Indo-Pacific region and just the amount of ocean that they need to cover in that kind of region."
Bell is working closely with the services and congressional members to make sure that the number of aircraft in the program of record that was defined decades ago is still valid. "So, we're continuing those efforts in expectation of trying to extend this program further," he said.
Taylor agreed that the Navy is just getting a feel for what the Osprey can do as the service prepares for its third deployment with the aircraft.
"They're really kind of starting to look at the aircraft, not just as a C-2 replacement, but with all of the capabilities that it brings to that service."
However, just as the Marine Corps' fleet of 360 is scoped to a service end strength of around 180,000 Marines, the Navy fleet of 48 V-22s is based on a larger plan.
"All of these aircraft have to fit inside of the force structure allocated by the services because we are one part of the overall Navy, Marine Corps, Air Force team," he said.
If the Navy — or Congress — doesn't bite on any more Ospreys, then it is the end of the line, Fuller said, noting that other than the recent Japanese procurement, there are no other foreign buyers lining up for the bird.
"There's been a couple countries off and on over the years that have expressed some interest, but nothing concrete that would keep the line open that we see right now," he said.
The shutdown of production would seem to be a bigger hit for Boeing than for Bell, Gertler said.
"There is a future for Bell having just won the Army contract for the V-280 that would be produced in the same factory where Bell makes the V-22," he said. "The question is what would happen with Boeing and Ridley Park, Pennsylvania, where Boeing does their part of the work on this aircraft?"
And while Bell is in a position to move on with the production of the V-280 under the Army's Future Long-Range Assault Aircraft program, the timing and production does not translate to a one-for-one replacement, Fuller said.
"Once you get beyond tiltrotor, … there really is not much commonality between V-22 and V-280," he said.
"So, it's not a matter of repurposing a lot of tools from a V-22 to certainly make a V-280," he continued. "From an order perspective, the timing of the two lines is not as ideal as we would like, as its forecasts are now that the V-22 line would be rolling this last aircraft off a little bit before V-280 really gets into full-rate production."
When the V-280 does get into production, the Marines will be watching, Taylor said.
"We're definitely very interested in it because there are some things different about the V-280 and its design than the V-22," Taylor said. "So, as the Army and Bell progress through that program, we're going to be interested and we're going to be watching to see, what opportunities are there for us to learn lessons from that program that may be applied to this V-22 or maybe applied to something else in the future?"
Gertler noted one last variable in the equation that could extend production of the V-22: Congress, which has a tendency to put things in the budget that the services don't ask for or want.
"Congress loves to extend programs that are ending," he said. "That said, this year the budget situation is tight enough and uncertain enough that it may be harder than usual for members to extend these production lines," he added.
One wrinkle would be a continuing resolution, something many Congress and defense analysts expect for at least part of 2024.
"That would lock in spending for the V-22 program at the 2023 level," Gertler said. "So, there would actually still be a program, and how the services decided to use that money would be fascinating to watch because they would only be supposed to use that to buy V-22 that right now they say they don't want."
Topics: Air Power, Marine Corps News, Defense Department