JUST IN: Mobile Protected Firepower Gets New Name, New Delivery Goal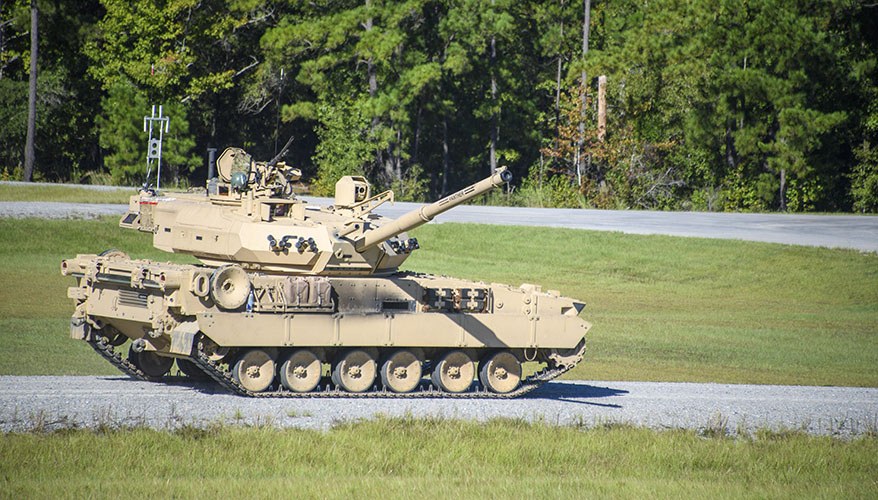 Army photo
The Army's Mobile Protected Firepower is now the M-10 Booker Combat Vehicle, and the first system is scheduled to arrive earlier than expected, service officials said.

The system is an armored, tracked vehicle designed to provide a mobile, protected, direct, offensive fire capability Army Infantry Brigade Combat Teams do not currently have. The vehicle will "bring a new level of lethality to our ground forces," allowing soldiers "to move at a faster pace with greater protection," said Doug Bush, the assistant secretary of the Army for acquisition, logistics and technology, during a media roundtable June 8.

Maj. Gen. Glenn Dean, the program executive officer for ground combat systems, said the system will support Army Infantry Brigade Combat Teams "by suppressing and destroying fortifications, gun systems, entrenchments and secondarily then providing protection against enemy armored vehicles."

The M-10 Booker Combat Vehicle gets its name from two servicemembers, Bush said: Staff Sgt. Stevon Booker — who was killed in action in Iraq in 2003 and posthumously awarded a Distinguished Service Cross — and Pvt. Robert Booker — a Medal of Honor recipient who was killed in action during World War II.

"The stories of these two heroic soldiers articulate the Army's exact needs for the M-10 Booker Combat Vehicle," Bush said. Stevon Booker was a tanker and Robert Booker was an infantryman — "so [bring] both communities together, that was the idea," he said.

The Army awarded General Dynamics Land Systems a $1.14 billion contract for low-rate initial production of the system in June 2022. The vehicle "employs a four-person crew and features an enhanced thermal viewer, a large-caliber cannon, a lightweight hull and turret and a modern diesel engine, transmission and suspension system," a company release said.
Dean said the Army had anticipated receiving the first production vehicle in 19 months from contract award, but now "General Dynamics is working toward a November delivery, so they may yet achieve ahead of schedule."
In its fiscal year 2022 report on the program, the Defense Department's Director, Operational Test and Evaluation said the vehicle's "progress toward achieving operational effectiveness is satisfactory," but noted testing had found the vehicle "had high levels of toxic fumes when firing the main gun, requiring modifications to crew procedures during gunnery to mitigate the build-up of fumes in the turret."
Dean said the toxic fumes were a concern for the Army at the time of the production decision, but after subsequent engineering and testing the service is confident the "issue is behind us."

Another technical issue the service found was the vehicle overheating "under hot performance conditions," he said. The issue "turned out to be an airflow problem with the cooling at the rear of the vehicle," and General Dynamics made design revisions to ensure the system "can meet its performance requirements [at] high temperatures."

Bush noted the success of those revisions will be "proven out" during operational testing.

"We're on process there," Bush said. "So, we never spike the football [until] we get all the way through" test and evaluation.

The service plans to perform an initial operational test of the M-10 Booker Combat Vehicle in late 2024 or early 2025, with the goal to have the first unit equipped in late 2025, Dean said.

For fiscal year 2023, the Army received $355 million in procurement funds to acquire 29 systems, and for fiscal year 2024 is requesting $395 million to acquire 33 vehicles, according to service budget documents. The service ultimately wants to acquire 504 vehicles, according to a Congressional Research Service report on the program.

The vehicle is one of 24 technologies Army Chief of Staff Gen. James McConville promised to have in soldiers' hands — as prototypes or fielded systems — by fiscal year 2023. Bush said the vehicle is a "benchmark modernization program, as the acquisition and requirements communities worked closely together to move the system into production in just under four years."

Dean echoed Bush's remarks, saying the vehicle will "become an enduring Army capability."

"It's been a tremendously successful program … on schedule, on budget, and performing well in testing," including a year-long soldier assessment of prototypes, he said.

"It's very exciting for us to name a new combat vehicle — this hasn't happened, at least in my portfolio, since we fielded the Stryker — and to name it after two great American heroes … it's just a fantastic thing to be a part of," he said.
Topics: Army News, Combat Vehicles, Land