WEB EXCLUSIVE: Special Ops Command, DARPA to Investigate Electric-Hybrid Helicopters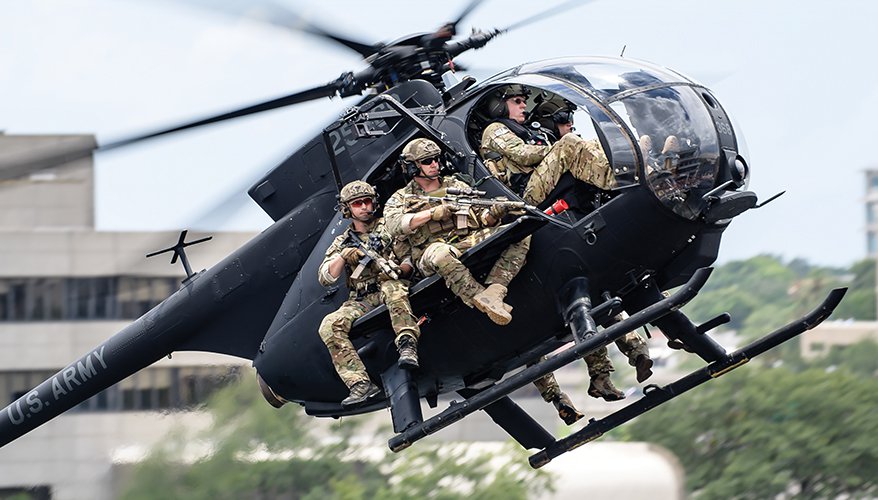 TAMPA, Florida — A host of established aircraft makers and startups are offering so-called "flying cars" — all electric or electric-hybrid vertical takeoff and landing vehicles that may appear to be a perfect fit for special operations mission — but so far, none impress.

Geoffrey Downer, Special Operations Command's Program Executive Officer Rotary Wing, said the PEO has studied many of the nascent industry's offerings, but found that they are all lacking, he said May 9 at the SOF Week conference in Tampa, Florida.

"All these electric configurations don't meet our helicopter missions based on the studies that we're looking at," he said.

Special Operations helicopters need to hover for long periods of time, and the new wave of electric aircraft don't do that, he said. The amount of downwash is also problematic, as is the ability to get the crew in and out of the aircraft quickly, he said.

"So, what we're looking to do is to evolve our existing aircraft into hybrid electric," he said.

The first experiments will be on the A/MH-6 Little Bird, the only helicopter in SOCOM's inventory that it flies exclusively. The others are Army aircraft that have been converted for special ops missions.

"We've looked at a Little Bird, and we figured out how can we reconfigure that platform to accommodate a hybrid-electric configuration," he said.

The Little Bird, also nicknamed the "Killer Egg," is slated to be replaced in the early 2030s by the Future Attack Reconnaissance Aircraft, which the Army is still developing. The Boeing-built Little Bird helicopter is used for recon missions and to provide firepower.

"There's a big drive within [the Office of the Secretary of Defense] to go to zero or lower on hydrocarbons. While interesting — and we will comply — we're looking at it from more of an operational or performance standpoint," Downer said.

PEO Rotary Wing will also start a program in 2024 with the Defense Advanced Research Projects Agency to look at hybrid-electric aircraft. The command has already acquired MD-530 multi-purpose light attack and reconnaissance helicopters to test hybrid-electric power, he added.

"The studies that we've done [have] shown that you can get anywhere from 25 percent to 100 percent increase in speed," he said. That could take it from 90 knots to 170 to 180 knots, he said. Or it could result in a 25 to 75 percent increase in range. "That's huge," he added.
Topics: Special Operations, Special Operations-Low Intensity Conflict