JUST IN: Air Force Secretary Urges Congress, Pentagon to Accelerate Tech Fielding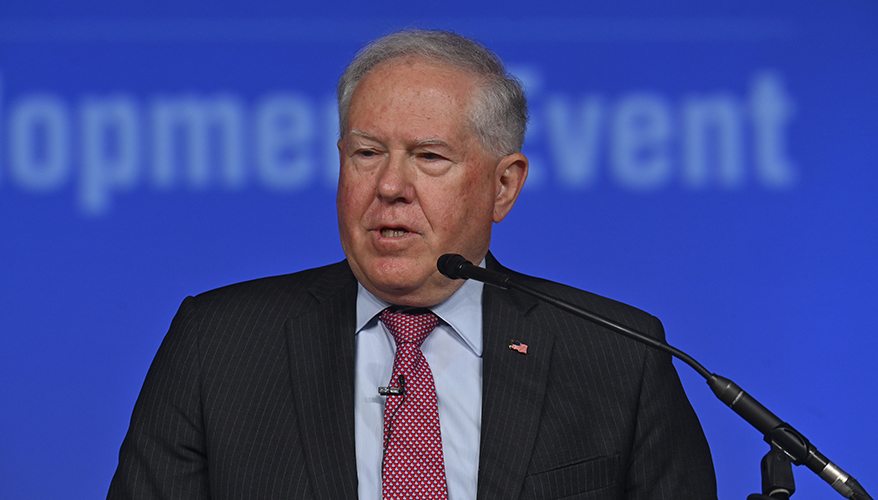 Air Force photo
WASHINGTON, D.C.
— China continues to pursue capabilities to undermine the Unites States' ability to project power in the Indo-Pacific and deter potential Chinese aggression, and the United States needs to accelerate investments in new technology and systems, the secretary of the Air Force said May 9.
The Air Force put extensive effort into its fiscal year 2024 budget request to advance capabilities ranging from electronic warfare to cyber to long-range fires, said Secretary of the Air Force Frank Kendall at the Ash Carter Exchange.
"I'm working really, really hard to get the Congress to move forward on these things," he said. "There are about a dozen new starts that we put in our [2024] budget, as well as a total of at least 20 things that have increased funding."
The flip side of starting new programs is getting rid of old ones. The Air Force has had difficulty getting Congress on board with divesting aircraft like A-10s or non-combat ready F-22s, Kendall noted. "I think there's a much better chance that will go through this year. So, I want to express some appreciation to the Congress. I know it's hard, locally, in particular, to divest aircraft that are in your communities."
While the service is looking to develop and procure new and advanced aircraft, the future fight requires far more than aircraft, he said.
"The truth is that the Air Force needs things like electronic warfare, battle management, intelligence, cyber capabilities — all of these things. It doesn't just need airplanes, it needs a lot of other things," he said.
"And as the character of warfare changes, and as technologies [are] introduced, we're going to need those kinds of units just as much as we're going to use more traditional platforms," he added.
Kendall said his greatest strategic worry right now is that Congress will not pass a budget and resort to a full year continuing resolution, meaning 2024 would be operating under the 2023 budget, "and we won't be able to move forward on all these things that we've sent up to the Congress."
Under the current process, the Air Force — all the services — must wait for Congress to pass a 2024 National Defense Authorization Act and budget before the Air Force can begin new programs like the collaborative combat aircraft, the unmanned platforms that will support F-35s and a sixth-generation fighter jet. Kendall said he is pushing a piece of legislation that would allow the service to begin some new projects before the next budget is passed.
"The legislation will allow us to start a program whenever we're surprised technically by the threat, where we see a great opportunity, and not have to wait for an entire budgeting process," he said.
The proposal would allow the service "to do early stage, very inexpensive, preliminary design work — system engineering requirements, tradeoffs, maybe some risk reduction — take us up to what's called the preliminary design review point, and not go beyond that," he added.
It would be a pilot program with an initial cap of $300 million, he said. "I think of this as low-hanging fruit. It's a free year and a half or so that we're giving away to the other side while we wait for our bureaucratic process to play out."
Congress would retain full oversight and the Air Force would not be able to progress beyond preliminary design review, he said.
Not all technological advancement requires congressional action and approval, he noted. The service needs to improve how it gets things from the lab to the experimental phase to the hands of warfighters.
One step in that direction involves the secretary, Air Force Chief of Staff Gen. Charles "CQ" Brown Jr. and Chief of Space Operations Gen. B. Chance Saltzman reviewing all the service's science-and-technology programs.
"And what we're going to review them for is their viability," he said. "And we're going to ask the question, 'Okay, first of all, if this is a successful experiment, will we buy it?'"
If the answer is no, he said, then the department needs to direct the resources elsewhere. But if the answer is yes, then the service needs to do more to pull technologies across the so-called valley of death, he added.
In recent years, the Defense Department has invested in offices like the Defense Innovation Unit and Strategic Capabilities Office that focus on finding and maturing technology to the point where it is possible to decide whether to carry it forward — essentially bringing it to the edge of the valley.
"Now, the problem we've got getting them across the valley is about resources and requirements and decisions that we need to make about what we want to actually put into our inventory, and then getting the resources to make that happen," he said.
Thus, he, Brown and Saltzman are going to identify the projects that "have high promise, and we're going to fund them for fielding," he said. "We're going to make sure there's funding not just to do an experiment but to actually move them and get them into the inventory as quickly as we can."
"Time is not our friend," he continued. "We do have a pacing challenge that is running very fast to try and stay ahead of us."
China is developing systems and technologies not just to address current U.S. capabilities, but China is anticipating what the United States will do next and develop things to counter future U.S. capabilities.
"So, we have got to move fast," he said. "Our system isn't set up to do that."
Topics: Air Force News, Cyber, Budget