Air Force Fleshing Out Key Component Of NGAD Program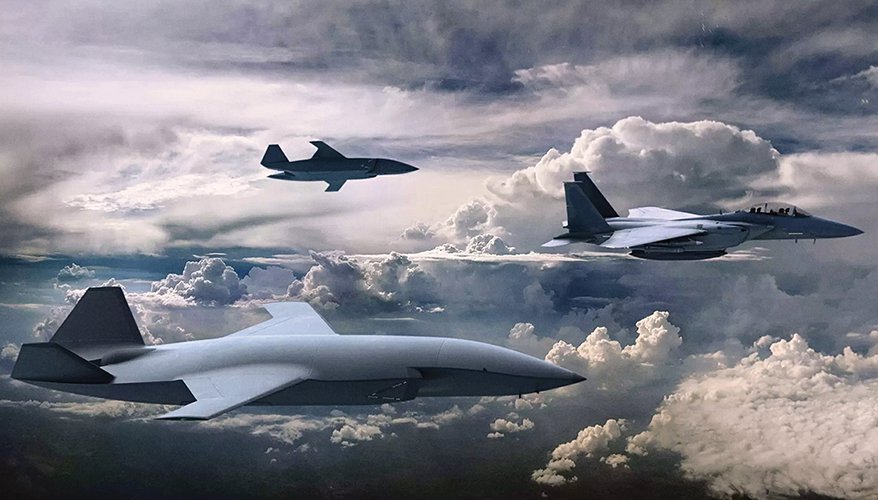 Air Force concept
AURORA, Colorado
— The Air Force's Next Generation Air Dominance, or NGAD, platform intended to replace current fifth-generation fighter jets has long been shrouded in secrecy, but the service has been providing more details about one component of the program — the jet fighter drones that will team with the piloted sixth-generation aircraft.
Secretary of the Air Force Frank Kendall revealed in March that the initial plan is to acquire 1,000 of the collaborative combat aircraft, or CCA. The service arrived at the number by assuming that two of the uncrewed jets will accompany each of an initial tranche of 200 NGAD fighters and 300 F-35 fighters, he said at the Air & Space Forces Association's Warfare Symposium.
"This isn't an inventory objective, but a planning assumption to use for analysis of things such as basing, organizational structures, training and range requirements and sustainment concepts," he said.
"The CCAs will complement and enhance the performance of our crewed fighter force structure," he continued. "They will not impact planned crewed fighter inventory. One way to think of CCAs is as remotely controlled versions of the targeting pods, electronic warfare pods, or weapons now carried under the wings of our crewed aircraft."
Service officials involved in developing the NGAD and their so-called "loyal wingmen" elaborated on the program at the symposium, describing the drones as "affordable mass."
"If we can get a price point that gets what Secretary Kendall talked about — maybe up to 1,000 air vehicles out there at a price point that gives us enough capability to provide effect on the battlespace — it's really a game-changing kind of concept," said Maj. Gen. Scott Jobe, director of plans, programs and requirements at Air Combat Command.
"It doesn't mean though that this is an attritable type of platform, and that's been a common misconception," he continued. "We're going to reuse these air vehicles, and the decision for risk and the risk that we will take with these types of capabilities will be at the mission command or at the combined forces air component commander level."
The Air Force, Navy and other components of the Defense Department have performed analyses on the affordable mass concept that "show overwhelmingly that this provides us an overmatch capability and changes our loss exchange ratios dramatically in our favor," he said.
"The unique thing that CCAs bring to the fight is the ability to do fire and maneuver in a different way," he said. "And you accept risk in a different way because you're going to have different tactics, techniques and procedures."
Piloted fighting tactics involve formations of multiple aircraft supporting each other, he said. "With the collaborative combat aircraft, you're not necessarily constrained by that because you can make different risk decisions."
Initially, the loyal wingmen will be limited to specific mission sets, starting with air-to-air capabilities, he said. As the technology matures and proves itself, missions will evolve in complexity to involve surface and maritime targets.
They will also "include sensor packages so we can sense the environment from an air moving target indicator kind of perspective," he said.
However, concepts of operation will remain just concepts unless the service and industry can deliver the technology and capability in an affordable manner.
And that's where industry comes in to help define what capabilities exist today and what is feasible in the coming years, said David Alexander, president of the aircraft systems group at General Atomics Aeronautical Systems Inc.
"It's going to be really important that we can tap into the commercial market that already has production lines that are set up to support this program," he said.
"We need to make sure that we've got a propulsion set up so either they can support that kind of rate, or even better, maybe have [it] where the airframe can take two different suppliers for propulsion going forward," he said.
"So, propulsion would be super key and getting into a mature product line will be key, because if you have to redesign engines, we all know that's billions of dollars that we can't afford to spend or wait for," he added.
Then, there is the airframe and the tooling to produce it, he said.
"So that's smart tools, additive manufacturing, thermoplastics," he said. "But again, I think the key here is to tap into the commercial market. There's a lot of capacity out there that can be used and can be used quickly," he added.
There are healthy production lines in place now, he said. "I think you could solve ramping up on that with a lot of long-lead procurement, but it means you've got to get your designs squared away from the beginning and know what you're buying."
The design and production of the platform is one major part of the equation. The other major part is the autonomy technology, said Mike Benitez, director of product for Shield AI.
"The unmanned, remotely piloted fleet that we have today is certainly manpower intensive." It has not delivered on the past two-and-a-half generations of promise on autonomy, he said.
While there is no one in the cockpit, today's unmanned aircraft require a lot of personnel to operate, and that's not feasible for a fleet of 1,000 or more uncrewed systems, he said.
What will be required is "stack types of artificial intelligence" using supervised and unsupervised learning, he said.
Supervised learning "basically applies some data labeling, and then you apply some other stuff to it — some magic sauce — and at the end you're getting some generative AI," he said.
Unsupervised learning "takes a whole bunch of data, tries to make sense of it and then it applies that through a couple other filters," he added.
Brig. Gen. Dale White, program executive officer for fighters and advanced aircraft, said that much of the technology exists to get to basic capabilities for the CCA. The Air Force's Project Skyborg has developed autonomous aircraft teaming architecture, and the experimental XQ-58A Valkyrie has demonstrated capability, he said.
"You take the autonomy that we have, you build it on top of a common architecture that is government-owned — I think that's critically important," he said. "We need that common architecture, because that way we can make this a platform-agnostic discussion, because if you build autonomy each time you field the new platform, we've gone about this all wrong."
Critical to advancing the concept is putting the capability into the "hands of the captains, and we need to let them lead us through this, and we need to iterate as a function of time," he said.
"The modularity piece is absolutely critical, because" as he told the secretary of the Air Force, "We could easily overreach here and make this a 15- or 20-year development program. We're really good at that, right?"
Benitez said that there are several constraints to developing the AI needed for collaborative combat aircraft.
"There's really only a few people in the United States who even have [large aircraft] that can host autonomy to do experimentation," he said.
There is the X-62 Vista, the modified F-16 that Shield AI flew in December. "It's a great aircraft. There's only one in the whole world — one. So, we're kind of a slave to that platform," he said.
"As we move to the Valkyrie in a few months, we'll be flying autonomy on the Valkyrie down at Eglin as part of an Air Force program," he added. "That's great, but there's only two of them. And in your launch and recovery reconstitution, we still have to flesh out some of that to do what we call 'fly-fix-fly.' So, we want to fly, iterate, fly again."
Without an aircraft in the hands of captains, "it's really just an academic exercise. You're not really actually getting data and testing hypotheses, because you don't have anything to test it against," he said.
"There is a process that that autonomy has to go through that is extremely nascent," he continued. "It's an internal validation [and] verification process that AI companies do with their autonomy product. But there also has to be an independent validation verification, and that is an [Office of the Secretary of Defense] requirement."
Jobe said the service is mapping out a validation and verification process. There will be "live-fly events that we get data points off of and … we're going to bring it back in, we're going to adjust our algorithms, we're going to adjust even the [tactics, techniques and procedures] and operational perspective," he said.
"Then we're going to stick it in the virtual environment and we're going to go through that iteration process multiple times," he continued. "So, what you see flying on the range is not all the activity. There's a lot that's going on behind the scenes."
How quickly the development progresses is ultimately a function of resources and authorities, Kendall said. The Air Force's $185 billion budget request for fiscal year 2024 includes $522 million for research, development, test and evaluation for the program.
"We're going to buy some assets that are not the ultimate CCA, but which we can use for a variety of things to develop operational concepts, to develop technology, [to] reduce the risk of the program for the CCAs," he said. "And also start to think through some things like how we train, what kind of organizational structures we have, etc."
The program will be a full competition, and there are "a lot of candidates" who have been working on the concept based on information the service has released to date, he said.
The aspiration is to field the first tranche of NGAD before the end of the decade. One of the biggest potential sources of delay could be Congress, he said. As a new start, the CCA program will require authorization and funding from Congress.
"It's going to be very hard to get bills out this year," he said. "I think our committees are generally committed to getting that done.
"But I can foresee some difficulties as we move forward," he continued. "And I keep pounding that drum because, you know, you can't go fast until you can start. And we can't start until we have the authorizations and the appropriations."
Topics: Air Force News, Air Power