EDITOR'S NOTES INTERNATIONAL
Letter from Chiba: Challenges Tapping into Japan's Innovation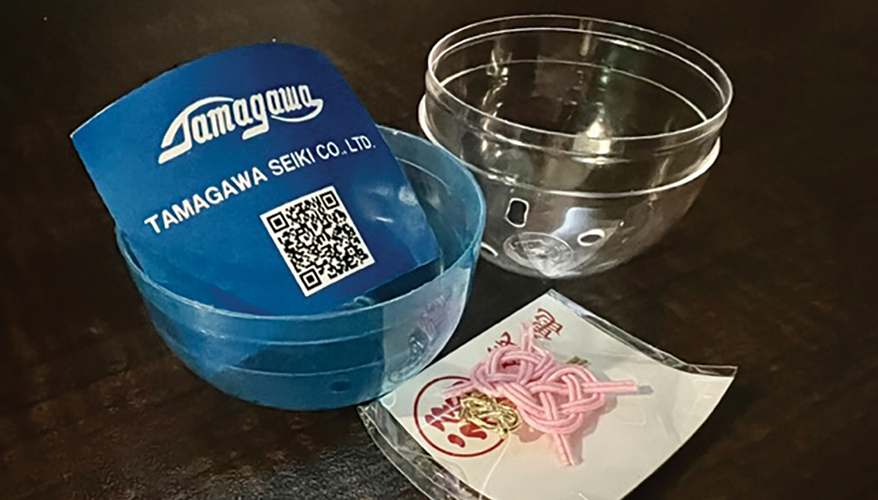 Stew Magnuson photo
CHIBA, Japan
— The crowd around the booth at the DSEI Japan defense industry trade show was there to try their luck with the gacha-gacha machine.
Tamagawa Seiki Co., a Tokyo-based maker of small motors and measurement systems, was handing out coins and letting visitors crank a knob until a plastic-encased trinket popped out.
Based on gumball machines, gacha-gachas have been a craze in Japan for decades. For 400 yen — about $3 — players can receive a toy, keychain or some other item.
Inside Tamagawa's plastic capsule was a small prize, along with a slip of paper with the company name, logo and a QR code that would lead them to its website.
By day three of the conference, the company had given away about 300 of the capsules.
Clever!
It had been three and a half years since the inaugural DSEI Japan trade show in the fall of 2019, and a lot had changed. COVID-19 postponed the show twice. But the trade show finally went on, and it was bigger than ever. Organizer Clarion Events reported that the exhibitor numbers had grown by 65 percent over the last conference, which it bills as the nation's only dedicated defense trade show.
It's not that surprising. Trade shows in their second iteration are expected to grow. But there was more to it than that. Japan's government in December released three strategy documents on its new defense posture, as well as announcing massive increases in the Japan Self-Defense Forces budget.
Its current goal is to reach 2 percent of GDP by fiscal year 2027, a significant milestone since it wasn't too many years ago that pacifist policies that had existed since the end of World War II were put aside.
And as Kim Jong Un reminded the citizens of Japan, the country lives in a dangerous neighborhood.
On the second day of the show, North Korea launched a Hwasong-17 intercontinental ballistic missile that fell into the Sea of Japan.
Not coincidentally, South Korean President Yoon Suk-yeol came to Tokyo and sat down for meetings and a photo op with Japan's Prime Minister Fumio Kishida as a sign of détente for the two nations, which are still struggling to resolve issues arising out of Japan's occupation of the Korean peninsula before and during World War II.
The press reported that U.S. Ambassador Rahm Emanuel had urged the two to get together. The United States needs its two staunch allies in the region talking, sharing intelligence and creating an informal alliance against the bigger, long-term threat, which is of course China.
Meanwhile, the Japanese Ministry of Defense wants to tap into its innovative small and medium businesses — as well as its well-known industrial giants — to help it develop next-generation military technology.
Sound familiar?
But the defense industry is not a big draw, so far.
Perhaps to coincide with the show, an unnamed Japanese official quoted by Reuters stated that six of the nation's traditional defense primes said that they weren't all that interested in expanding their military output.
Daiki Kasugahara, assistant commissioner at the ministry's acquisition, technology and logistics agency, gave one reason why in a presentation. Japan's corporations are used to profit margins of about 6 percent. The defense contracts gave them about 2 percent.
"We have to make the defense industry more attractive by allowing higher profit margins," he said.
As for those smaller companies, 2019 DSEI Japan showed that many were unprepared for international business and marketing. I walked into several booths where representatives spoke halting or little English and couldn't put a sentence together to explain what exactly they were selling. Nor did they have any literature in English — the international language of business — to take away.
There was a remarkable difference in 2023. There was Tamagawa Seiki Co.'s clever gacha-gacha marketing plan.
A young executive marketing a float plane unmanned aerial vehicle for Space Entertainment Laboratory spoke near perfect English.
Another startup, Mitsufuji Corp., was offering silver-infused fabric that could be used to block electronic warfare attacks. The lead engineer who invented the material couldn't speak a lick of English, but the company had a media relations manager who did, and she had a packet of information ready to hand out.
"Oh, they're wonderful," Lt. Col. John Williams II, the U.S. Army's field assistance science and technology director for the Pacific, said in an interview about Mitsufuji and its EW-blocking material. The Army's technology scout for the region saw a lot of potential in the technology.
It's true that a few of the booths didn't have any English signage, he said. "But I think they're building their muscles, and we want to be here to help them get there," he added. The Army has some funding to test new tech from overseas. One of the success stories is a potentially new heating element for meals ready-to-eat that came from a Japanese food company, he said.
These are what could be described as "singles" — niche technologies that can make warfighters' jobs easier.
Meanwhile, Japan has a list of "home runs" it's pursuing that includes the Italy-U.K.-Japan Global Combat Air Program sixth-generation jet fighter, hypersonic aircraft, anti-ship missiles and a railgun.
There are opportunities for the primes of the democratic nations to come together on these big projects — as they are with the GCAP jet fighter – and develop cutting-edge technologies — a win for everyone but China.
Topics: International, Internation Cooperation, Global Defense Market