Jury Still Out on Multiyear Procurement for Munitions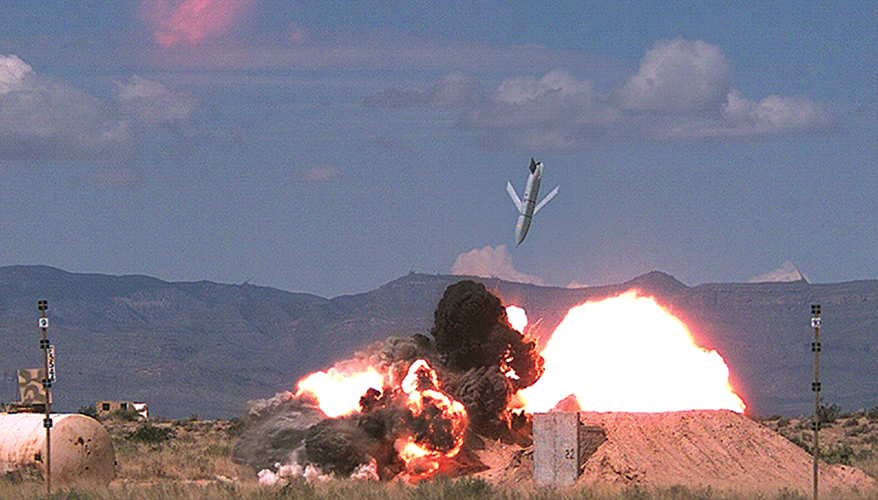 Air Force photo
During a media roundtable in February, Secretary of the Army Christine Wormuth touted a provision of the 2023 National Defense Authorization Act: multiyear procurement for munitions.
"The real value of the multiyear procurement authority is that it allows us to sign contracts with industry that give them sort of a guaranteed flow over time," she said. "It shows them that we will be a customer over time, and it allows them to make investments as a result of that."
With the United States shipping arms new and old to Ukraine, U.S. industry has been scrambling to boost — and in some cases restart — production of munitions like Stingers and Javelins. Wormuth said CEOs have been telling her they want to help Ukraine fend off Russia, but they need a consistent and prolonged demand signal from the Defense Department if they are going to ramp up production.
"I think we're going to start seeing those multiyear procurements bear fruit. Whether Congress might extend those or broaden those, I think remains to be seen," she said. Congress is probably going to want to see how the department uses the existing authorities to sign two- to five-year contracts before approving additional ones, she said.
"But as I look to future conflicts, I think we all understand now how important magazine depth is," she added.
And the Defense Department is looking to add magazine depth in its 2024 budget request, which seeks $30.6 billion for munitions, including multiyear procurement, or MYP, contracts for 18,000 Guided Multiple Launch Rocket System rockets; 692 Patriot Missile Segment Enhancement missiles; 516 Naval Strike Missiles; 825 RIM-174 Standard Missile (SM-6); 477 Long Range Anti-Ship Missiles (LRASM); and an unspecified number of Advanced Medium Range Air-to-Air Missiles (AMRAAM) and Joint Air-to-Surface Standoff Missiles – Extended Range (JASSM-ER).
Furthermore, the department is seeking to pilot a new "large lot procurement" concept with the proposed five-year contracts for the AMRAAM, JASSM-ER, LRASM and SM-6. The large lot program is designed so that "synergies in production across different but related programs can generate efficiencies and result in greater production capacity, accelerated delivery and lower unit costs," according to the department's supporting documentation for the multiyear requests.
According to U.S. law — specifically 10 U.S.C. 3501 — the department must demonstrate a proposed procurement meets several criteria to qualify for multiyear procurement authority. Those include significant savings, reliable cost estimates, stable need and stable design, according to the March 30 Congressional Research Service report, "Multiyear Procurement and Block Buy Contracting in Defense Acquisition: Background and Issues for Congress."
The report stated that cost savings under a MYP contract can range from 5 to 15 percent compared to annual procurement. But…
"In practice, actual savings from using MYP rather than annual contracting can be difficult to observe or verify because of cost growth during the execution of the contract due to changes in the program independent of the use of MYP rather than annual contracting," the report stated.
Furthermore, there is no alternative data to compare the savings against, thus making it difficult to estimate the benefits, the report stated.
According to the Defense Department's supporting documents for the 2024 multiyear requests, the cost savings are projected to be $508 million (13.6 percent) for the SM-6; $154 million (13.6 percent) for the Naval Strike Missile; $129 million (8.6 percent) for the Navy LRASM; $80 million (3 percent) for the Patriot missiles; and $68 million (2.5 percent) for the Guided Multiple Launch Rocket System rockets. Savings estimate provisions for the Advanced Medium Range Air-to-Air Missiles, Joint Air-to-Surface Standoff Missiles and Air Force LRASM have been waived, the documents said.
Industry experts say to take the cost savings estimates with a grain of salt.
"This is about capacity. If you do get some cost savings, great," but this is about no longer going around "hat in hand" trying to acquire munitions, said Jerry McGinn, executive director of the Greg and Camille Baroni Center for Government Contracting at George Mason University's business school.
As of the time of writing, the Army had yet to issue a contract under the new MYP authorities, according to a spokesperson. A search of Defense Department and government contracting websites did not find any multiyear contract announcements.
Some industry experts speaking on background have said that progress on such contracts has been slowed by reluctant subcontractors and small businesses that are concerned about inflation and supply chain uncertainties that can be a challenge in a single year, let alone five.
"Both government and industry need to kind of have their eyes wide open … that when you do a multiyear procurement that you're going to have some things you need to be flexible on," McGinn said. But that's part of the normal contract negotiation process, he added.
And while the department is still working on contracts under the fiscal year 2023 MYP authorizations and appropriations, questions are mounting about the prospects for any expansion of procurement authorities or funding in 2024.
There's a confluence of presidential election politics, a war in Europe, a divided Congress with an empowered cohort of would-be budget cutters, inflation and supply chain challenges and a deficit ceiling fight. That has many Hill watchers predicting gridlock and a full-year continuing resolution for 2024.
If that's the case, expanded multiyear funding — along with any new starts scheduled for 2024 — will have to wait until 2025.
Topics: Budget, Munitions Technology, Procurement