NDIA PERSPECTIVE MARINE CORPS NEWS
Marine Corps Rebalances for New Realities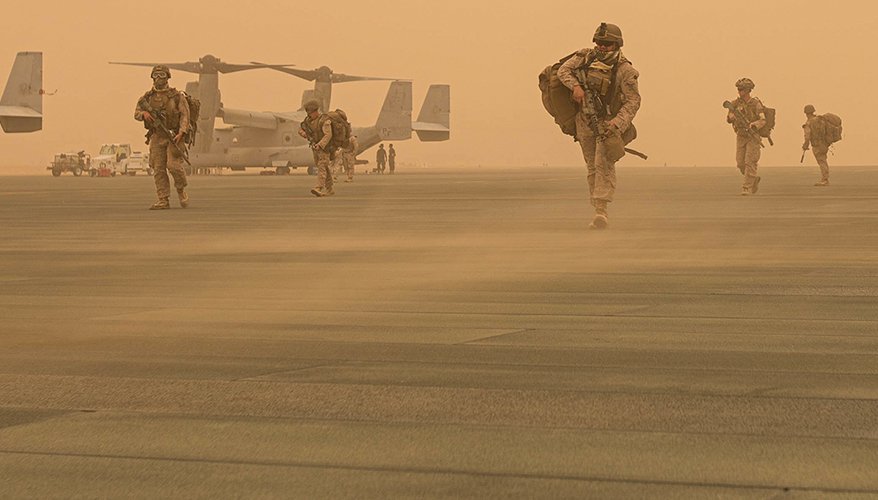 Marine Corps photo
In May, the National Defense Industrial Association and Defense Logistics Agency Aviation, in conjunction with DLA Land and Maritime, hosted its 2023 conference organized around the theme of "Building Resilient Supply Chains, Revitalizing Domestic Manufacturing and Fostering Growth."
At the conference, senior logistics and acquisition leaders focused on solutions for resolving the impact the evolving geostrategic security environment is having on the Defense Department's global supply chains.
At the risk of sparking an interservice rivalry, the importance of this conference was highlighted decades ago in General of the Army Omar Bradley's famous quote: "Amateurs talk strategy, professionals talk logistics."
Over many years, the U.S. military has been able to dominate in all operational domains while operating from land-based, secure and fixed positions, in large part because we had decades ago developed logistically mature theaters with unimpeded lines of communications. This is no longer the case.
Today, rivals' technologies enable them at distance to materially disrupt lines of communications and supply.
In addition, the pandemic revealed the flaws inherent in relying on the most efficient, lowest cost, sole source, just-in-time and place supply chains. This is why the conference was so timely and important. It is also why this month's magazine features the Marine Corps and contested logistics.
The Marines identify logistics as the pacing warfighting function that drives both the tempo of its operational reach and its military operations.
As the Corps works through its future force design, its leadership is explicit that no other warfighting function will more profoundly impact Marines' ability to persist in contested environments than its logistics capabilities.
This is a crucial new reality shaping the Corps' rebalance to its naval expeditionary warfare roots.
In its February 2023 update on modernizing its logistics enterprise, the Marine Corps asserted in some detail how the Ukraine conflict is validating many of the Corps' planning assumptions, particularly the necessity of protecting supply routes against persistent attack and disruption.
This is driving several areas the Marines are prioritizing, including improving its current poor visibility in its logistics enterprise due to legacy, compartmented information technology systems and its over-reliance on crewed heavy, ground-based fleets of vehicles tethered to bulk liquid energy storage and distribution.
Marking a return to historic norms, this emphasis on contested logistics also informs the Marine Corps' two operational concepts: littoral operations in a contested environment and expeditionary advanced base operations, or EABO.
With the proliferation of modern sensors and precision strike weapons extending competitors' reach hundreds of miles both seaward and landward, blurring the distinction between operations at sea and on land, these capability developments necessitate an operational approach that recognizes the littorals as a single, integrated battle space, anticipating command and logistical nodes being targeted as the new norm.
Furthermore, the Marine Corps emphasizes that while EABO has been increasingly focused on the Indo-Pacific, there are as well significant implications for the high north European area of operations in support of larger, naval anti-submarine warfare efforts.
The Marine Corps leadership is publicly highlighting its anti-submarine warfare capabilities across multiple operational domains of our rivals that are vulnerable due to their brittle layers of logistical support. Therefore, as both Chinese and Russian undersea warfare capabilities continue to improve, supporting these new and novel anti-submarine warfare operations will grow ever more essential.
In addition to the Marines, these sorts of novel anti-submarine capabilities are also important focus areas for the rest of the U.S. military.
While the People's Republic of China is the pacing challenge, Russia's submarine force is still superior in quality compared to China's fleet and closer geographically to the U.S. homeland. Through its focus on forward presence and logistics, Marine Corps leadership assesses it can make a significant contribution to undersea warfare campaigns, including holding Russian submarines at risk.
Operating in the high north, particularly around Norway, Iceland and Greenland, the Marine Corps intends to support the U.S. Navy to reinforce an anti-submarine warfare fence across the Greenland–Iceland–United Kingdom gap, bottling Russian submarines in the Norwegian Sea and keeping them out of the North Atlantic.
These are exciting new concepts relevant to thinking about future capabilities across the services that the U.S. industrial base may have to generate in the years ahead. Therefore, I strongly encourage members to attend the 2023 Undersea Warfare Fall Conference, which will be held Sept. 18-20 in Groton, Connecticut. This classified conference connects industry with operational, acquisition and technology professionals, including active-duty Navy leaders, key Navy secretariat and Pentagon leadership, as well as the Navy's systems commands program office leadership and university laboratory leaders.
This unique opportunity will provide industry leaders with insight into the latest developments and requirements in undersea warfare; countering submarine and mine threats; and power projection from the sea.
As the Marine Corps rebalances itself back to naval expeditionary warfare and refines its future force design, it needs its industrial partners to anticipate and support the resulting requirements.
To those of you already working through NDIA to support our Marines, thank you. If you are not, this will be a great opportunity to see and hear the future, so join us! There is much work to be done.

Michael Bayer is NDIA's board chair and president and CEO of Dumbarton Strategies.
Topics: Marine Corps News